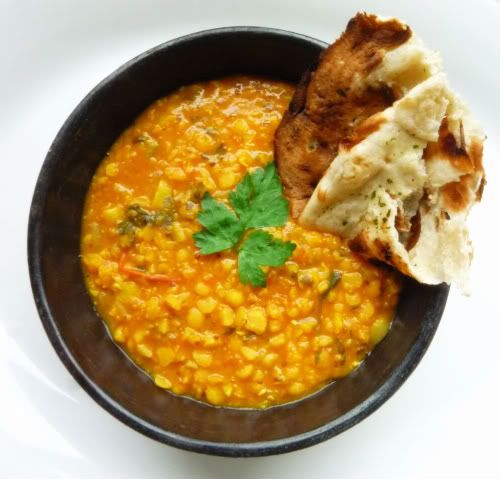 Dahl is one of those things that never really excited me that much until fairly recently. They always seemed like something that was the accompaniment to a meal and not the star. As you know I have a vegetarian in the house and a regular vegan visitor, so I really felt that a nice dahl was something that I wanted to master. I love dahl makhani, but today I went for something a little less complicated.
This one perhaps is the simplest and you don't have to go hunting for a lot of tricky to find ingredients. Everything you need can be found at
your local supermarket. It's buttery, spicy and has a delicious flavour. There is rarely any left when I make this, but it's also fantastic the next day. Dahl also freezes well.
This one is centred around yellow split peas, something that I've never really used other than in soups. But they've become a regular staple in my pantry with this dahl. Split peas don't need to be soaked overnight before cooking, but having said that I do soak these before I make this dahl, purely because I like a softer texture. I also tend to cook it for a lot longer than the recipe states for the same reason, I like the peas almost mushy. Either make your own indian bread to go with this, or take a shortcut and buy some frozen naan, it's normally fairly good - although expensive!
This yellow split pea dahl is very inexpensive to make, it feeds roughly 8 people for under five dollars - so it really is budget friendly. If you like you can seek out chana dahl from your indian grocer and make it with that.
Yellow Split Pea Dahl
2 cups chana dal or yellow split peas
8 cups water
4 tomatoes, quartered
1/2 cup canola oil
1 teaspoon cumin seeds
2 teaspoon brown or black mustard seeds (optional)
10 large cloves garlic, sliced
2 medium yellow onion, finely chopped,and/or1 or - 2 hot green Thai or Serrano chiles, stemmed and halved lengthwise
1 1/2 teaspoon ground turmeric
2 teaspoon ground coriander
1 to 2 teaspoon ground cayenne (use the maximum if no fresh chiles are used)
1 to 1 1/2 teaspoon salt
2 tablespoon unsalted butter
6 tablespoons chopped coriander, leafy tops only (Alternatively, use parsley if you are a coriander hater like me)
Instructions
Put the dahl and water into a large pot and bring to a boil over high heat. Skim the scum and then add the tomato. Lower the heat to simmer. Cover and cook until the dahl is soft and broken up, 40 to 60 minutes or more if you like a very soft dahl. Add more water if you think it is looking a little thick.
I like mine quite thick so I generally find I don't need to add more.

Remove and discard the tomato skin pieces, and then gently whisk or mash with a potato masher to further blend the dahl and tomato. The dahl will break up a bit.
You can make the dahl a day in advance up to this point. Let it cool completely and refrigerate. Return it to room temperature before moving forward. Add a splash of water when bringing it up to a simmer as its bound to thicken a lot from sitting overnight.

Bring the dahl to a simmer and have a lid ready before proceeding. Heat the oil in a medium skillet over medium-high heat until nearly smoking. Add the cumin and mustard seeds and partially cover - the mustard seeds will pop up. Decrease the heat to medium. After the seeds stop sputtering, uncover.

Add the garlic and onion, and chillies . Cook, stirring for a good 5 minutes, until the onion has turned a dark brown.

Turn off the heat and stir in turmeric, coriander, and cayenne. Add to the simmering dahl. Stir in the salt and butter. Remove from the heat and set aside for 5 minutes to develop the flavour. Taste and add extra salt, as needed. Transfer to a shallow bowl, garnish with coriander or parsley, and enjoy with rice and your favourite indian bread. Easily made vegan by just substituting vegan margarine for the butter.
Something I discovered while poking about online, is that this type of yellow split pea is generally used in dahl's in Fiji, Guyana and Trindad - who knew!
Feel free to increase or decrease the quantities according to taste. The recipe can also be halved easily to feed four. I just like to make a large amount in the hopes that there might be some leftovers. This recipe is from Vietworld Kitchen - one of my favourite blogs, if you've not seen it before, hop on over and have a look.