The days are getting wetter and more autumnal and yet for some odd reason the weather is not really cold. It means we are getting lots of misty mornings and dewy days. Just perfect for foraging for mushrooms.
As the weather has changed to optimal mushroom growing weather I find my driving has become somewhat erratic.
I can't help myself, I look at the verges and squint at all the darker patches of greenery and hope to see those little spots of cream poking up through the grass. On the way home from work this week I was driving past a very typical suburban rugby field. Barely visible white lines painted on the ground, grass mown short and even. Around the edge, longer grass which makes spectators feet wet while they stand shivering in the cold watching their progeny play the local sport.
Thoughtful design don't you think? However, the longer grass is where the mushrooms hide.
I spied a little white blob. Field Mushrooms! Agaricus campestris.Supposedly they are almost the same as the little white button mushrooms that you buy in the supermarket. I beg to differ however. They have a much more earthy taste and stronger flavour than their cultivated cousins. I leapt out of the car, grabbed a bag and wandered very purposefully around the field, getting a few sideways glances from passers by. I ended up with roughly 500 grams (1 lb) of mushrooms from my little jaunt.
Now that I knew there were mushrooms about I was almost obsessed with finding some more of these little earthy gems. I called my lovely sister Keri and asked if I could head out to her farm to collect a few more. She lives in a farm house that is more than 100 years old on top of a hill very close to Dunedin. It has old gnarled trees, a natural spring for water and mushrooms in abundance in autumn.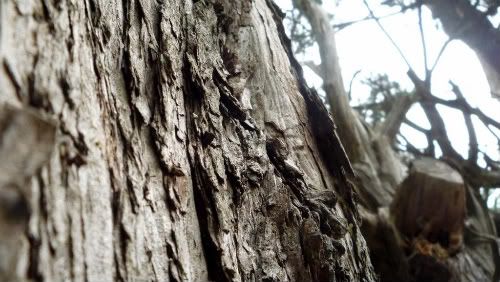 I hopped in the car with Kit, and a slightly reluctant Isaac and spent an hour or so wandering around the misty paddocks, observed by the horses. If there is any animal on this planet that can make you feel like you are doing something exceedingly odd walking around a paddock - it's a horse. It's something to do with the way they look at you, as if to say "What on earth is that person doing?"
We gathered roughly another 500 grams, and with wet feet and jeans we headed home. We found some slightly unusual things too - unsure if they were edible or not we left them there.
Driving home, I still found myself looking at the grass along the side of the road - then I saw them - a mushroom we look for every year but are not always lucky enough to find. Tall, gangly Shaggy Ink Caps. Coprinus comatus. These are also known as Lawyers wigs. They look like something you should not be eating, but they are edible and quite delicious. You need to pick them while they are young and prepare them soon after they're picked, or they turn into a gooey pile of ink before your very eyes.
They were behind a locked and very high gate, while I was standing there wistfully after having done a maybe slightly illegal U turn…. the owner of the property came out. Putting on my best smile and trying to look normal and not desperate. I explained that I would really love to pick the slightly unusual mushrooms he had growing on his property.
He looked at me and said in a slightly suspicious tone "What do you do with them?" - I explained that they were edible and quite good - as long as you had no alcohol with them. I could see I lost him there, but he kindly offered to pick them for me. I asked him if he wanted to keep a couple to try for himself and he gave a very hurried "No!" response.
Isaac remarked what a nice man he was and we headed home. He was a nice man, although I think he was on the verge of phoning someone to come and take me in for questioning, or at the very least see if i was entirely sane.
I wanted to try something with these lovely mushrooms that I had not done in many years and that was to make Pierogi. I used to have a Russian housemate called Stanislav that lived with me and the kids for some time. The deal was he would teach me about Russian food and I would teach him English in return. It worked pretty well - except for the large buckets of salmon caviare in the kitchen - but that's another story.
I stumbled across this great recipe from the feisty Robin at A Chow Life
which I've modified only slightly and used my wonderful wild mushrooms in the filling. Do have a look around her blog while you're there, she has some great recipes to try.
I just used a slightly larger quantity of mushrooms and used a
different cooking method. The recipe was originally from Gourmet. If you cannot get wild mushrooms a mix of button and dried Porcini will be fine.
Wild Mushroom Pierogi
These do take a long time to make. Stanislav told me that often making Pierogi was a family affair, since it takes such a long time to roll/fill and seal them all. Do allow at least 2 hours to make these. They are not something you can make in a hurry.
For the Dough
1 cup all-purpose flour plus additional for kneading and rolling
3/4 cup cake flour (not self-rising)
2 large eggs
3/4 teaspoon salt1/4 cup water
Note: If you cannot find cake flour substitute 1/4 cup of cornflour and 3/4 of a cup of flour for every cup of cake flour.
Stir together flours in a bowl. Make a well in flour and add eggs, salt, and water, then stir together with a fork without touching flour. Continue stirring, gradually incorporating flour into well until a soft dough forms.
Transfer dough to a lightly floured work surface and knead, adding only as much additional flour as needed to keep dough from sticking, until smooth and elastic, about 8 minutes. (Dough will be soft.) Cover with plastic wrap and let rest at room temperature at least 30 minutes.
Filling
1 cup boiling water
2/3 oz dried porcini mushrooms
1 medium onion, quartered
2 garlic cloves, crushed
6 oz button mushrooms, quartered
1 and 1/2 tablespoons unsalted butter
1 tablespoon finely chopped fresh flat-leaf parsley
Make the Duxelles:
Pour boiling water over porcini in a small bowl and soak until softened,10 to 20 minutes. Lift porcini out of water,
squeezing excess liquid back into bowl, and rinse well to remove any grit. Pour soaking liquid through a paper-towel-lined sieve into a bowl and reserve.Finely chop onion and garlic in a food processor, then add button mushrooms and porcini and pulse until very finely chopped.
Heat butter in a skillet over moderate heat until foam subsides, then cook mushroom mixture, stirring frequently, until mushrooms are dry and 1 shade darker, about 8 minutes. Add reserved soaking liquid and simmer, stirring frequently, until mixture is thick, dry, and beginning to brown, about 15 minutes (there will be about 1 cup filling).
Stir in parsley and salt and pepper to taste. Cool completely.
(since I was just using the wild mushrooms I chopped everything together and cooked slowly until the correct texture was reached)
Roll out dough and fill pierogies:Halve dough and roll out 1 piece on a lightly floured surface into a 15-inch round, keeping remaining dough wrapped. Cut out rounds (about 24) with floured cutter.I like to
do all the cutting first and then cover the little circles with a damp cloth, make sure they are well floured so they don't stick together.
Put 1 teaspoon filling in center of each round.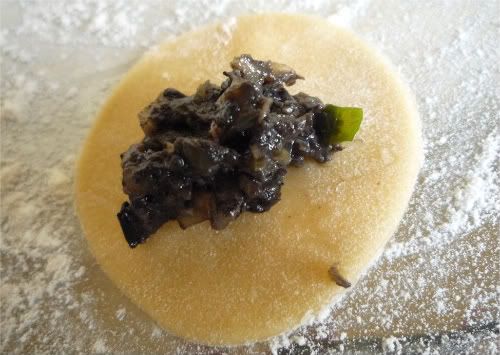 Working with 1 round at a time, moisten edges with water and fold in half to form a half-moon, pinching edges together to seal. I also went around the edges gently pressing down with a fork to ensure they were sealed.
Transfer pierogies as assembled to a flour-dusted kitchen towel. Repeat with remaining rounds, then make more pierogies with remaining dough and filling.
Cook pierogies in a large pot of lightly salted boiling water until they float to the top of the water. Transfer with a slotted spoon to a hot frying pan that has a small amount of butter and oil in it. Fry lightly on both sides - serve with sour cream as an accompaniment.
These were completely delicious - all the more so because we walked in the countryside and looked amongst the grass to find the mushrooms. It was absolutely worth every moment spent.
Note: Please don't collect and eat wild mushrooms unless you know exactly what you are picking.