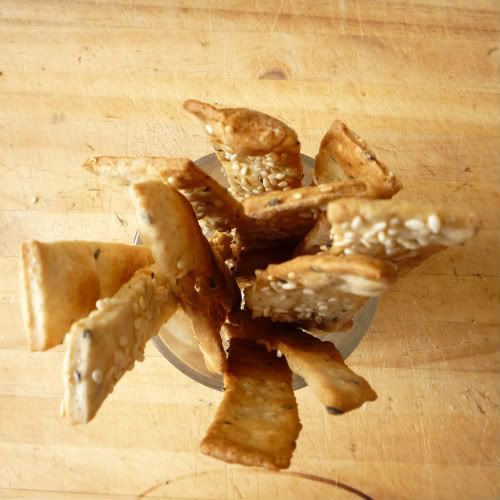 With summer approaching our appetites seem to do a shift, from hot thick stews and soups and hearty meals to light and fresh tasting food. The summer produce is not quite in the shops yet, but I know it's only a matter of a couple of weeks before there will be berries in abundance and juicy stone fruit piled up in the stores and at the farmers market.
Ploughmans lunches with bread, pickles, fresh fruit, chutneys and cheeses are always high on the list of warm weather foods in our house. Sitting in the warm sun with an array of tastiness on a rough wooden chopping board is one of my summer pleasures. Crackers are not only a summer food of course, but I've noticed as the weather changes the supply of crackers in my pantry increases, waiting for a ripe tomato or a salty olive spread to be plopped on the top.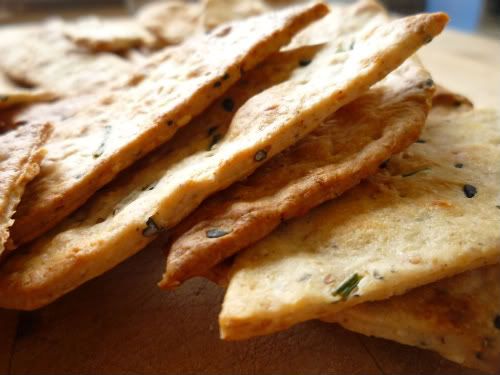 A batch of cracker dough makes a huge number of crackers and it's very cheap and easy to make. I can't help thinking if only people knew that making crackers was so easy they would never buy a package again. What has happened to us? So many things we just buy from the shop, never even contemplating that we could make these things ourselves or that the homemade product could not possibly be as good.
Homemade crackers are better than anything you can buy, they are crisp, light, flaky and they have flavour that comes across as genuine. They're slightly nutty and wholesome, not pumped up with salt, msg and sugar. I am never buying another store bought cracker again. Never.
Rolled thinly this cracker recipe makes enough for roughly 10 trays of crackers. That's a lot of crackers! You can use this recipe as a base for what ever flavours you want to add. Sesame, garlic, parmigiana, chilli, cheese, onion flakes, red pepper, BBQ, Any flavour you can buy, you can make. You could even be more exotic with piri-piri crackers or lemongrass - what ever you fancy!
"But I don't want ten trays of crackers all at once!" I hear you saying. You can freeze the dough in flat disks and then roll and bake it as you need it, you can freeze the crackers themselves in a container and simply pop them in the oven on a tray for a couple of minutes to crisp up again. They are one of those things that look both elegant and rustic at the same time and really add something special to a platter of yummy things.
Wholemeal and Black Sesame Water Crackers
3 cups of plain flour
1/2 cup of wholemeal/wholewheat flour - pref stoneground
75 g cold butter
large pinch of salt
1 cup of milk
1/4 cup of white sesame seeds
1/4 cup of black sesame seeds
Place your flour, salt and butter in a food processor, pulse till it looks like coarse crumbs
Add in your sesame seeds, both white and black and pulse to mix
Pour in the milk in a steady stream with the motor running, until you have a slightly sticky firm dough.
Tip out and bring the dough together on a floured surface and form into a fat short sausage shape. Cover and rest for 10 minutes. Preheat your oven to 180C/350F
Now this is where you can use your creativity if you want to make
several flavours of cracker.
Cut off a lump of dough and re-cover the dough you are not using. If you want to add additional flavours at this point all you need to do is sprinkle your flavouring on the work surface. Knead and roll your flavouring gently into the dough until it's evenly distributed. I did some with parmigiana and chives - and left some plain.
Roll your dough out as thin as possible - don't worry if you need to use a little extra flour on your work surface to stop the dough sticking, that's fine. You can take the easy way out if you like and just roll your dough on to a piece of parchment the same size as your tray. I rolled all mine directly on to parchment. Then just picked up the parchment and placed it on the tray.
Once your dough is rolled out nice and thin, simply cut either by hand or with a cookie cutter or glass the shapes that you want. Make sure you prick your rolled crackers all over with a fork.
If you would like to add some seeds to the top of your crackers brush the tops lightly with water and sprinkle a few seeds on the top.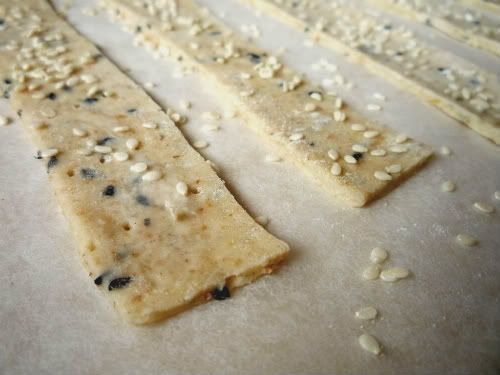 If you're feeling really lazy - just roll out your piece of dough in a single sheet on to parchment - cut into diamonds or squares with a pizza cutter or sharp knife - prick all over and break the crackers apart when you take them out of the oven and they have cooled a little.
Bake in a 180C/350F oven for roughly 10-12 minutes. You want your
crackers only lightly golden in patches. If they are coloured all over you have overcooked them. So you are just aiming for a light patchy colour.
These are hard to stop eating and really take so little effort. Low in salt and fat too! Keep in an airtight container, or freeze them and crisp in the oven for a moment or two when thawing them. You can also freeze the dough in flat disks to roll out at your leisure.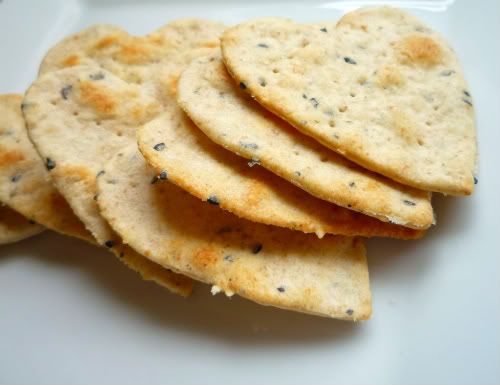 People will be asking you for the recipe - promise!