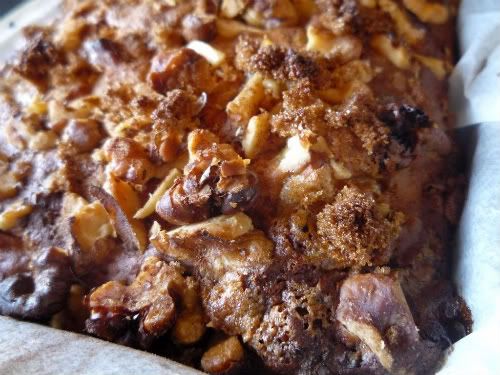 Apples - lovely sweet windfalls and small tart apples from trees that grace backyards and are rarely pruned, mostly forgotten until their fruit drops to the ground. Boxes and crates of rosy eating apples, piled in mountains at the farmers market on saturdays.
It's the perfect time to be buying and eating apples, now when they are at their crisp and juicy best. I never tire of eating apples in all their shapes and sizes.
I've had a couple of large boxes of apples given to me so I've been keeping my eyes open for things that use apples. Apples pair well with so many things, cinnamon, brown sugar, quince, pears, ginger, blackberries and plums.
I took a stack of cook books out of the library and was thumbing through the copy of Every Day by Bill Granger when I saw this loaf. It looked like just the thing to make over an autumn weekend. I had to adapt it somewhat for the ingredients I had on hand, but I was more than happy with the result. He suggests it toasted, and I can see how this would toast well. Today we had it still slightly warm from the oven as part of a lunch to meet Ryan's gorgeous new
girlfriend.
A simple loaf to make with homey flavours of cinnamon and honey as a background to the fruit, there is oatmeal in the loaf - which honestly you would never know was there, except that it adds a moistness to it. I love oatmeal in baked goods. This is fast to make and smells amazing when it cooks.
Walnut, Cherry & Apple Quickbread
1/2 cup of rolled oats
300 mls/10 1/2 fl oz milk
2 cups self raising flour
1 tspn baking powder
1/4 cup of dried or glace cherries chopped
1 large apple peeled and finely diced
1/2 cup of sultanas
1/3 cup of soft brown sugar (plus extra for the top)
1 tspn cinnamon (plus extra for the top)
3 Tbspns honey
1 egg
3 Tblspns of roughly chopped walnuts plus extra 2 Tblspns for the top.
Place the oats in a bowl with the milk, leave to soak while you prepare the other ingredients.
Preheat the oven to 180C/350F and line a 1 kg (2 lbs) loaf tin with baking paper
Sift the flour, baking powder and cinnamon into a bowl and whisk together to mix.
Add into the bowl with the oats - the cherries, walnuts, honey, brown sugar, apple, sultanas and egg whisk together to mix well and then add to the dry ingredients.
Stir together well to form quite a wet mix and pour into the loaf tin.
Sprinkle the remaining walnuts over the top and a little brown sugar and cinnamon.
Bake the loaf for 45-50 minutes until golden brown on top and a skewer inserted into the middle comes out clean.
Leave to cool in the tin before removing carefully to finish cooling on a wire rack.
This loaf can be toasted and served with ricotta or yoghurt and honey, or sliced and spread with butter.
When you slice into the loaf you are greeted with the warm scent of cinnamon, the top of the loaf is slightly crunchy and caramelised.
Although it's autumn here I can imagine this loaf being tucked into a basket for a picnic, it would transport well I think.
While those of you in the northern hemisphere are watching blossoms on trees and daffodils poke their heads out of the ground, here in the southern hemisphere the earth is entering it's sleep.
Leaves are falling from trees
Flowers changing from vibrant shades to greens and browns.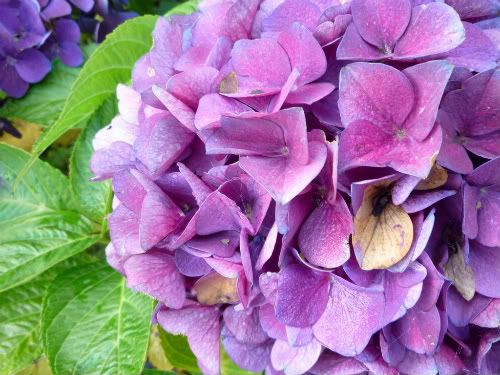 The view out my window in the morning shrouded in mist.
Kereru coming close to the house, close enough to touch - they're looking for the berries on the native trees close to our house.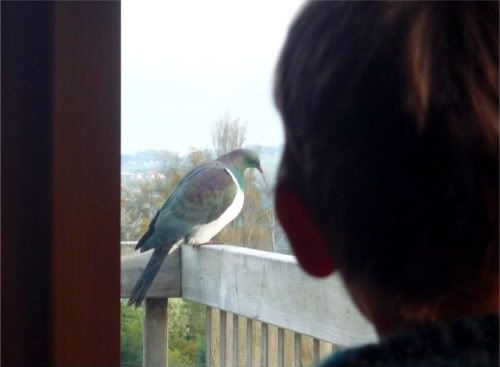 Slippers, knitting, pinecones, hot chocolate, fruit toast, vanilla oatmeal, rustling leaves and frosty mornings - I love this time of year. There are so many people that love summer, the colder seasons - autumn and winter are the ones I wait for.
Time to knit, time to bake and fill the house with delicious kitchen scents.