Victorian Fete & Steampunk Exhibition
Part One
Last weekend we hopped into the car, and put the coats in too, since it looked like a very dreary day in Dunedin. We travelled north a little, up to Oamaru for the [Victorian Fete and Steampunk Exhibition (http://www.historicoamaru.co.nz/heritagecelebrations.html).
In Oamaru the sun was shinning.
What a great day! We ended up spending from 11 am till 5.30 pm wandering around all the things to see and do there. I am going to let the pictures do most of the talking here, but I do want to give you a little history too. Oamaru has been celebrating its Victorian heritage for the last 20 years, and each year they seem to get more and more elaborate.
The Steampunk exhibition this year was a new addition, they had the most amazing Rayguns made by Weta Workshop, a time machine, a giant Steampunk chopper (as in motorbike), a Theremin, and even a steam powered coffee cup. I took so many pictures, but it's impossible to share them all. Guess what, you can buy the Rayguns!
If only I was a wealthy millionaire with nothing to spend my money on. Just like a real raygun, these little beauties are expensive!
Oamaru has some beautiful buildings made from the local Oamaru
Whitestone.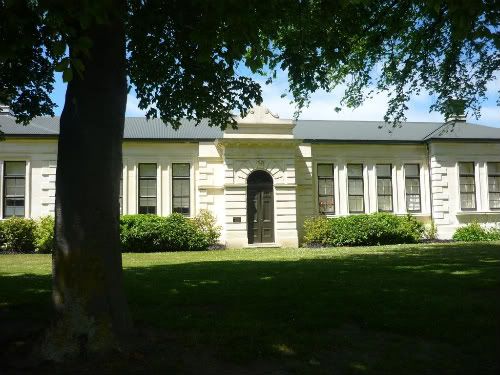 It's easy to believe you have stepped back into another age here. In the old part of town you will find many buildings like this, some restored completely and others in the process of restoration.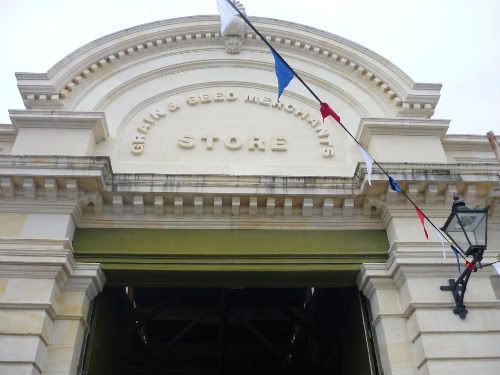 Penny farthings were winding their ways through the street, and the Cycling instructor that Kit got a lesson from said there were about 26 Penny farthing riders in Oamaru. Pretty impressive. This is Kit having his Penny Farthing riding lesson. He has a certificate to prove it! Isaac and Adrian watch with great interest. I think they were hoping he was going to fall off.
There were a lot of people in costume. I am definitely going to dress up next year, but I am going to go the Steampunk way I think. These gracious ladies posed with Isaac for a photo.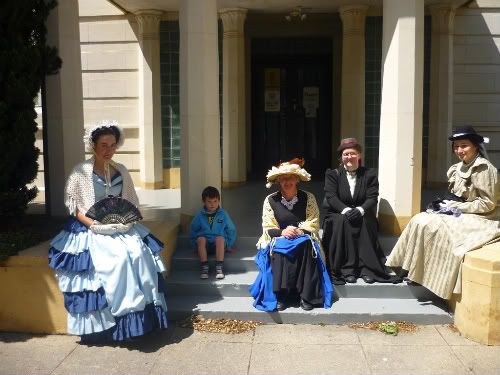 This was one of my favourite exhibits - check this guy out! The chopper had its engine running and he was cracking the whip in a pretty darn impressive way. The kids were scared.. I was scared….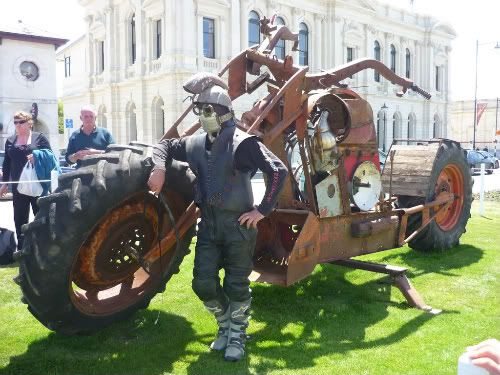 Good thing that Victorian Guy came to talk to Steampunk guy!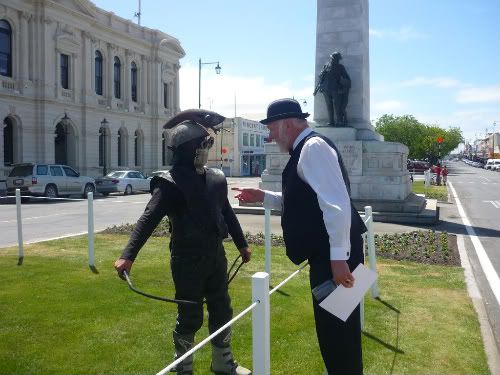 Well, that told him!
Awesome Steampunk tractor, you would not want to be in front of this if it was going.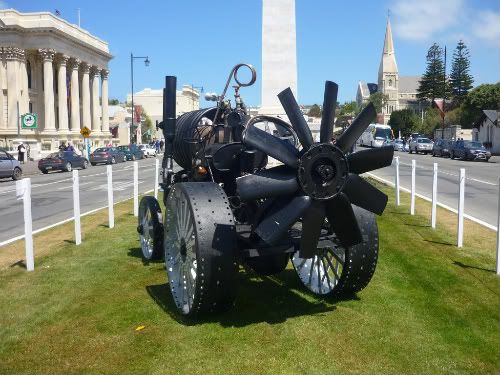 I'll have a flat white and a light beer thanks! This is a steam powered coffee cup and behind it a steam powered tankard.
Want to turn some heads? I'm pretty sure this would do it.
It was about this time we stopped for a bite to eat at a cafe. Isaac was quite taken with the small rooster on the table that was holding the sugar. He's ready for lunch and a little tired. The next instalment of the Victorian Fete and Steampunk Exhibition will be up a little later in the week.