This beautiful cake is a flourless hazelnut and chocolate cake. I was rushing through the supermarket and the latest issue of dish caught my eye. I noticed they had an Italian food feature and I just adore Italian food, so of course I grabbed it. Flicking through it quickly before I purchased it, this cake was the stand out recipe. I went back around the aisles to toss the ingredients in the shopping trolley.
Once home I accidently ate the chocolate intended for the cake by mistake …… so I had to go back to the supermarket and buy some more.
Regular readers might have noticed, I always try to buy fair trade chocolate, this time I bought Green & Blacks fair trade dark chocolate. I always feel like it's a small thing that I can do that can help someone that could use a fair deal in life. I try to be a consumer with a conscience.
I did make the cake after the second trip to the supermarket for the chocolate! Like all flourless cakes, this was soft and velvety, the cake almost melting in your mouth .. wow.. thinking about it now makes me want to make it again!
It really was a wonderful cake, everything a cake should be - completely sinful and when you eat it you just know it's incredibly bad for you, but you head back for another slice and then make sure you get every crumb off the plate, and contemplate a third slice and wonder if anyone will notice if you just take another teeny sliver. You look at it on the plate and each time you pass.. you just pinch a tiny corner and eat it .. am I making my eating habits obvious here?
This is a recipe worth making - it's a truly luxurious cake.. If you try one new chocolate cake recipe this year, try this one, I promise you, you will not be disappointed.
Torta Gianduja
200g Hazelnuts roasted - skins rubbed off
200 grams butter chopped
200 grams dark chocolate 70% cocoa - chopped
5 eggs separated
200 grams caster/superfine sugar
finely grated zest 1 orange OR 1 tspn vanilla extract
Preheat the oven to 180C/350F Grease and line a 24 cm loose bottom tin with baking parchment
Chop the nuts finely but leave a little texture.
Melt the butter and chocolate in a bowl over warm water and then set aside to cool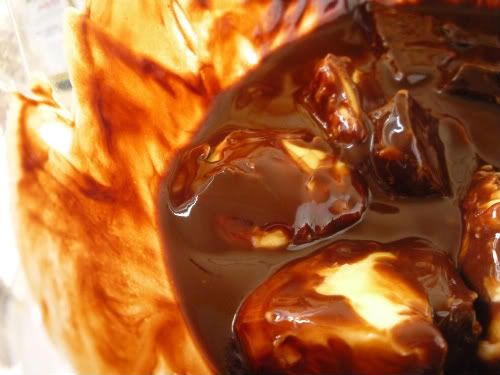 Beat the egg yolks and sugar in a bowl until light and fluffy.
In another bowl beat the egg whites until soft peaks form
Using a large metal spoon fold the chocolate mixture, hazelnuts and orange zest (or vanilla) into the egg yolk mixture
Fold in the egg whites
Pour into your prepared tin, the well mixed but still nicely aerated.
Bake for roughly 30 minutes until a crust forms and a skewer inserted into the centre comes out with moist crumbs attached.
Cool completely before removing from the tin.
This recipe serves 8-12 people depending on how thinly you slice the wedges of cake, it does not need a lot of gussying up, just a simple sprinkle of powdered sugar or a small scoop of mascarpone.
I do feel a need to apologise for the photo quality, my camera and I are having difficulty adjusting to the autumn light. But no doubt I will get the hang of it eventually - most likely by the time spring arrives!
Do try this cake if you are a chocolate lover, it will be your new best friend.