The February 2010 Daring Bakers challenge was hosted by Aparna of My Diverse Kitchenand Deeba of Passionate About Baking. They chose Tiramisu as the challenge for the month. Their challenge recipe is based on recipes from The Washington Post, Cordon Bleu at Home and Baking Obsession.
Thanks Deeba and Aparna for choosing such an interesting challenge, I've never made any of these components before - except for the pastry cream, I really enjoyed putting it together!
Before I get started on the Tiramisu don't forget about the Giveaway - tomorrow is the last day for entries to win either the Edmonds Cookbook or the eggcups.
To make the Tiramisu we had to make each individual component. Starting with the Mascarpone and Savoiardi, then Zabaglione and pastry cream. I chose to make mine a traditional version since I had not made it before, minus the alcohol. I knew Isaac would be tasting this and I thought the coffee would be enough to keep him climbing the walls for about 24 hours on it's own.
The Mascarpone
The mascarpone was surprisingly simple, it's one of those things that you would get better at the more often you made it. Cheese making is one of those things that you need to get a feel for I think.
The Mascarpone recipe is hereover at Baking Obsession. The recipe is nice and clear and was easy to follow. I had no issues making it at all. I do think that using a stainless steel bowl was helpful since the cream came up to temperature easily, and also plenty of layers of cheesecloth - because the mixture is still very liquid when you pour it in after cooling.
You get roughly 3/4 of your cream turning into beautiful fresh and creamy mascarpone and all it takes is a little lemon juice and a thermometer. I'll be doing this rather than buying mascarpone in future, it was much less expensive and really not that difficult to make.
The Savoiardi - Lady Finger Biscuits
The next step was the Savoiardi. I'm going to give you the recipe here, because I think it's fantastic and I want to make sure I have it at my fingertips for the future.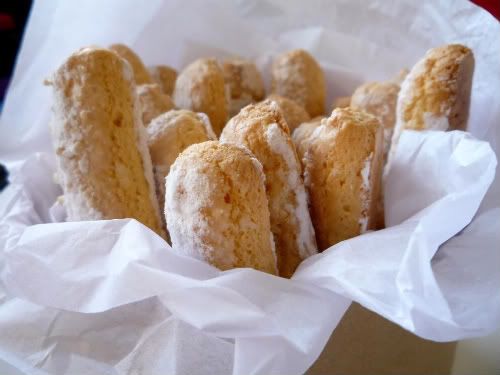 (Source: Recipe from Cordon Bleu At Home) This recipe makes approximately 24 big ladyfingers or 45 small 2 1/2" to 3" long ladyfingers.
Ingredients:
3 eggs, separated
6 tablespoons /75gms granulated sugar
3/4 cup/95gms cake flour, sifted (or 3/4 cup all purpose flour + 2 tbsp corn starch)
6 tablespoons /50gms confectioner's sugar
Preheat your oven to 350F/175C degrees, then lightly brush 2 baking sheets with oil or softened butter and line with parchment paper.
Beat the egg whites using a hand held electric mixer until stiff peaks form. Gradually add granulate sugar and continue beating until the eggwhites become stiff again, glossy and smooth.
In a small bowl, beat the egg yolks lightly with a fork and fold them into the meringue, using a wooden spoon.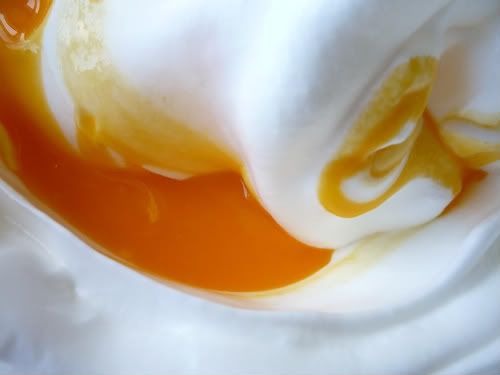 Sift the flour over this mixture and fold gently until justmixed. It isimportant to fold very gently and not overdo the folding. Otherwise thebatter would deflate and lose volume resulting in ladyfingers which areflat and not spongy.
Fit a pastry bag with a plain tip (or just snip the end off; you couldalso use a Ziploc bag) and fill with the batter. Pipe the batter into 5"long and 3/4" wide strips leaving about 1" space in between the strips.
Sprinkle half the confectioner's sugar over the ladyfingers and wait for 5 minutes. The sugar will pearl or look wet and glisten.
Now sprinkle the remaining sugar. This helps to give the ladyfingers their characteristic crispness.
Hold the parchment paper in place with your thumb and lift one side of the baking sheet and gently tap it on the work surface to remove excess sprinkled sugar. (I could not get any excess to fall off at all - so I left it there and it was fine)
Bake the ladyfingers for 10 minutes, then rotate the sheets and bake for another 5 minutes or so until they puff up, turn lightly golden brown and are still soft.
Allow them to cool slightly on the sheets for about 5 minutes and then remove the ladyfingers from the baking sheet with a metal spatula while still hot, and cool on a rack.
Store them in an airtight container till required. They should keep for 2 to 3 weeks.
I absolutely loved these, so easy to make and they took no time at all. Much more flavourful than store bought and a more pleasant texture. I'll be making these on a regular basis.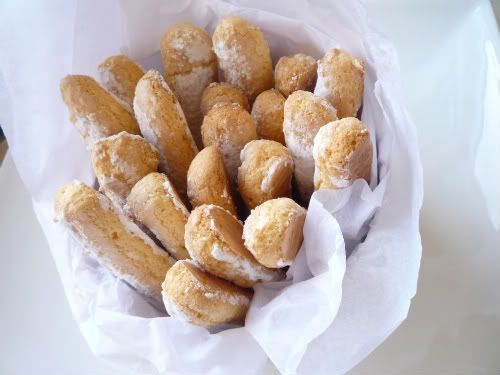 The Zabaglione
Honestly, I could have sat down and eaten the whole lot, I'm surprised I actually managed to restrain myself. It did in fact make it into the Tiramisu, but it did require some serious self discipline on my part. This is worth just making on it's own really. But of course you would need to make a much larger quantity.
2 large egg yolks
3 tablespoons sugar/50gms
1/4 cup/60ml Marsala wine (or port or coffee)
1/4 teaspoon/ 1.25ml vanilla extract
1/2 teaspoon finely grated lemon zest
Heat water in a double boiler. If you dont have a double boiler, place a pot with about an inch of water in it on the stove. Place a heat-proof bowl in the pot making sure the bottom does not touch the water.
In a large mixing bowl (or stainless steel mixing bowl), mix together the egg yolks, sugar, the Marsala (or espresso/ coffee), vanilla extract and lemon zest. Whisk together until the yolks are fully blended and the mixture looks smooth.
Transfer the mixture to the top of a double boiler or place your bowl over the pan/ pot with simmering water. Cook the egg mixture over low heat, stirring constantly, for about 8 minutes or until it resembles thick custard. It may bubble a bit as it reaches that consistency.
Let cool to room temperature and transfer the zabaglione to a bowl. Cover and refrigerate at least 4 hours or overnight, until thoroughly chilled.
The Creme Patisserie
I just used my standard Creme Patisserie recipe from here to make this, with the milk increased slightly to 3/4 of a cup.
Chill until completely cool.
Whipped Cream
1 cup/235ml chilled cream
1/4 cup/55gms sugar 1/2 tspn vanilla
Whisk together until stiff peaks form - do not overwhip.
Putting it all together
2 cups/470ml brewed espresso, warmed
1 teaspoon/5ml rum extract (optional)
1/2 cup/110gms sugar
1/3 cup/75gms mascarpone cheese
36 savoiardi/ ladyfinger biscuits (you may use less)
2 tablespoons/30gms unsweetened cocoa powder
Have ready a rectangular serving dish (about 8" by 8" should do) or one of your choice.
Mix together the warm espresso, rum extract and sugar in a shallow
dish, whisking to mix well. Set aside to cool.
In a large bowl, beat the mascarpone cheese with a spoon to break down the lumps and make it smooth. This will make it easier to fold.
Add the prepared and chilled zabaglione and pastry cream, blending until just combined. Gently fold in the whipped cream. Set this cream mixture aside.
Now to start assembling the tiramisu. Working quickly, dip 12 of the ladyfingers in the sweetened espresso, about 1 second per side. They should be moist but not soggy.
Immediately transfer each ladyfinger to the platter, placing them side by side in a single row. You may break a lady finger into two, if necessary, to ensure the base of your dish is completely covered.
Spoon one-third of the cream mixture on top of the ladyfingers, then use a rubber spatula or spreading knife to cover the top evenly, all the way to the edges.
Repeat to create 2 more layers, using 12 ladyfingers and the cream
mixture for each layer. Clean any spilled cream mixture; cover carefully with plastic wrap and refrigerate the tiramisu overnight.
To serve, carefully remove the plastic wrap and sprinkle the tiramisu with cocoa powder using a fine-mesh strainer or decorate as you please.
Cut into individual portions and serve.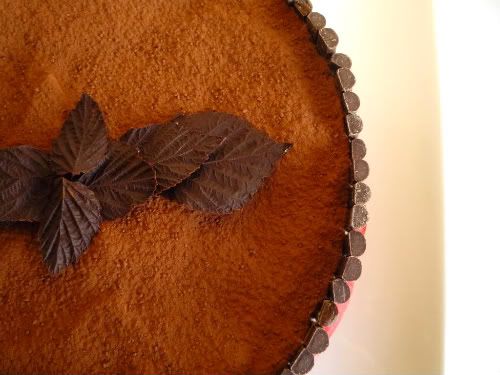 I have to admit I did not feel all that confident putting it together, the cream mixture, while it tasted absolutely delicious seemed very loose to me. So I decided since I was making a tiramisu that would stand alone (it was not going to be in a glass) I would freeze it for a little bit instead of putting it in the fridge to firm up.
Traditionally Tiramisu is served in a glass and not as a cake, so I am sure usually it would be fine just chilled in the fridge and not in the freezer.
I made a handful of chocolate leaves for the top, I went down to the vege garden and pulled off a few leaves from the raspberry canes to paint chocolate on to; they have a beautiful shape and the veins on the foliage are well defined. I was pretty happy with the leaves, although not perfect I thought they were pretty good for a first attempt.
Well I did have all good intentions about leaving it to chill so that I would get a nice shot of the tiramisu all firm and lovely - but .. I could not wait to eat it. Not the kids, me; I was desperate to try it.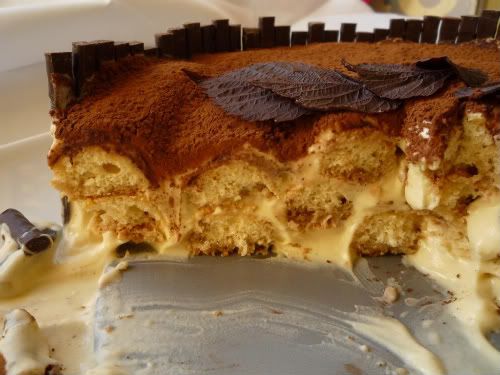 So when it looked close to firm enough I whipped it out of the freezer and cut a slice, so it's still a little on the soft side in this shot but.. it was fantastic, creamy mouthfuls with a rich coffee flavour and I had a second helping without telling anyone.hmm I guess they know now….
This dessert was a bit of a mammoth undertaking to make each part of it from scratch, I am not sure that I would do the same again if I had to make a Tiramisu, just because of the time involved. But it was completely utterly delicious!
Don't forget the
Giveaway!
Ciao for now!
PS - the little straws around the edge are cappucino filled chocolates
PPS- Isaac helped me cut them to the right length - hence the ..errmm
rustic nature of them.