No recipe today: I'm going to the movies this evening. I'm going to see Avatar - yes, there is the geek in me making itself evident.
I did want to show you this. The quilt I want to make has been on my mind constantly. I'm a bit obsessive like that: once I start thinking about doing something, I'm not happy until I've completed it, or the very least tried and failed dismally. Which reminds me, I should tell you about my candle making efforts some time.
Anyway, there is no way before Christmas that I can afford to buy all the materials for the quilt. But I found a whole basket of small pieces in the store close to my workplace that were only 50 cents a piece, just big enough for the Ticker tape quilt. I should get about 4 little pieces out of each 50 cent square of fabric.
I'm really excited about the beginnings of my fabric stash for the quilt!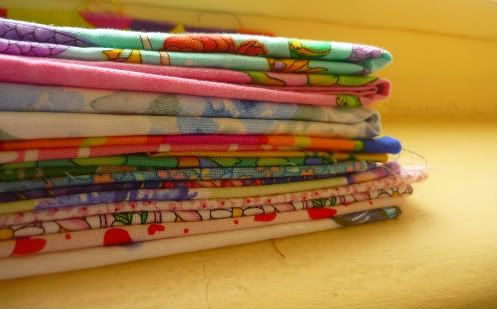 I'm going to make it in shades of pink, blue, green and yellow, bright and cheerful.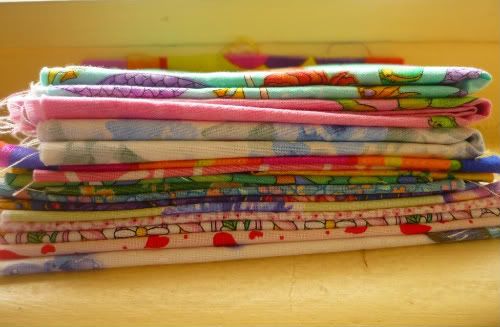 As you know, I've never made a quilt before, and I am definitely not someone who whips up things on the sewing machine in a flash. In fact, I still haven't dug out the sewing machine from the wardrobe yet! The quilt is designed to use scraps, but since I don't usually sew, I don't have any scraps.
I'm going to finish Nicky's shawl first, then the quilt will be my next project. The shawl is about seventy percent finished and I am hoping to have it finished before new year - or very close. Any and all comments from people who sew and quilt very welcome!
Best I get ready for my night out with my husband and my daughter!