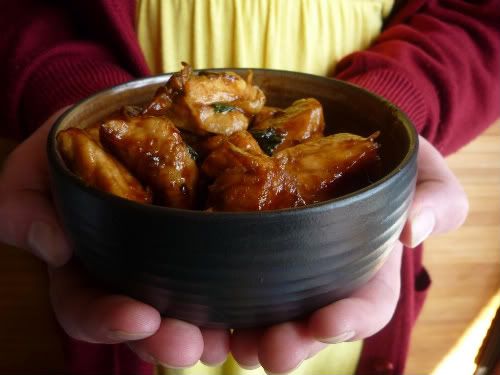 This is another one of those very simple recipes that you would not believe could be so tasty with so few ingredients.
I read Rasa Malaysia regularly, an asian food blog written by Bee Yinn Low, and this is one of her wonderful dishes. Many asian dishes are quick to make and when I get home from work I am often rushing to put something on the table in a hurry for the hungry people that live in and visit our house. So asian flavours are often something I will turn to.
Making something quickly does not always have to equate to opening a can or a package. If you looked in my pantry you would see a handful of cans of fruit, beans and tomatoes, maybe some tomato paste and usually some tuna for sandwiches, at least in the way of things in cans and packets.
I don't like to use pre-packed things, I like to know what I'm feeding my children. Normally I will choose fresh and local ingredients for my family if I can. This is a dish which needs nothing from a packet, but some sauces which I normally would have on hand. This is quick, but spicy and sweet. Everyone loved it except Leah (she's the vegetarian), but even she was tempted to taste a bit of the sauce off the chicken. I'm planning on making a tofu version for her.
That's enough rambling from me, I would encourage you to make this, it's a spicy and tender mouthful that you will wish you had made more of.
I do not have access to Thai Basil, so I used a combination of mint and basil which is an acceptable substitute.
Recipe used with permission of Bee Yinn Low from Rasa Malaysia
Three Cup Chicken - Bee Yinn Low
1 lb/500 grams chicken (I used breasts)
6 slices peeled ginger
6 cloves garlic (skin peeled)
2 tablespoons dark sesame oil
1 1/2 tablespoon soy sauce
1 1/2 tablespoon Shaoxing wine or Sherry
1 1/2 tablespoon dark sweet soy sauce (Kecap Manis)
A big bunch of Thai basil leaves (or combination of mint and basil)
1 tablespoon baking soda (to tenderize the chicken, optional)
Cut the chicken into pieces and marinate them with baking soda. Set aside for 10 minutes before rinsing the chicken off with water. Make sure the baking soda is completely rinsed off. Pat dry the chicken pieces and set aside.
Heat up a claypot (I do not own a claypot, I used a cast iron frying pan) on high heatand add the dark sesame oil. Add garlic and ginger and stir-fry until aromatic. Add in chicken and do a few quick stirs.
Add soy sauce, sweet soy sauce, Shaoxing wine and continue to stir-fry the chicken. Cover the chicken and lower the heat and simmer for 5 minutes. Add basil leaves and stir well with the chicken, dish out and serve immediately.
The only issue with this dish - was that I did not make enough of it, next time I would make double this amount, I wanted to lick the bowl when it was empty. It was absolutely the best chicken dish I have had in a long time.