Have you ever seen a pear more perfect? These gorgeous pears are Ya Pears.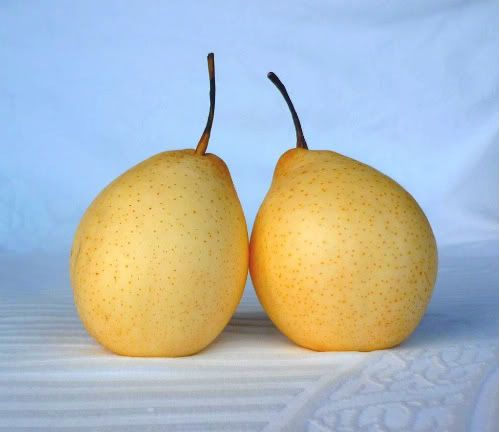 They are a type of Asian pear. They are also known as the Chinese white pear. These pears come wrapped in individual white wrappers, they look so pristine sitting in amongst the produce. Isaac took a fancy to them (my little budding chef) and insisted that I buy some.
They have a very firm flesh, but not as grainy as a regular pear. They are very juicy and have a texture which is half way between an apple and a pear. Of all the Asian pear varieties this would be my favourite. They are sweet with a delicate flavour.
Like other pears they are a hypo-allergenic fruit, that means they are unlikely to produce an allergic reaction.
The Produce depot gives a bit more information about them, oddly enough though they have a Nashi pictured not a Ya pear.
I suggest the perfect way to enjoy a Ya pear is to sink your teeth into it and eat it whole. Or toss it into a salad. Unlike a regular pear I don't think a Ya pear has a strong enough flavour to cope with things like walnuts and blue cheese dressing, so I prefer to serve a salad that has a Ya pear in it with a light vinaigrette.
Add it to your salad last, since it will start to brown once cut, you can put a little lime or lemon juice on it to slow the browning. They store well in the fruit bowl for several days. I made a Ya Pear and Red Pepper Salad, and it was a fresh and crisp addition to the meal. I made the mistake of putting some parmigiana in there and it was too strong for the pear. However it was still good.
Next time you see one sitting in the store all wrapped up like a little gift, try one in a salad.