Tan Square has got to be almost at the top of the list for my favourite slices. This is called Caramel Crumb Bars if you are in the US. What's not to like?
A thick layer of a shortbread type base, smothered in dulce de leche type creamy caramel, sprinkled with more shortbread crumbs and dotted with dark chocolate.
It's not good for you - I have to tell you that so my conscience is clear. Although I am sure after one quick look at the ingredients list you would have worked that out on your own.
This is something that makes a wonderful treat and it makes a regular appearance in cake tins, at morning teas and as cafe fare all over New Zealand.
Tan Square - Caramel Crumb Bars
Base
3 cups of plain flour
2 tspns Baking powder
1 cup of white sugar
250 grams of butter
1 tspn vanilla extract
Topping
60g butter
2 generous Tbsp golden syrup
1 400g can condensed milk
50 grams of chopped Dark Chocolate
1/3 of a cup of base mixture reserved.
Make the base:
Cream together the butter and sugar until light. Add in the vanilla and mix. Add in dry ingredients and mix until you have a rough crumbly mixture.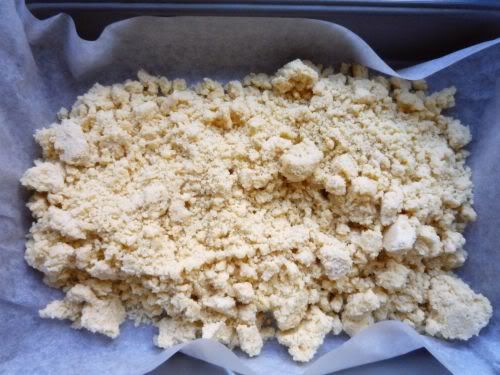 Press firmly into a 32cm x 21cm (13 inch X 9 inch) pan lined with baking paper ( you'll be glad of that later) and place in the fridge while you make the topping. Don't forget to reserve 1/3 of a cup of this mix to sprinkle over the top.
Place your condensed milk, golden syrup and butter in a small saucepan and heat gently until the butter is melted. DO stir this constantly- this will burn in a flash.
Pour over your base, sprinkle over your reserved crumb topping and sprinkle your chopped chocolate over as evenly as you can manage.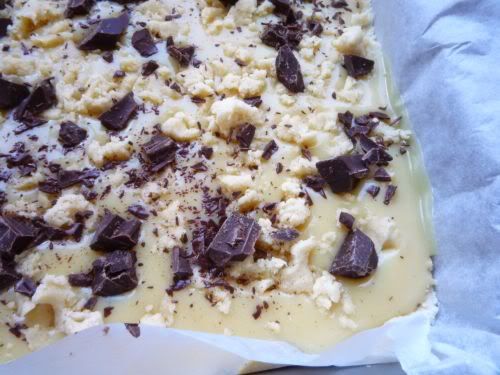 Cook in a 180C/350F oven for roughly 20-25 minutes. Keep an eye on it towards the end of cooking time it will burn quickly around the edges if you are not careful.
Let it cool completely before cutting into squares.
You can halve this recipe easily if you wish and cook it in a standard square cake pan.
A Kiwi classic.
Watch out for another post before the end of the week. There is
something special happening at the Farmers Market in Otago and moving through the country starting this weekend!