Despite the un-fancy (I don't think that's a word but I am going to use it anyway) title of this dish it's quite delicious in a very garlicky way. People who generally do not like broad beans will eat this and love it, that is as long as they like garlic.
It's a recipe that I've had in my recipe book for so long now I've
forgotten where it came from. It's one I've always loved but do not make often because it's a little more time consuming than most of the spreads and dips I make. Usually I am in a huge hurry just to get something on the table. This is the last week of my holidays and I thought I would spend the little extra time to make it for you.
It also had the added benefit of giving Isaac something to do, he loved shelling the beans. He counted every single bean in the pods, remarked on all the over and undersized ones. Tasted them, chewed on the pods and the beans, squeezed them until they jumped out of the pods and then asked me if they were jumping beans. Who knew it could be such fun?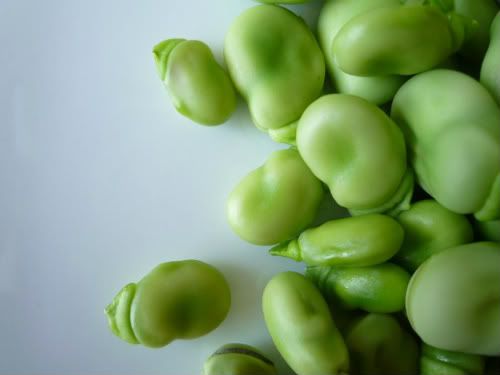 Summer Broad Bean Spread
You can use frozen broad beans for this if there are none fresh, fresh is certainly better though.
900 grams of broad beans (in the pod) 300 grams out of the pod
1 slice of good white bread crusts removed
2 garlic cloves chopped
1/4 cup of good olive oil
basil to taste
a little milk
salt and pepper
Pod your broad beans and cook until tender.
This is the fiddly bit - make a small slit in each bean and squeeze the emerald green part of the bean out of it's little grey jacket like this.
If the beans are very small and tender you can leave them on. But it does take away the bitterness that broad beans sometimes have.
Soak your bread in a little milk for 5 minutes and squeeze out any
excess.
Put all your ingredients in the food processor and give a short blitz. You want to make sure that your spread is still a little chunky.
Cover in plastic wrap and store in the fridge.
I like to serve this on plain bread or as crostini with a small slice of tomato on the top and drizzled with a fruity olive oil- yum!