This is one of my go to recipes when stone fruit is in season. I love the combination of stone fruit and berries, they are so pretty to look at and of course they taste just like summer.
I have Donna Hay to thank for this one. This is a slight adaptation from her "Off the Shelf" recipe for peach and raspberry tart. I love her food, it's often very simple and quick to prepare, her food is not smothered in a million flavours that mask the taste of the base ingredients.
I find I am becoming less and less a fan of pretentious food, I like simple food that tastes wonderful and is easy to prepare, the two are not mutually exclusive. So if you are looking for a bacon chocolate cake with pomegranate jus with a side of something or other, this is not the blog for you. Here you will find food that is just good to eat, plain and simple. Anyway, enough of the rant and on to the tart. Perfect end to a summer meal and there is plenty to share, this is a good sized tart, and will serve 8 to 10 regular people - or maybe two teenagers.
Nectarine and Strawberry Tart
125 grams of butter softened
1 cup of caster sugar
1 tspn vanilla extract or vanilla paste
2 eggs
1 1/2 cups of self raising flour, sifted
2-3 nectarines cut into thin wedges
1 punnet of strawberries
icing sugar (powdered sugar) to dust
Preheat the oven to 160C (325F) and line a 9 inch cake tin with baking paper. A removable base is best for this. If you use a larger tin - I often use a 10 inch the tart will take slightly less time to cook.
Cream the butter, sugar and vanilla in a bowl until light. Add the eggs and beat in well. Mix in the flour and spread carefully into the tin.
Arrange the nectarines and strawberries on the top. Make sure that your fruit is not in really big thick chunks or it will sink to the bottom.
Dust with icing sugar.
Bake for roughly 1 hour or until the tart is cooked. A skewer inserted into the centre should come out clean.
You can use any combo of stone fruit and berries - it will be delicious!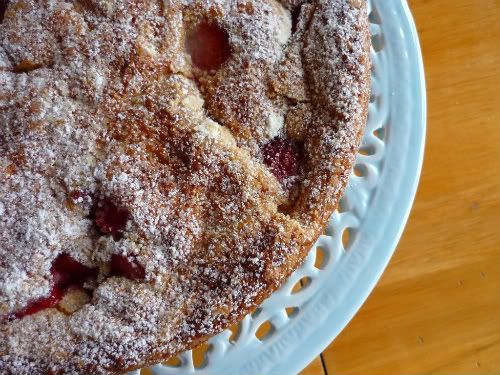 I often sprinkle just a little more icing sugar on the tart just before serving - I like to serve it warm, although cold is fine too.