I've kept you waiting for a new post for so long, so I thought I'd best give you something delicious. Comforting. Old fashioned. A recipe to tuck in with your favourites. Do you have a book with clippings and scribbled recipes from friends? One that has splodges and mysterious sticky patches, motes of flour and greasy fingermarks? I do. I have several of them in fact. I've collected recipes over the years and the ones that I really love make it into my folders which are now bulging at the seams.
These handwritten recipes are around 70 years old, they're from a recipe book which was given to me by an elderly lady that had no children of her own. Recipes are neatly written out with the original provider of the recipe acknowledged. Many of us seem to have a need to pass down our culinary favourites and traditions to others. I know I do. They're not just a collection of recipes, they are a piece of history.
If you have children, start a recipe collection for them. I worry that with the age of the internet many of those favourites will be lost. We're not going to be handing our children a file of favourite recipes on a pen drive - or are we? Cookbooks are experiencing a boom at the moment, but the digital age is creeping into the kitchen too. Ipads are no doubt indispensable in the kitchen (I wish I had one) but I do wonder if the cost of these is more than the dollars we pay for them.
Will the cost be that a generation of recipes are lost to our children? That the tradition of handing down recipes will cease? That as our food tastes are globalised our family culinary heritage is lost to the vast amount of information that comes and goes on the internet.
I know that when the time comes for my children to remember a dish that they ate when they were little, that the recipes will be sitting there in their well used folders for them to go to. They'll pick up a folder and read my handwriting and see the flour and the cinnamon dusting the pages.
So here is one that I've written out and will be keeping so my kids can make it too one day.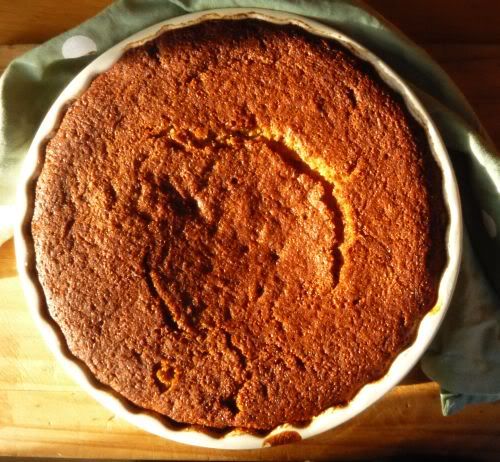 This sticky date pudding is everything it should be. Sweet and sticky, thick with dates and a creamy caramel sauce poured over the top to soak into the cake. On those cool Autumn days that are just around the corner for Kiwis or the slightly crisp spring days - this is just what you need to round off a family dinner. Serve it with a dollop of whipped cream or just on it's own with the sauce.
You can make this in individual dishes or muffin tins if you prefer, cook time will be much shorter.
Sticky Date Pudding with Caramel Sauce
250g pitted dates, chopped
1 teaspoon Baking soda
1 1/2 cups boiling water
125g butter, softened
1 cup brown sugar
1 teaspoon vanilla extract
2 eggs
1 3/4 cups flour sifted
Caramel sauce
1 cup brown sugar
300ml cream
1/2 teaspoon vanilla extract
60g butter
Preheat oven to 180C. Grease a large dish. I used a 25cm/5cm deep dish (10in x 2in deep). Next time I would actually use a dish slightly larger as this was only just big enough for this amount of mix.
Chop your dates, but keep them nice and chunky. Put your dates and baking soda into a bowl. Pour the boiling water over and let them sit for 20 mins or so. This helps the dates to soften.
Beat the butter, sugar and vanilla until pale and creamy. Add the eggs one at a time beating well. Pour in the date mixture and add in the flour. Using a large spoon to mix until they are well combined.
Spoon the mixture into the prepared dish. Bake for 35 to 40 minutes or until a skewer inserted into the centre comes out clean.
Make the sauce:
Combine all the ingredients in a saucepan over medium heat. Cook, stirring often, until the sauce comes to the boil. Reduce heat to medium-low. Simmer for roughly 4-5 minutes. It will thicken slightly, keep an eye on it, you don't want it to burn.
Pierce pudding all over with a skewer. Pour 1/2 cup of warm sauce over warm pudding. Stand for 10 minutes before serving.
Serve with the remaining sauce and a dollop of cream.
Why are there two spoons in there? Oh yes.. one for serving .. one for umm tasting..
Original recipe adapted from Taste.com