Meatballs with fennel and apple sounds a little different. But I promise you they are very good! The ground fennel adds a warmth to the meatballs that gives them a little more depth in flavour. The apple adds some extra moisture and sweetness that works well with the beef and the tomatoes in the sauce.
You can spice these up with chilli if you are having a grown up meal, or leave it out if you have children or people that complain that things are too spicy or alternatively put in the chilli and tell them to toughen up! My five year old likes them with the chilli. Sometimes I make them tiny and sometimes I make them giant sized. I think I prefer them larger, the meatballs stay juicier, plus less rolling meatballs for the cook.
I'm afraid I have no witty repartee or stories to go with these meatballs. What can I say, they are simply really good home cooked food, no leftovers - ever.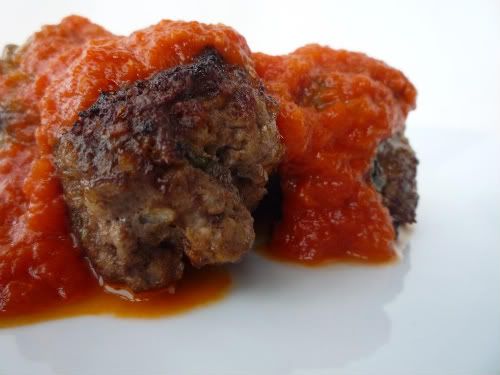 Smother them with your favourite pasta sauce and serve with spaghetti of course! I've given you a quick recipe for a tasty pasta sauce which goes really well with the meatballs and adds some vegetably (I know it's not a real word, but say it out loud - I dare you.. it's fun!) goodness to the meal.
Meatballs with Fennel seeds
This recipe make enough to feed 4-5 hungry people. I love to use my mortar and pestle to grind the fennel seeds, the smell that wafts up as you crush them is warm and heady. If you don't have a mortar and pestle you can buy the seeds already ground, make sure the spices are nice and fresh. I like to start the sauce before I make the meatballs so it has time to simmer and develop the flavours.
For the Sauce
8 large fresh tomatoes or 2 cans of peeled unsalted tomatoes (about 800 grams)
1 Tbspn olive oil
half a red onion chopped finely
2 cloves of garlic chopped finely
1 medium zuchinni skin on -chopped finely
1 medium carrot grated (just wash - no need to peel)
2 Tblspns of Balsamic vinegar
2 tspns of raw sugar
1 Tbspn of butter
Salt and ground black pepper to taste
In a medium saucepan heat the oil gently and cook the onion until transparent - add in the garlic and cook gently for another minute or two.
Add in the remaining ingredients and simmer with the lid on over a gentle heat for up to 45 minutes. Stir occasionally and crush the tomatoes when you stir. If you need to you can add a little water to the sauce if it looks like it's getting too thick. This gives a lovely chunky slightly sweet sauce, but if you prefer a smooth sauce just whirl the whole lot in the food processor. I have deliberately omitted herbs from this pasta sauce,it lets the flavour of the herbs and spices in the meatballs to shine in this dish.
For the Meatballs
1 small onion chopped finely
2 cloves of garlic
1 1/2 cups of breadcrumbs from wholegrain bread
700g (1 and a half pounds) of lean minced beef
1 egg
1 small apple grated (skin on)
1 tspn of fennel seeds ground to a powder.
1 sprig of fresh basil - torn
1 Tbspn of fresh oregano
1 Tbpsn of fresh thyme
Chilli to taste (powder or fresh)
1 tspn of salt
black pepper
Olive oil to cook
Chopped fresh parsley (for garnish)
Mix all together (except for the oil) and shape into meatballs of your preferred size. Heat the oil in a large pan and fry the meatballs or alternatively bake in the oven until done.
The only way I know of to tell if they are cooked is to cut into one of the larger ones and check. If anyone has a better idea I'd love to hear it. I always figure that test meatball belongs to the cook! I'm happy to destroy several and devour the evidence in the name of testing….
Subtly spiced with a warm, homey flavour and a slightly sweet and chunky sauce - put a loaf of fresh bread on the table to mop up the extra sauce and you have one heck of a tasty meal.
Buona appetito!