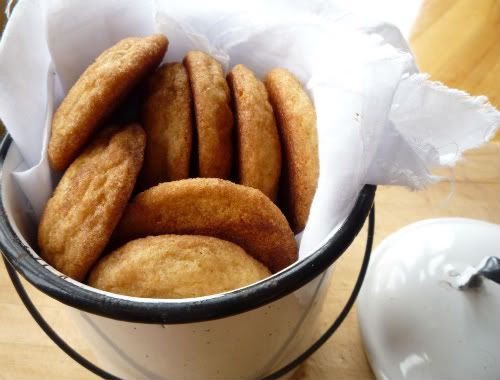 I'd never heard of a Snickerdoodle until a couple of years ago. As soon as I saw the name I did not really care what the cookies tasted like, I had to make them because of the name. "Snickerdoodle" it's such a silly, wonderful word, like something out of Charlie and the Chocolate factory.
It turned out of course that snickerdoodles were completely delicious in their simple cinnamon and sugar charm. Since that first bite a couple of years ago they've become a favourite in our cookie jar.
I watched snickerdoodles work their magic today at an afternoon tea too. Little unassuming cookies on a plate, my nephew Oliver sniffed them and said…
"Are these cinnamon?"
"They're called Snickerdoodles….." I replied, knowing I had him hooked as soon as I mentioned the word.
"Snickerdoodles?" he said as he picked one up, sniffed it again.. and then proceeded to eat it, examining the inside after the first bite.
My niece Jacinta caught the word snickerdoodles, and she was by the plate in a flash saying "Snickerdoodles?" and poked one into her mouth.
There is just something about the word.. it's impossible not to like a cookie called a snickerdoodle. Who could refuse something so cute sounding? It sounds like something that pixies and fairies should eat in stories.
Most Americans will be familiar with Snickerdoodles I know. Those folk living on different parts of the planet may not have discovered them yet! I'm going to do my best to convince you to make them. There are variations around with shortening in them, but I do urge you to try this all butter version, there is nothing quite like the flavour of butter. Eat a blob of shortening on it's own, eat a blob of butter on it's own - see which you prefer.
The recipe makes about 60 cookies, just enough to get our family through the week. If your family is not as greedy as mine and you don't want to make 60 snickerdoodles all at once, you can make the little balls of dough, freeze the dough in the balls until you are ready to roll them in cinnamon sugar and bake them. Just place them on a tray in the freezer, when frozen transfer them to a sealed bag and then take them out as needed to bake them into their cinnamony, buttery goodness.
All Butter Snickerdoodles
2 3/4 cups of flour
2 tspns baking powder
1/2 tspn salt
225g/8oz butter
1 1/2 cups of sugar
2 large eggs
plus additional 1/4 cup sugar and 2 tspns ground cinnamon for topping.
Preheat the oven to 180C/350F
Line trays with baking parchment and set aside.
Beat together your butter and sugar until light and fluffy
Add in your eggs.
Sift in the dry ingredients and mix well.
Combine your additional 1/4 cup of sugar and cinnamon in a small bowl.
Make walnut sized balls of dough and roll around in the cinnamon and sugar until well coated.
Bake in the oven until the cookies are set in the centre and starting to crack a little bit. These cookies do not brown. They take roughly 10 minutes in the oven. They will fall a little on cooling. Cool on the tray for a few minutes before moving to a rack to cool completely.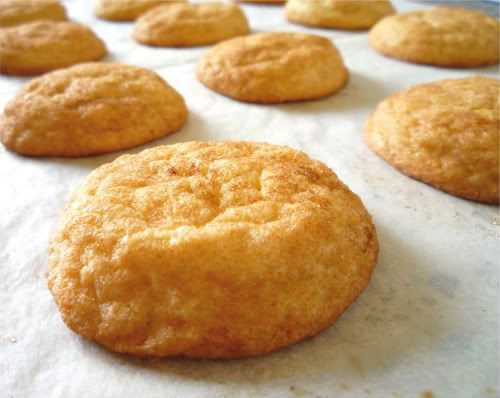 These keep well for about a week - well… potentially.
Simple and delicious - what more could you want from a cookie?