If you have ever wanted to knit or be inspired to create beautiful garments with two sticks and some yarn, then you should take a trip over to Slip Slip Knit. It is written by the talented and stylish Mel Clark from South Seas Knitting. She stocks the most beautiful yarns on her site that New Zealanders would have trouble getting anywhere else.
There is also a wonderful selection of New Zealand yarns like Forever Green Organics for those of you outside of NZ. It's 100% organic merino from New Zealand's high country, and dyed with natural plant dyes in dreamy pastel shades.
I knitted this winter slouch hat for Isaac in this lovely organic yarn.
My mother did the felted details.
Slip Slip Knit is mainly a knitting blog but it also has all sorts of snippets about Mel's travels and day to day life. The wonderful yarns in her store are knitted up into garments and small projects. I find this particularly useful, when buying yarn online to be able to see a finished garment in the yarn is invaluable.
There are patterns galore, some for free and some for purchase, as well as some very handy tutorials for those of you learning to knit or more experienced knitters brushing up on some techniques. I've spent a lot of time just browsing through her site since I discovered it, there are all kinds of gems there.
The Raspberry Bed Socks Mel designed have been on my favourites list of things to make for quite some time. I am hoping to get a pair knitted before next winter. A little bit of hand made luxury beside my bed. They are knitted in the gorgeous Koigu Kirsti yarn that is available in her store.
Wouldn't these keep your toes toasty on frosty mornings?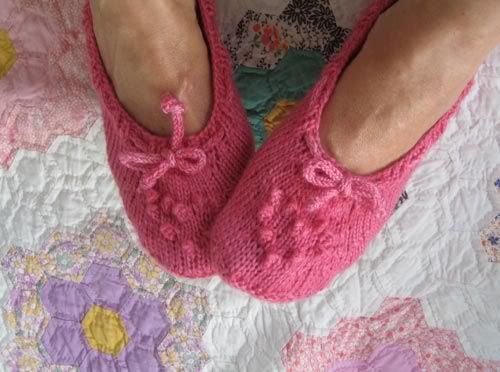 Image used with permission from Slip Slip Knit
If you are inclined at all to want to knit, do check it out, it's a very inspiring blog to meander through and plan and purchase for the things you would like to make.