Strawberry bonbons from France. They sat on my computer desk for about twenty minutes. I ate them all. I did not share them and I am not sorry. They were good!
Aside from being a glutton and eating those delicious little morsels I thought I would share my semi-freddo with you all. Look at it in all it's creamy, tasty glory.
Isaac and I made some this week and tossed handfuls of crumbled Cadbury Crunchie bars into it. It's easier than ice cream and perfect if you don't have an ice cream maker. Isaac was very impressed with himself even though he vanished to do something far more important ( read - watch cartoons) half way though.
Semi-freddo is lighter than ice cream in texture, that does not mean however that it has less fat. Make no mistake it's not on the list of healthy foods to eat. It is simple, delicious and extremely impressive though. If you want to treat some guests and not put in a huge effort this is the thing to do it with. This is an adaptation of Jamie Olivers Recipe from the Naked Chef.
Crunchie Bar Semi-Freddo
Serves 12 - easily halved
4 free range eggs - separated
500/17fl oz mls heavy cream
1 vanilla pod or 1 1/2 tpsns vanilla extract
55 grams/2oz sugar
pinch of salt
2 Cadbury Crunchie bars or other candy bar of your choice.
If you are using a vanilla pod - split the pod and scrape the seeds into the egg yolks and sugar, or just add the vanilla extract - whisk until pale and thick.
In a second bowl whip the cream until soft peaks form (don't over whip it).
In a third bowl whisk the egg whites and salt to stiff peaks. Add the candy bars either crumbled or chopped to the cream.
Add the cream and egg whites to the yolks and sugar and fold together gently. Pour carefully into an 8 inch high sided cake pan and cover with plastic wrap. Place in the freezer overnight. It will keep a few days in the freezer.
Serve and use as you would ice cream.  This is able to be turned out of the container when frozen and sliced with a hot knife if you wish. Wonderful with berries or a berry puree.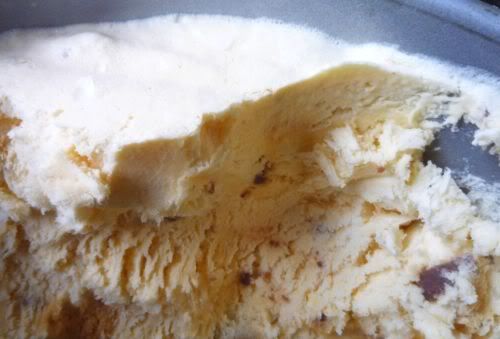 This really is a very special dessert and so very easy.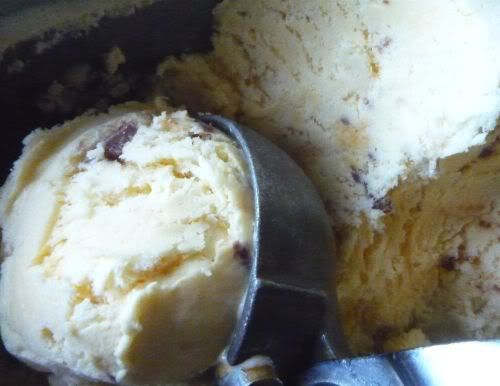 Flavour possibilities are endless, think fig and honey, cherry and chocolate, apricot and caramel, peppermint patties chopped and scattered through. Treat yourself!