Rillettes are not the most eye catching dish, nor are they complicated to prepare. So what's the big deal? For a minimal effort you get something that is unbelievably delicious, just my kind of thing.
Normally rillettes are made with meat like pork, rabbit or duck and cooked slowly in fat until they are so tender they are just falling apart. Used like a pate and spread on bread or toast they are a sublime rustic spread.
The technique was originally developed to help keep the meat a little longer, with the meat being packed into crocks and then the fat poured over the top in a thick layer to prevent spoilage.
In France each region will have it's own speciality dish of rillettes. There are fish versions with eel, salmon or tuna. I decided to make a salmon one since salmon is the most accessible here. Creamy and flavoursome, it's very hard to stop eating this. In this photo the rillettes have not been chilled yet, when chilled they are more of a pate consistency. I teamed it up with Stecca for a lunch.
Stecca (means stick) is a kind of Italian baguette that is included in Jim Lahey's book My Bread. The rillettes and the Stecca made a memorable combination. I had a lot of fun making the Stecca, they are a no knead bread and really could not be easier. Remember if you are making a no knead bread you need to make the dough the night before, so plan ahead.
They have a lovely rough kind of look to them and they are quite chewy. I made sure I tossed a pizza stone in the oven and placed a dish of water in the bottom too to ensure a nice crisp crust. Tearing off pieces of the Stecca and spreading it with a thick layer of salmon rillettes - magic.
It's always nice to see a dish that is immaculately presented, but I think that these honest and simple dishes can also have their own very special charm.
Salmon Rillettes
Adapted from David Lebovitz
Note: Buy good quality smoked salmon - it makes a difference in this dish.
250g fresh salmon - no bones
salt
75g unsalted butter
1 tablespoon olive oil
1 tablespoons fresh lemon juice
2 tablespoons chopped chives
125 smoked raw salmon cut into tiny pieces
Grinding of black pepper.
Poach or steam your salmon until just cooked. You can flavour your poaching water with white wine, bayleaf, lemon, chilli - whatever takesyour fancy really.
Mash the olive oil and butter together with a fork in a medium sizedbowl. Make sure it's nice and smooth with no lumps.
Stir in the lemon juice, then the chopped chives and smoked salmon.
Remove the skin from the salmon and flake the cooked salmon over themixture, then fold the pieces of salmon into the rillette mixture.
Taste for seasoning and add salt and pepper as needed.
Place into a serving dish or jar and cover and chill for at least twohours, overnight is better. Serve chilled from the fridge with crustybread or toast.
Storage: The rillettes can be made up to two days before and refrigerated. They can also be frozen, well-wrapped, for up to two months.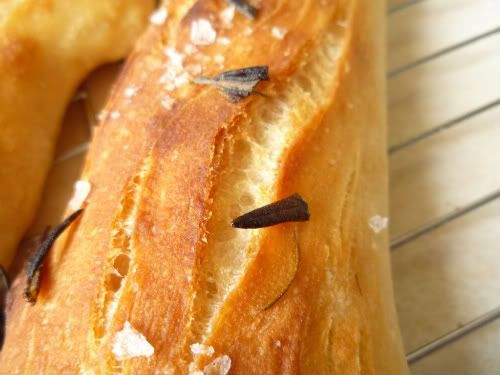 Stecca - No Knead Baguettes
Recipe from My Bread: The Revolutionary No-Work, No-Knead
Method by Jim Lahey. Thank you to Steamy Kitchen for inspiring me to make this!
3 cups (400 grams) bread flour
1/2 teaspoon table salt
3/4 teaspoon sugar
1/4 teaspoon instant or other active dry yeast
1 1/2 cups (350 grams) cool 55-65F water
additional flour for dusting
20 pieces of the any combination of following: whole garlic cloves, whole olives, halved cherry tomatoes
1/4 cup extra virgin olive oil
3/4 teaspoon coarse sea salt or kosher salt
​1. In a medium bowl, stir together the flour, table salt, sugar and yeast. Add the water and, using a wooden spoon, mix until you have a wet, sticky dough, about 30 seconds.
Cover the bowl and let sit at room temperature until the surface is dotted with bubbles and the dough is more than doubled in size, 10 to 18 hours (24 hours if you have a cold cold home.)
​2. When the first rise is complete, generously dust a work surface with flour. Use a bowl scraper or rubber spatula to scrape the dough out of the bowl in one piece. Fold the dough over itself two or three times and gently shape it into a somewhat flattened ball. Brush the surface of the dough with some of the olive oil and sprinkle with 1/4 teaspoon of the coarse salt (which will gradually dissolve on the surface).
​3.Using a large bowl (large enough to hold the dough when it doubles in size. you could also use a large pot) brush the insides of the bowl with olive oil. Gently place the dough, seam side down into the bowl.
Cover bowl with a towel. Place in a warm draft free spot to rise for a second time this time for 1 to 2 hours. The dough is ready when it is almost doubled. If you gently poke it with your finger, it should hold the impression. If it springs
back, let it rise for another 15 minutes.
​4. Half an hour before the end of the second rise, pre-heat the oven to 500F, with a rack in the center. Oil a 13 x 18 x 1 baking sheet.
​5. Cut the dough into quarters. Gently stretch each piece evenly into a long, thin, baguette shape approximately the length of the pan. Place on the pan, leaving about 1 inch between the loaves. Embed the garlic cloves, olives or cherry tomatoes into the loaves, about five pieces per loaf. Drizzle, tab or brush olive oil on each loaf. Do push them into the dough slightly or they will fall off during cooking.
​6. Bake For 15 to 25 minutes, until the crust is golden brown. Cool on a pan for five minutes, then use a spatula to transfer the baguette to a rack to cool thoroughly.
Note: The baguette may become a bit soggy in just a few hours because of the salt on the surface. If that happens, reheat the loaves in a hot oven until crisp.
Typing this up, made me want to make them again, so I have a bowl of Stecca dough sitting on my table. If you are not a bread baker, this is a great one to start with, it's really so simple. I can imagine these going down a treat with a bowl of hot soup, they are equally as suited to serving with a salad and some spreads at a BBQ.