These lovely little pink beauties are called Yams by New Zealanders. They are actually called Oca! I just found that out recently myself so I needed to share… Yams are …. well that's a whole different story.
Their biological name is Oxalis Tuberosa and they arrived in New Zealand all the way from South America. They were grown by the Incas and there are literally thousands of varieties. Most are varieties of pink, red and yellow.
They've been grown in NZ since the 1860's but how did they travel from South America to the bottom of the planet I hear you asking?
In 1869 Mr W. Jameson, the great-grandfather of Mr Peter Halford, came out from England to join the colonial police force. During a layover in Chile he picked up some yam tubers and brought them with him to New Zealand, planting them in Wanganui. The Halfords have been growing them ever since.
All because one gentleman decided to bring a handful here - we now have this wonderful and unusual vegetable growing in gardens and readily available in supermarkets.
As a child when my birthday rolled around each year my mother would ask me what I wanted to eat for my birthday dinner. Oca were always at the top of my request list. Sweet and slightly tangy with a texture a little like sweet potatoes they are the ultimate vegetable in my book. They look a little unusual, but don't you think they're pretty? Roasted is the best way to eat these, as a hot side dish or cooled after roasting and combined with other vegetables to make a superb roasted vege salad.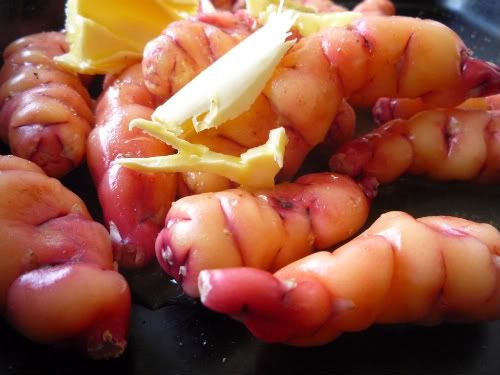 Butter and Orange Roasted Oca
Preheat oven to 180C/350F
400 grams Oca
50 grams butter
2 Tbspns of olive oil
1/4 cup of Orange Juice
sprinkle of fresh thyme
salt and pepper
Place the Oca in a medium sized roasting pan and add the other ingredients. Toss to coat well.
Roast for roughly 45 minutes to an hour stirring gently occasionally. Eat with a sprinkling of salt as a hot side dish. You'll know when they are done when they are golden in colour and easily squashed with a fork.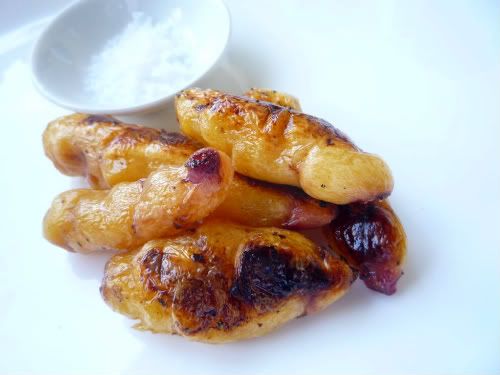 My garden is well and truely hibernating now with the ferns even curling up to take their winter sleep. Frost is on the ground in the mornings and the baby blanket that I'm knitting is almost done. Which is just as well because the baby that it's for is almost due!
Just as an aside - these make me happy - I have a house full of beautiful flowers at the moment from people reminding me that they care about and are thinking about our family. There are some really wonderful people in the world you know.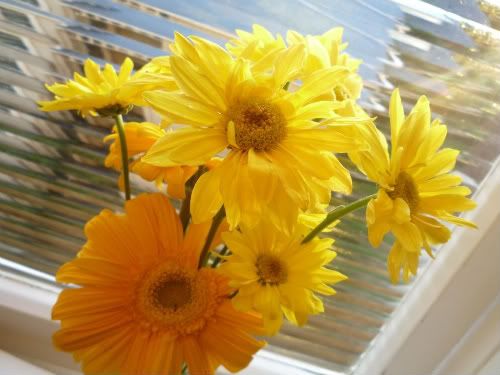 No cooking this weekend, I'm going to be travelling to Christchurch for a long weekend tohave a small change of scene for a couple of days. Isaac is most excited about the prospect of a "continental breakfast" at the Motel - which I have not had the heart to tell him is cereal and toast! I promise I'll tell you all about my trip when I come back and share photos. Have a nice Queens Birthday Weekend Kiwis!