Project 365 is a challenge to take a photograph every day for a year. I don't think I will find this difficult. But what I will find difficult is taking a good photograph every day for a year. I want to improve my non existent photography skills. With a blog that focuses on food and crafting, photography is really important, trying to make a dish that is tasty actually look tasty is not always as easy as it seems.
Look at this.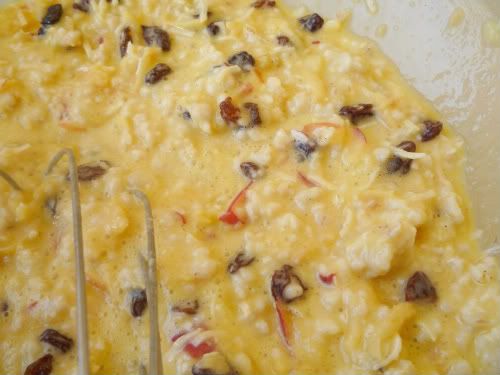 I know… it's not pretty - this was the mixture for the oatmeal muffins.
In reality it was a beautiful honey colour flecked with little bits of red apple. But I could not get a picture that captured that at all. No matter what I did it looked icky.
I get very frustrated with myself trying to get an image that translates well on to a web page. Ask Kit, he'll tell you about my sulking when I get rejections on some of the food sites. Conversely I feel really thrilled when one is accepted. Some photos though, I just want to take because I like them. Or I like the way they look, not because they fit someone else's criteria.
Although I don't have a really fancy camera, I keep reading everywhere that taking good photos is often more about the person behind the camera than the equipment they're using. So I'm going to run with that and use the limitations of the camera to try to teach myself more.
I do want to be able to capture the things that I notice in the way that I notice them. I think that everyone has a slightly different way of seeing the world and different things to offer via that perspective. I like to look at things closely. When I was small I was often to be found sitting on the ground looking at the very tiny things, small bugs and flowers, things that no one else noticed.
Things like these.
These little seed heads were only about 3mm/1/4 inch in size. They were just sitting in my garden - I liked the shape.
So in joining the project I am hoping to perhaps improve my skills with the camera and maybe be able to look back on a year in pictures and reflect. Hopefully also I will be able to capture that "something" in my photos that I cannot seem to do at the moment and maybe even learn what all the settings are on my camera.
I did discover the sunset setting on my camera! Just in time for Ryan to capture this fiery sky outside our lounge window.
If you would like to do something similiar there is a Project 365 Flickr Group and also Project 365 Food bloggers group where you can upload and share your photos with others doing the same thing.
This will be the only post regarding Project 365 on this main page of the blog. This blog will be food and crafting as per usual. I'm going to get my fancy web developer husband to make a link at the top of the blog here where you can see my year in photos if you are so inclined. But I'm not going to promise it will be pretty…..Wish me luck!