I was sitting here at my computer after after just having browsed through my new Good magazine and a little book that's been sitting on my desk for some time caught my eye. It's the Davis Dainty Dishes book from 1922. I picked it up and flicked through it. I was not too hopeful at finding something that was actually edible or even slightly appetising in it. I'd looked before you see and it seemed to be filled with things like this.
I mean .. apart from the fact that this dish is composed of celery that has been boiled with lemon and then the liquid turned into gelatine and smothered in mayonnaise; I am a little wary of the mutant giant asparagus that they seem to have placed nicely around the edge.
Then there is this.
I can't say this appeals really. It just seems wrong on so many levels.
Then there is this aberration of nature. Kiwis everywhere will be crying out in outrage at the sight of this one.
I left the list of ingredients there for you all to have a look at. This is not a Pavlova.
Who ever wrote that recipe in 1922 ought to be completely ashamed of themselves. Although it's quite interesting from a historical point of view. I'm guessing that the definition of a pavlova was not so firm at that point in time.
I did however see something that caught my eye and that was poached eggs. I wondered why they would be putting a recipe for poached eggs in a gelatine book and I had horrible visions of eggs poached and then suspended in a glistening gel with chopped parsley floating around in little clouds.
On reading through the recipe, I discovered that it was a recipe for a novelty dessert which looked like poached eggs. This is known as a trompe l'oeil in art - to make something seem other than it really is, a form of optical illusion. In reality it's like a very simple vanilla milk gelee with apricots. Kids love food that looks like something else so Isaac and I decided to make these together.
This might be a fun way to pass some time with children on a rainy day for those of you that have winter at the moment. Because of the amount of gelatine in these they set up very quickly in the fridge.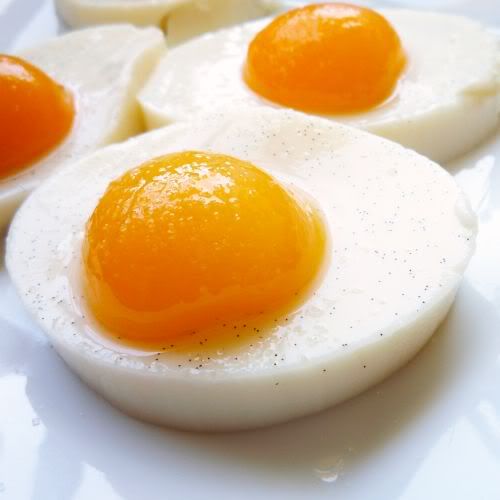 Out came the aprons and we whipped up these "poached eggs".
"Poached Eggs"
1 1/2 cups of milk or yoghurt (I used low fat/high calcium milk)
2 Tblspns condensed milk or white sugar
1 tspn of vanilla paste with seeds
1/2 cup of boiling water
2 Tblspns powdered gelatine
1 can of apricot halves
Mix your gelatin with the boiling water and stir until it is all
dissolved.
Combine your milk, condensed milk and vanilla paste in a bowl and whisk lightly to mix.
Add the dissolved gelatine into the milk, stir to mix.
Pour into an 8 inch square cake pan and place in the fridge to set for roughly an hour. Your vanilla seeds will all sink to the bottom and look like pepper on the egg.
Once your milk gelee has set then run a hot knife around the edge of the pan. Place an oven tray on the top - flip them both over and give a few sharp jolts to turn your set mixture onto the tray. Make sure you have hold of it firmly! Alternatively you can sit the base of the pan in some warm water for a few moments to loosen the gelee, then turn out.
With a circular cutter roughly 3 inches across (we used egg poaching rings) - cut out shapes from the set mix.
Slide a wide spatula under each one carefully and put on your serving plate. Be careful, they do have a tendency to stretch a little as you slide them off your spatula. Place an apricot half on each one, sprinkle with some sugar just before serving (looks like salt)
If you wished you could go as far as to make a creme anglaise for hollandaise and place your egg on a slice of pound cake toast, then top with a sprinkling of angelica parsley. It could in fact be quite an elegant dessert, except that it looks like an egg.
Isaac loved making these with me and took even more delight in telling his father he was going to be having poached eggs for dessert. They really do look like eggs on first glance. Have fun!