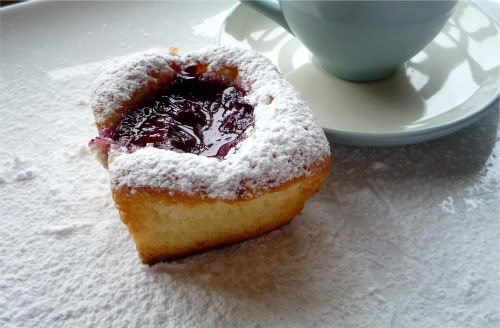 Plums, big, fat, ripe, dark plums. Black Doris plums to be exact. Snuggled into the top of a light almond Friand. Friands are similiar to financiers, at least as far as I can gather. They were not something I would ever have raved about, although nice enough. That was until I met this particular plum friand.
Apparently an Aussie/NZ friand is a slightly different take on a financier - being a different shape, not based on browned butter and having different flavourings added.
The recipe is from my favourite local haunt. Everyday Gourmet. They had so many requests for their recipe that they ended up publishing it in the local newspaper, The Otago Daily Times. There is a great food column called Ask a Chef, where you can request a recipe from the local cafes and restaurants and if you are lucky, they give away their secrets.
I've since discovered many other delicious friands out there, this plum one however remains my favourite.
Juicy Plum Friands
These elegant little light as air Friands are made with almonds as the nutmeal and deep, dark, Black Doris plums. If you have to substitute another plum variety use something that is a dark, juicy, sweet variety.
The recipe uses canned plums, but fresh would be fine too. If you are using fresh plums poach them lightly first.
1 cup ground almonds
1 1/2 cups icing sugar/powdered sugar
1/2 cup plain white flour
175 grams butter melted (do not boil)
6 fresh egg whites
6 canned or poached black doris plums halved, stoned and strained
Preheat the oven to 180C/350F
Grease a muffin or friand pan with melted butter. I used disposable mini cake pans this time.
Sieve together into a medium bowl your almonds, icing sugar and flour
Whisk egg whites in a bowl to micro-bubble stage. This is past the large bubble stage but not to stiff peaks.
Add cooled melted butter to egg whites and beat in.
Fold egg white and butter mixture into the dry ingredients and gently mix until there are no lumps. Spoon evenly into the greased pans.
Bake for 4-5 minutes and then gently place a plum half on each friand. Continue baking for another 6 minutes, then rotate the tray and cook for another 10.
20 minutes cook time in total.
Leave to cool in pans for five minutes before turning out.
Dust with icing sugar.
Makes 12.
They are wonderful slightly warm or cold. Store in the fridge.
I also need to let all of you know that my holiday has come to an end. I will not be posting daily, but still very regularly. I'm going to aim for twice a week.
I'm going to miss my extra baking and cooking time, but I'm looking forward to seeing the children that I work with and my terrific colleagues.
I'm really enjoying getting to know you all (my readers). I love the comments and the emails, so please keep em coming!