We used to go and visit my Nana sometimes in the weekend. Her speciality was pikelets. She would stand in her kitchen with the hot plate as hot as it would go, with a little melted butter in a saucer close by to grease it, and flip pikelets very deftly with a butter knife.
Aunty Honey used to stack them up on tiered cake stands with jam and cream wobbling on them. My mother would make them in her electric frying pan and all the while say, "I don't know what I am doing wrong, I can never get them to turn out like Nana's, she makes beautiful pikelets."
I would wander around the baking section of A&P shows and look at the prize winning pikelets wondering if they tasted as nice as they looked.
I'd press my nose against the glass of bakery windows and look at them packaged in cellophane, all lined up like a mini stack of pancakes.
I grew up with these, and I still make them on a regular basis. I think they were one of the first things I learned to make. Today I made a batch for a friend that called around. She brought me something special, which I will share with you after the recipe.
Pikelets with Vanilla Mascarpone
1 cup of plain flour
1 tspn baking powder
1 free range egg
1/4 cup of white sugar
3/4 of a cup of milk or a mix of milk and yoghurt
pinch of salt
Beat the egg and sugar in a medium sized bowl with a whisk, until pale
and thick.
Add the milk and whisk again
Add in the flour, baking powder and salt and whisk again until smooth and free of lumps.
Drop tablespoonfuls on a hot greased griddle or frying pan. Turn when you see small bubbles start to appear on the surface. Remove when golden and cooked through.
Keep them snuggled under a tea towel until you are ready to serve them - which ideally should be right away.
This will keep them soft and warm and stop them drying around the edges.
Makes roughly 20 pikelets
Vanilla Mascarpone
1/2 cup of Mascarpone
1/2 tspn of vanilla paste or extract if you have no paste
2 Tblspns icing (powdered) sugar
Mix all together thoroughly and serve a dollop on each pikelet on top of berry jam.
You can top the pikelets yourself and serve them already topped or you can let people help themselves, which is what I like to do.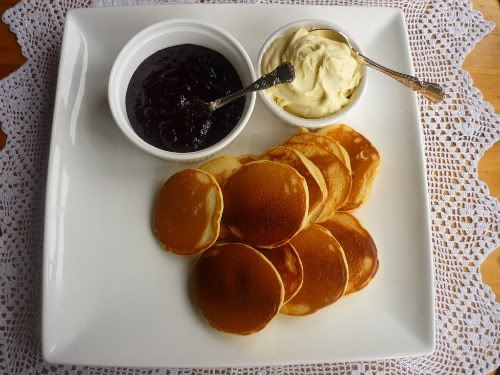 There is something very companionable about sitting smearing pikelets with jam with a friend.
So, I sat and ate these today with a friend, she's been my friend now for more than 8 years. I first met her at a swimming group with Fynn, (my 9 year old son, who died earlier this year) when he was roughly 10 months old. She has two sons with Cerebral Palsy. Today she brought me around a huge montage of photos of Fynn from the Cerebral Palsy support group to hang on the wall. A very precious gift indeed…