I've been looking to buy the jars for Isaac and I to do this for a long time now. It's been very difficult to find jars that are just right. I've wanted to make a pie in a jar with Isaac for quite a while, ever since I saw this idea on Our Best Bites.
Who can resist a pie in a jar? That's right up there with kittens and baby chinchillas on the cute scale. Poking pastry into small jars is just right for small fingers, and there does not need to be any heat involved if you make your fillings in advance to be popped inside the crust.
Silvermoon from Dragon Musings was having a Kids in the Kitchen Blog event so that was the required motivation to get this little project underway. Although I have to admit I would have made these pies regardless. I think having a single serving pie in the freezer is a great idea.
Don't just think sweet pies. Think small savoury pies too, filled with chunks of steak and mushrooms, chicken and bacon, smoked fish with creamy bechamel topped with mashed cheesy potato. Sweet pies like rhubarb and strawberry, apple and cinnamon, apricot and apple or blackberry and peach can be heated and a cold scoop of icecream plopped on the top of the jar and just eaten as is.
These can go right from freezer to oven, no defrosting if you choose preserving jars of some kind. A small savoury pie can be a perfect afternoon tea when kids arrive home from school, team it up with a drink and some fruit and you have a filling snack to keep them going until dinner. If you can keep a few jars about, when you have pastry scraps or fruit languishing in the fruit bowl you can turn them into a teeny pie very quickly. They might make interesting conversation too for guests for a casual lunch or dinner.
Isaac and I made Apple, Strawberry and Rhubarb pies, I just happened to have some strawberries and rhubarb in the freezer so that seemed ideal. I tossed in a cinnamon stick, a little cornflour and some brown sugar to sweeten the filling slightly. The filling was all ready just for him to spoon into the pies.
You'll notice there are a lot of photos in this post, I could not help myself, they were just so cute!
Fruit Pies in a Jar
1 packet of ready rolled puff pastry
pie filling of your choice - cooked
wide mouth preserving jars
tiny shape cutters or a sharp knife to decorate with.
Milk to brush the tops.
Choosing your jars is important, they need to be as wide at the mouth or wider than the rest of your jar to get the pastry in nicely and the pie out easily. You may like to eat the pie right from the jar, we did. I found these little jelly jars at my local shop, they are only small, just 4 oz but perfect for a single serve.
Line your jar with the pastry. We cut a disk for the bottom and the top and a strip to go around the inside of the jar, and pinched them together.
Put in your filling - do not fill all the way to the top leave a little room for movement.
Use a fork around the edge to press the pastry together and decorate with pastry scraps. Brush with a little milk and dust with icing sugar if cooking immediately.
Bake in a hot oven 220C/428F for 10-15 minutes.
If you are going to freeze it and put a lid on it, do not take the pastry all the way to the top.
Isaac had the most fun designing a variety of tops and patterns for the pies using a tiny star cutter. He got the hang of it very quickly and was soon quite confident making the little pies.
He came up with a lot of variations.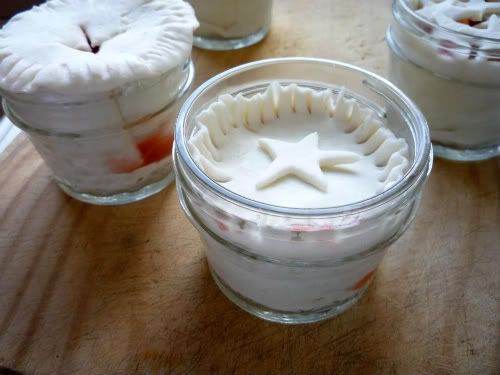 We brushed them with the milk and dusted them with a little icing sugar.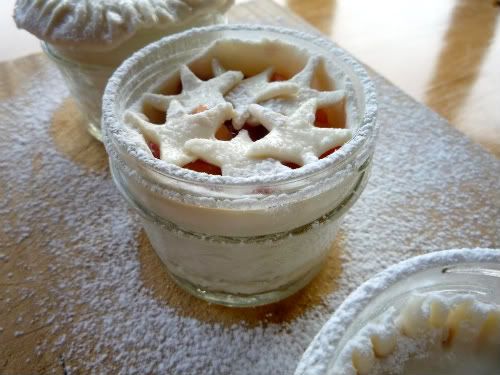 I popped them into the oven and we watched them through the oven door.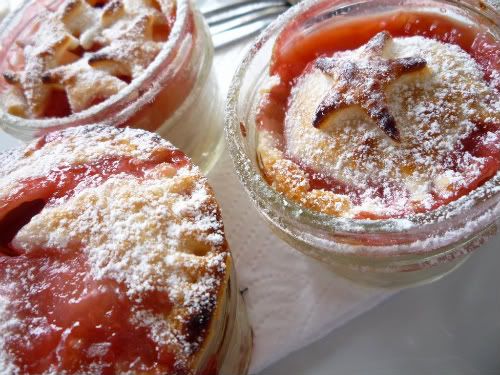 The best part was that he got to eat one for afternoon tea! I believe his exact words were "This pie is awesome!". The interesting thing was that he ate the rhubarb, before he has always complained about it being sour. But I guess when you make things yourself, they always taste better.
It would be easy to make some small apple crisps and crumbles, you could even do mini cobblers if you were feeling creative. This was a lot of fun to do and I will continue to keep the little jars full in the freezer, ready just to put in the oven at a moments notice.
This was the one that Isaac picked out to eat.
Of course, there was a pie for the supervisor too.
Things Isaac learned making pies:
It's hard to get pastry to do what you want and stick in the right place.
You have to press hard when you are using a cutter.
It's easier to poke the shape out of the cutter than to try to pull it out.
Pastry is sticker than playdough.
Rhubarb tastes good when you cook it yourself.
You have to work out where to cut your shapes to fit them into a piece of pastry.
You can stop the pies burning if you tell Mummy she better check them again, because you noticed they were cooked and she didn't.
Yummy pies! A great cooking project for kids and it's nice to have some teeny tiny pies in the freezer.