I was 18 years old and I'd shifted out of my parents house. I'd moved 200 miles away and I felt very grown up. I had my first car, a ten dollar alarm clock and a hideous bright yellow candlewick dressing gown. A small cane table with a glass top that held my precious bits and pieces beside my bed. A wild and sprawling asparagus fern. Everything I owned.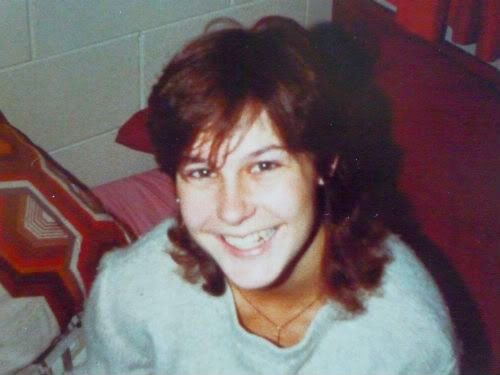 Yep, this is me at 18, and about to embark on my life. Big smile! Check out the dcor in the background. Nice.
I had 80's hair, secretly smoked peppermint cigarettes and thought Billy Idol was amazing. I danced the night away to Talking Heads and Annie Lennox. I liked to drink Black Russians and thought I was highly sophisticated. I discovered olives and pistachios. I ate melon for the first time. I had way too many boyfriends. I had one of those Indian cotton patterned bedspreads and an incense burner, which my mother was very suspicious of. I also had a large Kermit the frog.. I'm not sure where he came from or why I felt the need to take him with me on my move.
I'd left home to begin my training as a Speech Language Therapist. Little did I know I was about to stumble upon a life long love that would then elude me for over 20 years. Pflaumenkuchen. There was a little cafe owned by a German couple just down the road from my student hostel, where I went to escape the various parties and slightly annoying room-mates and avoid the Reverend that kept an eye on me…
I would order myself a slice of pflaumenkuchen and a cappuccino and sit there and try and look as relaxed and casual as possible. No matter how many times I vowed to myself that I would order something different from the transparent glass case full of baked goods, I always ended up with a slice of the pflaumenkuchen.
Its layer of lemon crust, followed by a ribbon of thick, dark, red plums covered in sweet crumble was too tempting for me to pass by. I lived around the corner from that cafe for only two years. I graduated, met my first husband and moved away to another city. I remembered the pflaumenkuchen though and every new cafe I went to I would peek hopefully into the cabinets to see if there was any there. No luck. Sadly over time pflaumenkuchen faded from my memory. Time does heal, even yearnings for plum cake it seems.
I was randomly looking about online for a recipe to use up some leftover plums and there it was, looking at me, in all it's crumbly glory! Exactly the cake I remembered. As soon as I saw it I was transported back to that little cafe when I was 18. Food holds such strong memories for me.
I found the recipe quite by accident on The Cake Club. Of course I scribbled out the recipe and baked it immediately. Once baked, there it was, the same dark layer of plums and a lightly spiced crisp crumble topping.
So I share with you all, one of my first loves. Pflaumenkuchen.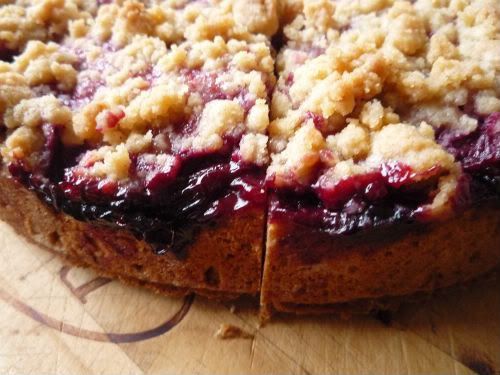 Pflaumenkuchen - German Plum Cake
This can be made with fresh sliced plums. The one from my teen years was made with poached Black Doris Plums and that's what I've used here. Traditionally it is made with dark sweet fresh plums. It can be made with or without the streusel topping.
The Cake
120g butter
1/3 cup caster sugar
1 tsp vanilla
1 large egg
1 tblspn sour cream
1 pinch salt
grated zest of one lemon
1 3/4 cups plain flour
1 tsp baking powder
2 cups plums, pitted and sliced into wedges (one large can of black doris plums)
For the Streusel
85gm butter
3/4 cup plain flour
1/3 cup caster sugar
1 tsp cinnamon
1/2 tsp ground cardamom
Pre-heat the oven to 180C / 350F
Line a 9-10" removable bottom cake pan with parchment and grease the sides.
The Cake
Cream together the butter and sugar until light.
Beat in the egg, lemon zest, vanilla, sour cream and salt. Sift in the flour, baking powder. Your batter will be quite thick. The easiest way to spread it in seems to be to dollop it around the pan, flour your hands and gently push it into place with floured hands. It just seemed a little too thick to me to spread with the spoon.
Spread the plums over top of the batter, making sure they are nestled together. For canned plums split them open remove the pits and squash slightly making sure that the whole surface is covered.
The Struesel
To make the streusel topping place all the ingredients in a bowl with your butter at room temp.
Rub the butter into the dry ingredients until it is clumping together well. Sprinkle it over the top of your plum layer.
Bake in the pre-heated oven on the middle rack for approximately 45 minutes to an hour, until the topping is nicely browned and the cake tests done. Remove from the oven and let sit for about 15 minutes, cooling on a wire rack, before removing the sides of the pan.
Serve with a cup of cappucino and pretend you are 18 years old... look relaxed..
Oh.. just in case you were wondering most of the things that I took with me when I left home I no longer have, but I still have the alarm clock, amazingly it still works. Kermit and the candlewick dressing gown seem to have vanished. Which is probably a good thing.