It's school holidays here at the moment. So we've been doing all manner of fun things to fill the time. Terracotta pots were the flavour of the week at our house. I originally intended it as an activity for Isaac, but it seems that I liked as much if not more than he did.
My lovely husband asked me how much I spent on materials for the pots and I mumbled something incomprehensible. It's not exactly the cheapest activity unless you have some acrylic paint already sitting around, but it was a huge amount of fun.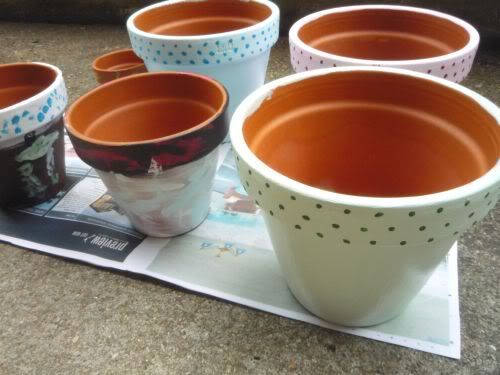 What you need for these.
Acrylic paint of different shades - we used Resene test pots and some art supplies that we had handy.
Clear paint/sealer in a spray can (Dulux make one here in NZ)
Terracotta pots
Newspaper
Variety of brushes both large and small.
Start by sealing your terracotta pots with the clear enamel - both inside and out. You want to make sure that your pot is sealed. Water retention is better for the plant, but also when you are painting on the outside you will not get the paint soaking into the terracotta clay and you will get a better finish. It takes about 30 minutes to dry.
Now paint your pots. I started with two coats of my base colour to ensure good coverage of the pot. Make sure your coat of paint is dry before you paint details or paint on the next coat. There are some really good instructions and tips for painting pots here at The Artistic Garden.
We really enjoyed sitting outside in the sun painting pots - perhaps if it's winter in your part of the world you might like to paint some pots for spring for some colourful spring bulbs, or for some sprouts for eating that can be grown inside.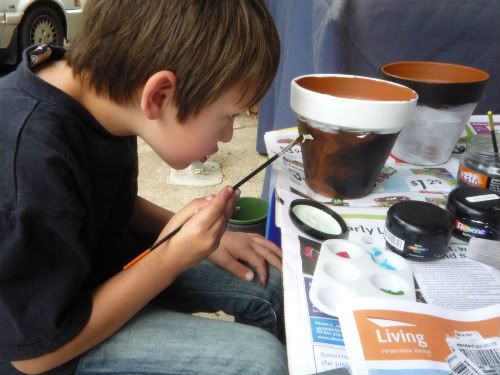 Isaac had a wonderful time painting his impression of Godzilla on a pot. I feel like I should plant a venus flytrap it in or something!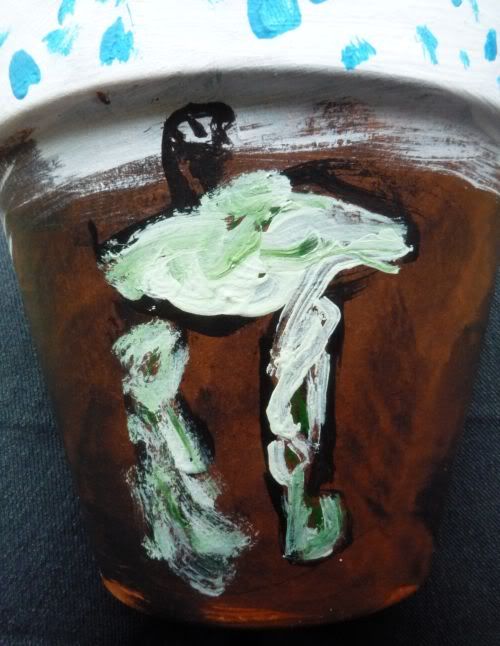 As well as painting pots we did a day trip to the little blue penguin colony in Oamaru to see the little guys coming in from the sea at night. You can't help but look at them and smile, they are seriously cute! We were lucky enough to see several rafts of penguins come in from the sea once they had finished fishing for the day.
Smaller than a chicken but still pretty tough for something so adorable, they can beat up a rabbit if they need to! They live all through the coastal area of Oamaru and surrounds, not content to stick to their colony they also build their nests in various places in the Victorian area and in people's gardens.
There are only 8000 of them left in the world. I'd like to show you some photos of them but we have none since there is a no camera policy so as not to scare the little guys. The only ones I could take a picture of were these weird looking ones.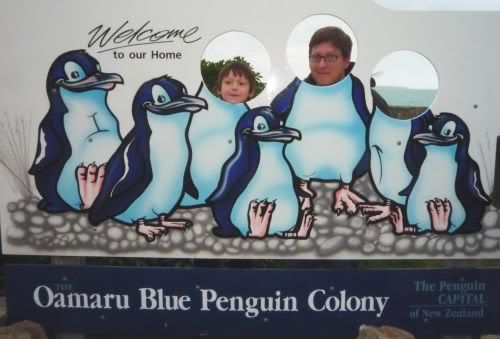 I did pick up some wonderful smooth rocks from the seaside where they live and brought them home as a memento.
Not as quite cute as the penguins but fun to make. Wash your rocks/pebbles - dry and paint with the same type of paint as you used for the pots. An acrylic paint that washes up in water is fine.
Seal with the clear spray paint. I wrote the date and the place that I collected these rocks on the back of them.
We had fun exploring the Retro Funk second hand shop in Oamaru too, Isaac was examining all the bits and pieces with great interest. I could hardly believe my eyes - there were so many things from my childhood in that store it was both terrifying and entrancing.
Multiple albums of Val Doonican graced the entrance, L'eggs pantihose, black and white TV's and an Atari 2600 were to be found tucked in the corners. Candlewick bedspreads, enamel cooking pots patterned with flowers, fondue sets and tiny forks to stick into corn cobs were just a small selection of the treasures to be discovered.
There was also the obligatory orange and paisley bathing suit and Maxi dresses - the REAL DEAL. If you are in the Oamaru area and into all things retro; this shop is a must see.
If you and your family have a break at this time of year, make sure you take some time to do something with the people you love and make some memories together.
Wishing you all a happy start to 2012.