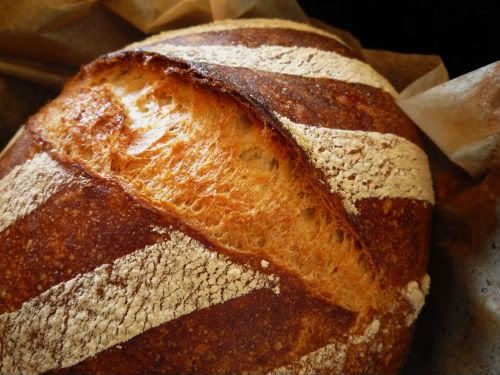 Well I finally decided to give no knead bread a try. Yes, I am about a year behind everyone else, but that's me. I only just start to realise a trend as everyone else moves on to the next new thing, which I think is poptarts.. but it's hard to be sure. I'd best wait and see if that's actually the case before I make some.
Back to the bread. There is a web community that I like to spend time on called Foodlovers. There is a weekly challenge that takes place on the forums and in kitchens all around the country. I've only just begun to take part along with the very knowledgeable folk there. This past week the challenge food was bread.
The idea is to make something that you've never made before. The resulting bread? Well you can see for yourself here.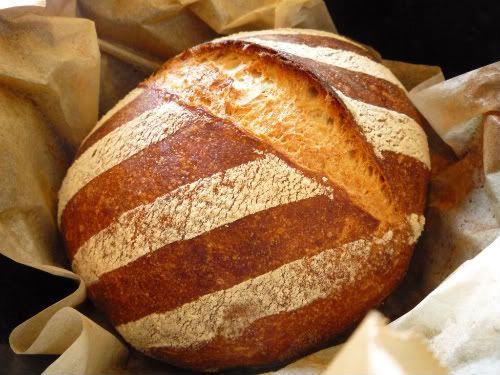 It had a wonderful crust that was crisp and shattered nicely when cut. The inside was moist and ever so slightly chewy with the slightest hint of Emersons Bookbinders beer. I wanted to use this beer because it's produced locally and I do try to support our local producers, plus it's great beer. A vegan/vegetarian beer alternative here would be Green Man. You can use any mild beer for the bread. If you use a dark beer you will have a very strong flavour.
You do need a Dutch oven to make this bread. I used my old cheapo cast iron Dutch oven which worked just fine. I think it cost me about $30 when I bought it.
Many of the Dutch oven breads made online seem to be
baked in gorgeous Le Crueset Dutch ovens in all their rainbow of colours, but you don't need one.
Although having said that, I need one, I really do need one.. red I think, or perhaps Caribbean blue. If anyone wants to send me one I'll bake you bread!
No Knead Beer Bread
recipe adapted from Cook's Illustrated
3 cups all-purpose flour
1/4 tspn instant yeast
1 1/2 tspn salt
3/4 cup + 2 Tblspn water at room temperature
1/4 cup + 2 Tblspn mild lager at room temperature
1 Tblspn wine vinegar
Whisk flour, yeast, and salt in large bowl. Add water, beer, and
vinegar. Using rubber spatula, fold mixture, scraping up dry flour frombottom of bowl until shaggy ball forms. Cover bowl with plastic wrap andlet sit at room temperature for 8 to 18 hours.
I left mine for about 12 hours. The recipe here notes room temperature,but I gave it about 45 minutes in a warm place at the end of this first rise. I live not that far from Antarctica here .. and room temperature at night is not that warm!
Lay 12- by 18-inch sheet of parchment paper inside 10-inch frying pan and spray with non-stick cooking spray. Transfer dough to lightly floured work surface and knead 10 to 15 times. Use a little flour on your work surface if you need to.
Shape dough into ball by pulling edges into middle. Transfer dough, seam-side down, to parchment-lined frying pan and spray surface of dough with nonstick cooking spray. Cover loosely with plastic wrap and let rise at room temperature until dough has doubled in size and does not readily spring back when poked with finger, about 2 hours.
Again at this point I needed to put it into the warm place for a short time to help it to get to double in size, I would have been waiting a long time if I had not. In the warmer months it would be fine at room temp.
About 30 minutes before baking, adjust oven rack to lowest position, place 6- to 8-quart/litre heavy-bottomed Dutch oven (with lid) on rack, and heat oven to 500F/250C.
Lightly flour top of dough and, using razor blade or sharp knife, make one long, 1/2inch (1.5 cm) -deep slit along top of dough.
If you wish to make the stripes as I have, simply cut strips of baking parchment place over the top of your dough and sift the flour over the top. Remove the strips before you place it in the oven.
Carefully remove pot from oven and remove lid. Pick up dough by lifting parchment overhang and lower into pot (let any excess parchment hang over pot edge). Replace the lid and place in oven.
Reduce oven temperature to 425F/220C degrees and bake covered for 30 minutes.
Remove lid and continue to bake until loaf is deep brown 20 to 30
minutes longer.
Carefully remove bread from pot; transfer to wire rack and cool to room temperature, about 2 hours.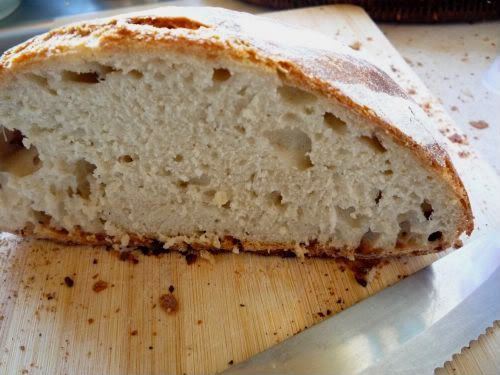 This loaf would make a great accompaniment to cheese or to a thick
hearty beef casserole with the undertones of beer in the bread. What happened in our house? The entire loaf was gone in about 10 minutes flat.