I've never actually liked Neenish tarts much. I know that's a strange way to start a recipe that I am sharing with you, but I felt I needed to confess that up front. I have always liked the way they look though. Small single serving tarts half chocolate half white, or half pink and white - or sometimes half pink, half chocolate. They always looked nice sitting in the bakery window displays. However when I bought one I was always disappointed.
Normally dry shortcrust pastry filled with a mock cream and jam. Occasionally I'd try again hoping that it would be better, and I'd strike one that had a condensed milk type filling, which was a moderate improvement on the mock cream, but still nothing to write home about.
I happened upon discussion thread with a person asking for a recipe for Neenish tarts like their mother used to make, the filling they described sounded more like a lemon flavoured pastry cream. That interested me, so I thought I would give something along those lines a go and see what the result was.
Neenish tarts are fairly specific to Australia and New Zealand and I am not sure if they are even known in other parts of the planet. This version is quite delicious, although I think a little fiddly to make. But if you have the time then give it a try, they are a very old fashioned afternoon tea treat that people can't help but say "Mmmmmmm" over when they have that first bite. You can just picture these on a tiered china cake stand sitting in among the creamy sponge drops, cucumber sandwiches and scones.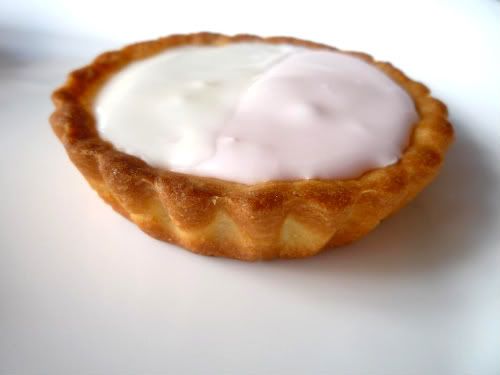 Neenish Tarts with Lemon Crme Patisserie
No one is really sure how these originated and where they got their name, there are all kinds of urban legends around them. Including one about a Ruby Neenish - who has vanished into the mists of time - no record of her existing at all. I suspect Ruby Neenish is a little like Spiderman .. just a figment of someone's imagination. The first recipe for these was published in 1929.
Recipe makes 6 10cm/4 inch tarts.
Pte sable (sweet short crust)
This pastry recipe makes a lot more than you will need to make the
Neenish tarts. I simply froze the remainder for another day to use for a
sweet full sized tart. It will make enough for two full sized tarts with
a little left over for six Neenish tarts.
250g/9oz butter
200g/7oz icing sugar
pinch of salt
500g/just over 1lb of flour
4 egg yolks
4 Tblspns cold water
You can make this in the food processor or by hand. Cream together the butter sugar and salt, rub or pulse in the egg yolks until the mixture just starts to come together looking like breadcrumbs. Add the cold water. Gently bring together and split pastry into two, forming two disks. Wrap and chill in the fridge for one hour.
You can freeze remaining pastry at this point, you will need roughly 250 grams of the pastry for your Neenish tarts.
When making pastry - it benefits from as little handling as possible. This will keep it flaky and light and reduce shrinkage.
Line your tart pans (I used 10 cm/4 inch tart pans with a removable base) and place in the freezer.
Lemon Crme Patisserie
2/3 cup of whole milk
1 2 inch piece of vanilla bean
1 2 inch long one inch wide piece of lemon rind
2 large egg yolks
3 Tblspns sugar
1 Tblspn cornflour/cornstarch
Pour the milk into a small saucepan, scrape in seeds from the vanilla bean and add the bean and the lemon rind to the milk. Bring to a simmer - remove from the heat.
Whisk the yolks, cornflour and sugar together in a bowl. Very gradually whisk the hot milk into the yolk mixture. Do this a little at a time whisking continuously, you don't want to cook your yolks.
Add back into the pan again and whisk over a medium heat until the custard thickens. Transfer to a bowl to cool and cover the surface with plastic wrap to prevent a skin forming. When you are ready to use your pastry cream, remove the vanilla bean and rind and whisk lightly to remove any lumps. (can be made 2 days ahead)
Assembling your tarts
Preheat your oven to 180C/350F
Put your lined tart pans in the preheated oven for roughly 10-15 minutes. Check half way through cooking and pierce a small hole in each base with a skewer to remove any air from under the tart base. Cook until golden. Cool on a rack in the tins, remove from the tins when cool.
Fill with cooled pastry cream - making sure the top is level and ice with icing of your choice.
I chose to use royal icing for these and it was not a good choice honestly. The pastry cream was moist and consequently the royal icing started to weep after about 20 minutes. If I was doing this again I would most likely use a simple confectioners sugar icing - I suspect it would hold up better.
To ice your Neenish tarts - ice one half first spreading from the centre to the outside - allow to set for 10 minutes or so before icing the other half.
Despite the issues that I had with the icing on these, they were a sweet and light tart that everyone really enjoyed eating. You could also experiment with a mock cream and raspberry jam filling or perhaps try different flavourings for your pastry cream, a rum version of these is quite common also.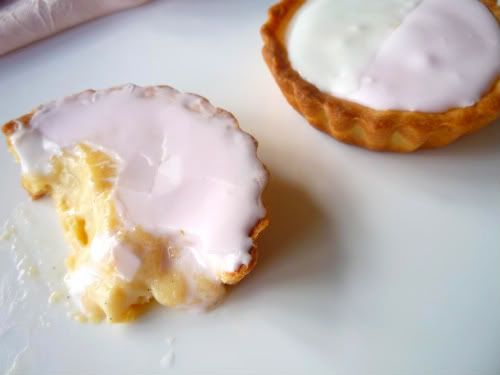 If you are having a last minute tea shower like my imaginary friend Ruby Neenish - these are not the tarts to make since they require cooling in between stages. But if you have a little time on your hands and would like to have an old fashioned afternoon tea treat, then these are just the ticket!