Some time ago we went to a cafe with some friends of ours who have two very cute little kids. They are Belgian, so French is their first language. Isaac had a salad, in it was a nasturtium bloom. He asked why there was a flower in his salad and we told him it was edible. Isaac being an adventurous kind of kid - picked up the flower and promptly ate it.
Our friend's son - a slightly younger child, got this completely horrified look on his face and exclaimed in a very shocked tone "Maman, il mangeait une fleur!" - "Mummy - he ate the flower!". It was really very funny. It did make me think how even though there are many flowers that are edible - we rarely eat them!
I've been eyeing up my next-door neighbours nasturtiums since last year. I was not brave enough to ask her if I could have a few for some butter and to make some nasturtium pickles. But this year, I dragged up the courage asked very politely and went over and picked a container full of the seed pods and a bowl full of orange and yellow flowers.
Leah just happened to telephone me as I was about to make the butter and let me know that she was coming home from camping in Twizel (pronounced Twai-zil) a day early, complete with a side of fresh salmon from High Country Salmon. The salmon farm was close to her camp site in the shadow of Mount Cook; her timing could not have been better, salmon with nasturtium and lemon butter was on the menu for dinner.
I also took the opportunity to try pickled nasturtium seed pods, which are supposed to taste somewhat like capers.
Look at these little guys - they look like tiny green Triamble pumpkins.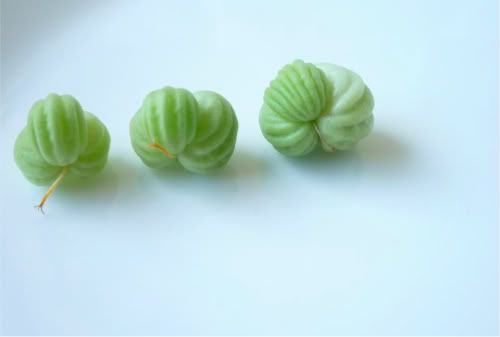 More about those and the pickling method later in the post.
The butter was a cinch and took next to no time at all to make. I really enjoyed watching the colours blend. The petals have an ever so slightly peppery herbal taste - very pleasant with lemon. The recipe for the butter is based around one from Old Fashioned Living.
Salmon with Nasturtium Lemon Butter
1/2 cup salted butter slightly softened
zest of one small lemon
2 tablespoons lemon juice
3-4 tablespoons finely chopped nasturtium blossoms (chop first, then measure)
Mix everything together, place in a covered container and refrigerate. If you want a completely blended butter - use your food processor. I liked mine with the little flecks of colour in there, so I preferred to chop rather than blend.
The Salmon
1 large piece of fresh salmon
1 additional lemon
3 Tblspns fresh parsley
black pepper to taste
Place your salmon on a large piece of baking paper in a dish with high sides. Make sure your baking paper piece is large enough to wrap around the salmon and seal with a fold.
Spread a thin-ish layer of nasturtium butter on top of your salmon, sprinkle with the chopped parsley, add slices of lemon and a good grind of black pepper to the top.
Seal your salmon inside the paper - wrap it up sealing the edges by folding the paper over itself. Cook in a moderate oven until a fork inserted into the thickest part of the fish can flake some easily.
Serve with a little of the butter and lemon sauce created while cooking drizzled over the top.
Your salmon should be melt in the mouth tender with a lovely lemony peppery flavour, with a slight herbal taste from the nasturtiums. The nasturtiums will retain some of their orange colour as they cook down, so your salmon will have beautiful reddish orange slivers of nasturtium on the top.
The Nasturtium Capers - Pickles
I was keen to make these as we use capers quite often with fish, and those little blighters are expensive! I'd read about nasturtium seed pods making a good substitute and this seemed like the perfect time to try it. I found this recipe on The Splendid Table.
What we are talking about is not the flower buds, but the seed pods. When the nasturtium flower has finished - this appears. You need to pick them when they are still green and smallish; if they are golden or yellow they will be tough. Late summer is the time to pick them. You need to look under the leaves closer to the main stem to find them.
There was something really satisfying about hunting for them and putting them in a bowl, knowing I was making something nice to eat from something most people would just walk past and never give a second glance. I felt a bit like one of those wonderful earth mother type women who have wildly growing gardens, tie dyed skirts, homespun jerseys and chickens. Maybe I'd like to be one of them? Kit says I'm not serene enough to be one of them, unfortunately he's right.
There is a textural difference with the nasturtium pods. They are crisper, juicer, slightly peppery and have the salty briny taste that you expect from capers as well. They are also slightly larger. In many respects they are more complex tasting.
2 tablespoons salt
1 cup water
1/2 cup green nasturtium seedpods
3/4 cup white wine vinegar
2 teaspoons sugar
2 fresh bay laurel leaves, or 1 dried
2 3-inch sprigs fresh thyme
Brining
Bring the salt and water to a boil in a small saucepan. Put the nasturtium seed pods in a heat proof glass jar and pour the boiling brine over them. Cover and let them soak at room temperature for 3 days.
When you pour this over you will see them go from bright green to a much paler lemony green.
This is what they will look like after a little while in the brine.
Pickling
Drain the nasturtium seed pods in a fine sieve and return them to the jar. Bring the vinegar, sugar, bay leaves, and thyme to a boil.
Pour the boiling vinegar mixture over the seed pods and let cool.
Cover the jar and refrigerate for 3 days before using. They'll keep for 6 months in the refrigerator if covered in the vinegar.
So easy!
The pods all brined and pickled and ready to eat.
It was fun to try something new and different and my family, although all somewhat hesitant, they were interested in eating something a little unusual. They thoroughly enjoyed the food adventure. Be daring! Go pick those Chive flowers, Nasturtiums, Dandelions, Roses and Calendula - find something to do with them that makes you a little excited about how it might turn out!
Just a little safety warning, not every type of flower is edible - so have a look here on What's Cooking Americafor some general good advice and a list of edible flowers. I don't want to hear about anyone having a conversation with a rock after eating some weird flower they should not have.