A long while back now I came across a recipe in a magazine for mushroom soup. I'm a huge fan of mushrooms and this soup caught my eye. I have nothing against cream of mushroom soup - creamy mushroom soups are wonderful. Now and then though I want to ditch the creamy textures and just go for flavour - plain and simple.
This would have to be the most flavourful soup in my repertoire. It really packs a mushroom punch. If you are indifferent to mushrooms and think they are just spongy little mouthfuls of nothing then this soup will absolutely change your mind.
It has aromatic Porcini, fragrant garden thyme and pink shallots with a hint of garlic and a splash of sherry. There is something about sherry and mushrooms that are the most fantastic combination. If they could get married, they would.
I lost the recipe long ago for the original soup, but came up with my own version which is very close to, if not better than the original. If you really feel you want to have a creamy soup then do just add cream or milk to your liking at blending stage.
I know some of you are thinking - "I wonder why all her photos are blue today?" The actual reason is rather boring ( the light was not great and for some reason my camera would not focus correctly and mushroom soup - is not exactly photogenic at the best of times) So lets just say I'm having an arty and creative moment.
I actually quite like the cold feeling of the photos - and today certainly was on the cooler side. Autumn is here.
The pumpkins are getting bigger and fatter.
The borlotti beans are almost ready and are a vibrant red splodge in among the green leaves. You can see the slugs have been having a wonderful time with the leaves, but fortunately doesn't seem to have effected the beans at all. It's one of the hazards of having an organic garden when you don't actually know what you're doing, like me.
My dill is going to seed with yellow flower heads and the last of the little wild strawberries in my garden are ripe. I have to scavenge carefully now see them hiding under their leafy mantle. All over the city mushrooms are springing up on grass verges and under the trees if you know where to find them.
This recipe has the addition of dried porcini - it's a very small amount and it might not seem like much but they have such a massive flavour that a tiny handful makes a large difference.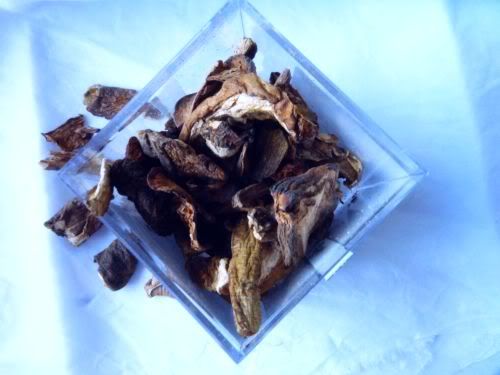 It's just the weather to welcome in the mushroom dishes that I love. Be warned though, this is no insipid watery soup, it has great strong flavours and you will want to have something to accompany like a chewy ciabatta or sourdough to help balance out the flavour and mop up the last of the drips from the bowl.
Best Mushroom Soup - Ever.
1 kg of chopped mushrooms (mixed button and portobello)
6 cups of good beef or vegetable stock
2 large shallots or onions finely chopped
2 cloves of garlic finely chopped
50 grams butter
2 T olive oil
two sprigs of fresh thyme (1 tspn dried)
15g dried porcini soaked in a little boiling water for 20 mins)
2 T sweet sherry
salt and pepper to taste
Cook your shallots or onions and garlic in the butter and olive oil over a medium heat until transparent. Add in the button and portobello mushrooms and cook until wilted and exuding juice.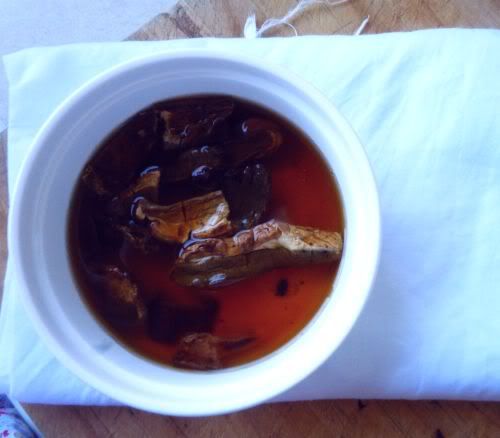 Remove the porcini from their liquid - squeeze any excess liquid from them back into the liquid you soaked them in. Reserve the liquid to add into the soup. Finely chop the porcini and add in with the mushrooms.
Add in the remainder of the ingredients as well as the soaking liquid.
Cook over a gentle heat for roughly 20 minutes, until the mushrooms are well cooked and the flavours have had time to mingle. Place in a blender or food processor and blitz until the mushrooms are finely chopped. Taste for seasoning. Serve hot with a substantial bread and a sprinkling of parsley or a little chopped green onion on the top.
Best mushroom soup - ever.