This is a wonderful warming pie that has a melange of mushrooms and soft waxy potatoes in a cream cheese and sherry sauce. It's a hearty pie that's just the thing for those cold wintry days or in my case cold summer days. Summer has decided it's not really going to come to Dunedin for any length of time this year and today is definitely on the chilly side.
I guess that's what happens when you don't live that far from Antarctica and you have penguins on your beaches. That's right .. we have six species of penguin here in New Zealand.
These little guys here - live about 20 minutes from my house. They are the rarest penguin in the world - the yellow eyed
penguinor Hoiho as they are known in Maori. I blame the cold weather on them. Look at him enjoying the lack of sun!
One of the nice things about making this pie with phyllo pastry is that it looks like you've put far more effort into making the pie than you actually have and of course the phyllo is lower in fat than a traditional pie crust. I use this phyllo crust for sweet pies as well when I feel like something different. It makes a really spectacular topping for an apple pie dusted with icing sugar.
The inside is creamy and mellow with a subtle earthy flavour and the little flakes of phyllo add a crunch with each mouthful. Everyone at our dinner table went back for seconds. It's that good.
Mixed Mushroom & Potato Phyllo Pie
The quantities in this are somewhat flexible, make it with more or less potatoes, or more or less garlic and cream cheese. Play around with the flavours until you have it how you like it.
8-10 sheets of Phyllo pastry
500-600 grams of mixed mushrooms
6-8 medium sized waxy potatoes
2 medium size brown onions chopped
2-3 cloves of garlic finely chopped
3 Tblspns Sherry
3-4 sprigs of fresh thyme or one tspn of dried.
200 grams/7oz cream cheese (light is fine)
50 grams butter (2oz)
Salt and Pepper to taste
melted butter or olive oil to brush phyllo
I made mine in a 25cm/10 inch pie dish that was 2 inches deep.
Filling
Wash and chop your potatoes into roughly 1-2 inch cubes. I did not peel mine I don't mind the skin and like the added nutrition, but you can peel if you wish. Simmer gently until tender in boiling water. Drain and set aside.
You should have enough potatoes to loosely fill your dish.
Adjust quantities accordingly.
Wipe your mushrooms and chop roughly - I used a mixture of portobello, oyster and button mushrooms. But you could use any combination.
Melt your butter in a large saut pan over a medium to low heat and cook your onions until translucent, add in your garlic and cook gently.
Add in your mixed mushrooms and cook until they are tender and releasing their warm brown juices.
Add in your sherry, cream cheese and thyme, simmer one minute stirring gently, add salt and pepper to taste.
Do not under season.
Add in your potatoes and stir to combine over the heat. You can crush some of the cubes of potato, try to leave most whole. You do not want a mushy, mashed filling. Taste again for seasoning, you may need to adjust seasoning at this point.
Keep your pie filling warm and set aside while you line your pie dish.
Assembling your Pie
Put your phyllo in a stack and have a damp (not wet) cloth that is large enough to cover the phyllo so it does not dry out.
Melt your butter or get a little olive oil ready to brush on to your pastry sheets. You can use spray on olive oil if you wish - this is the easiest method. I did not have any spray today - so it was back to the pastry brush for me.
Brush your top sheet of phyllo lightly with melted butter or oil and place in the pie dish with the edges hanging outside of the pie dish.
Do the same with the next piece and place it at right angles to the first. Keep brushing then layering your phyllo like this to cover the base of your pie dish - this forms the bottom crust and part of the top.
Use 6-8 pieces of phyllo.
Add in your warm mushroom and potato filling and spread evenly.
Gather up the phyllo from around the edges and gently crumple it up and over the edges of the dish towards the middle of the pie. It will stay where you place it.
Brush with melted butter and crumple up two more pieces of phyllo to fill the gap in the centre.
Your pie should be completely covered. If need be use more phyllo to fill any gaps.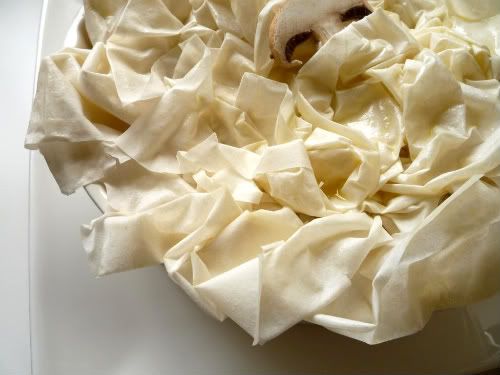 Place in a medium oven (180C/350F) until the phyllo is golden brown and your filling is hot. This doesn't take very long. You might need to place a piece of foil over your pie if your phyllo gets a little brown.
Do keep an eye on your pie; the phyllo will burn quite quickly.
This pie is almost impossible to cut in nice slices, but honestly - it doen't matter one scrap - it's so "award winning tasty" as kit said. If we were not feeding a vegetarian I would definitely have added in either thickly chopped smokey bacon or big chunks of chicken or both! But it was also wonderful as a vegetarian version.
This pie took no longer to make than a typical pie with a usual crust. I know savoury pies (apart from chicken pot pies) are a little unusual in some parts of the world, but you would not be sorry that you gave this one a go.
Do it for the penguins….