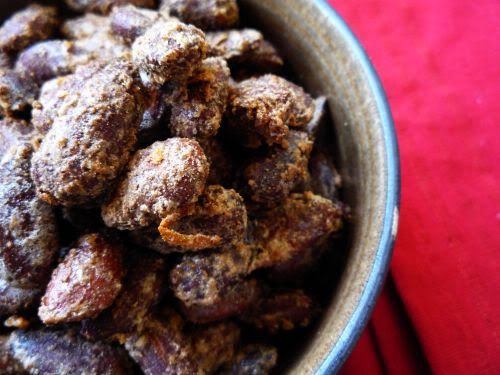 We're a few days into 2011 but it does not feel any different than last year, at least not yet. When I was younger I think I always expected something magical to happen after that last stroke of midnight, but it never did. I think I read too many fairytales.
I know you have great things planned for the next year and we've all made our resolutions to be more careful, be more positive, quit smoking, run a marathon, help little old ladies, drink less, lose weight, be nicer to our families and be in touch with friends more often. I wonder how many of us will succeed? I'm rooting for you and for me!
I have to confess that today my only plan for the year is to make these nuts more often. I'm trying hard to stay away from some of my usual snacks and choose something a little healthier. Almonds are a fantastic snack to have around the house and a handful a day is supposed to lower cholesterol, lower cancer risk, reduce risk of heart disease and help reduce weight gain. I'm pretty sure that we're not supposed to coat the almonds in sugar and spices unfortunately. Eating them raw and dry roasted is the way to go for full health benefits.
If you feel like something a little more treat like - then give these ones a whirl. They graced our Christmas table and the large jar of them that sat on the bench in the kitchen seemed to quite quickly disappear.
When I made this recipe they were not spicy as I expected them to be, they did not disappoint, they were just different. It would be easy to up the spices a little and reduce the sugar if you felt like more of a spicy kick. They would be fantastic with the addition of some hot chilli powder. I'm sure once you've made them you will find a balance that you like.
I chose to grind my spices with the mortar and pestle, there is something about it that I find therapeutic, the smell of the spices wafting up as they are crushed and watching whole spices turn into bronze and fragrant dust ready to be used. You can use already groundspices if you wish of course. I found this tasty recipe over at Sweet Amandine
Moroccan Spiced Nuts
1/4 cup sugar
1 tspn. ground coriander
1 tspn. ground cloves
2 tspns cinnamon
1 egg white
1 tspns grated orange zest
2 c whole, unblanched almonds
I used a large roasting pan for this so the nuts would stay in a single layer. Grease a piece of foil with a little oil, make sure it is large enough to cover the bottom of your pan.
Preheat the oven to 130C/275F degrees
Combine the sugar and spices in a small bowl, and stir. In a separate bowl, whisk the egg white until frothy. If you are grinding your spices from whole spice- make sure it gets to a fine consistency.
Add the spices to the egg, and whisk again. Stir in the orange zest, then the almonds, and mix until the nuts are well-coated.
They will look something like this.
Pour the nuts onto the prepared baking pan and spread them into a single layer. Bake for 40 minutes. Stir them regularly - every 10 minutes or so. I used a wooden spoon for this with a flat bottom, since even with the foil greased they do tend to stick a little bit.
Remove the almonds from the oven, and let them cool to room temperature on the baking pan.
The nuts will keep in an airtight container for up to 3 weeks. But seriously I would not expect them to last even close to that long!