I had never heard of smoked eggs until today. I knew about marbled eggs of various kinds and tea eggs, coffee eggs and one thousand year old eggs but not smoked eggs. We went out to the Agricultural and Pastoral Show on the Taieri Plains and there was a chap in a stockmans coat, sporting a leather hat with a pile of small lime green cardboard egg cartons in front of him. He was from the Manuka Smoked Egg Company in Lawrence - Central Otago.
He looked as though should be out with a sheep dog and some sheep, not selling eggs in a little tent. I was curious so I ambled over trying not to look nearly as interested as I was. Isaac and Kit headed over to pat the small Fresian calf that was close by and I inspected the eggs.
This was what I saw when I opened the egg carton.
These smoky black, brown and gold eggs with the most amazing aroma wafting out of the egg carton. They were slightly sticky to the touch with smoke residue coming off on my fingers when I touched them. They've been smoked over Manuka wood chips, which is really commonly used for smoking salmon, eel, bacon and game here. It gives a rich sweet flavour like nothing else.
I assumed that being smoked the eggs would be cooked but they are in fact raw eggs that have been cold smoked. When I researched a little online I could not find any other results for cold smoked eggs where the egg remains raw after smoking and ready to be cooked. So they seem quite unusual in that respect.
I thought rather than put them in something that would hide the flavour of the eggs they would be better included in a salad where they could be the star of the show.
This is what I came up with to taste test the eggs.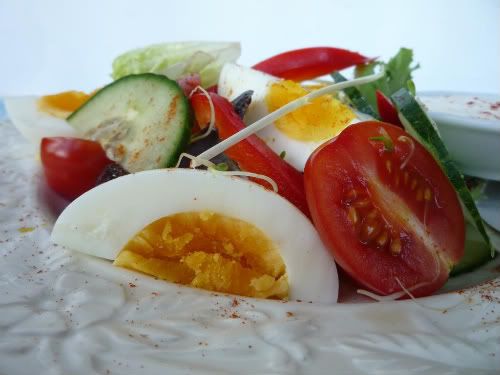 Just a simple mixed salad with a dollop of aioli on the side. We tried it with a vinaigrette as well, but the creamier dressing was better.
The eggs were reminiscent of bacon! They had a soft smoky savoury taste, and they were really quite stunning in flavour. If you know anyone with a smoker try to tempt them into experimenting with it with some smoked eggs, they were excellent.
I was surprised to see the eggs not coloured at all by the smoking process. They looked the same as an ordinary hard boiled egg sitting in a salad. But the taste was far from ordinary. If you can get hold of these give them a try, surprising and wonderful.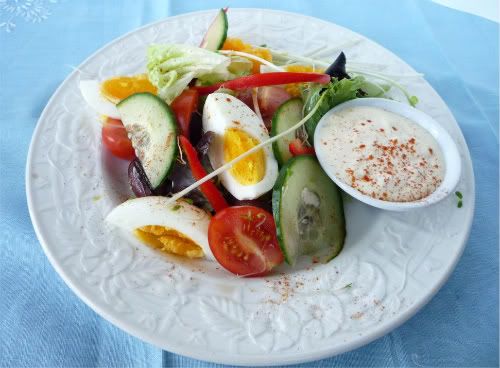 I also wanted to share with you some pictures from the outing. The New Zealand Agricultural and Pastoral shows are something of a tradition here. New Zealand is a country that has always had a strong farming and agricultural community. Many of our primary exports are agriculturally based.
This is such a typical NZ scene:
A sheep dog working the sheep, very smart dogs that respond to the merest hint of a whistle, commands or gestures, and the sheep of course scattering everywhere but where they should be going.
The shows are a way for our farmers to show off their prize winning animals, the bakers to bake their pikelets, scones and fruitcakes and the gardeners to gather up an abundance of vegetables and gain the red ribbon for first prize if they are lucky.
Spinners, knitters and weavers usually have a spot out of the sun to show their painstaking and intricate creations. Selling soft bags of wool and fleeces ready to be carded alongside yarns hand spun in all the hues you can imagine.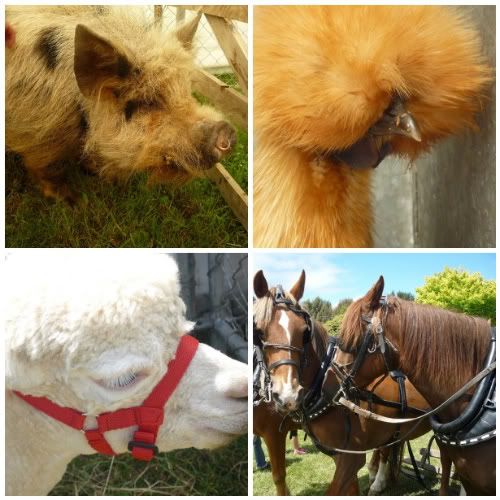 A Kune Kune, a Silky hen, an Alpaca and a team of ponies. That little Alpaca belongs to Flagstaff Alpacas, they make alpaca yarn in a variety of plys and colour-ways.
It's a day for the equestrians to groom their horses till they shine, plait their manes and tails and either show their ponies and horses in the ring or put them through their paces for the show jumping.
There are also often massive displays of both vintage and modern machinery, side shows, craft stalls and animals of all varieties, not just sheep, cattle and horses. All manner of local crafters are usually present as well with their stalls dangling with all kinds of wares.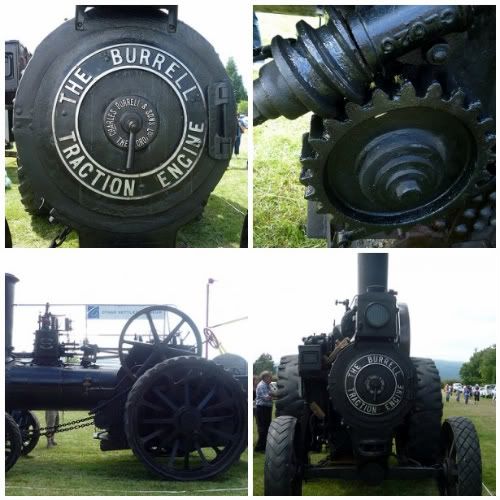 How about this Steam Traction Engine? An amazing piece of machinery and still working as it did when it was first assembled. There was a tiny one too, but this large one was really impressive.
One of Isaac's favourite parts of the day was watching a science demonstrator make raspberry ice-cream instantly with liquid nitrogen. It was good too! Fresh raspberries and fresh cream.
It's a slice of real New Zealand, and I just love it. There is nothing better than sitting in the sun on a picnic rug with voices over a loud speaker saying things no one is listening to, drinking a cold drink and eating home-made bacon and egg pie with a side of magic ice-cream made with liquid nitrogen.