Lumberjack Cake - if you are from my generation, no doubt you hear the word "Lumberjack" and start humming Monty Python tunes. This cake is a lot more than a way to remember the lumberjack song though, it's really quite possibly one of the most delicious cakes on the planet. No I really mean it! This cake despite it's simple ingredient list, just knocks your socks off. It's my family's favourite cake hands down.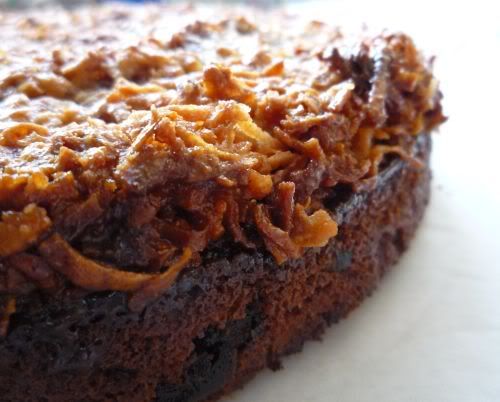 This is no light and airy confection. This cake is absolutely not suitable for anyone that is going to drink from delicate china cups with matching patterns and play gin rummy. Those people should eat macarons, meringues and little dainty white bread sandwiches with snippets of chervil poking out the side - with the crusts removed.
This is a BIG MANLY cake, hence the name. This cake has hairy legs and a plaid shirt! This cake hasn't shaved for a week!! Ok, maybe not.. but you get the picture.
Chunks of apple and moist dates, coconut on the top smothered in a topping that turns it into a crispy toffee brittle. It's full of flavour and taste and should definitely be consumed in large hunks with a mug of something hot; seconds of this cake are virtually compulsory.
Lumberjack Cake - only for Real Men and Women
Originally found on Foodlovers.
185g pitted dried dates, coarsely chopped
1 cup hot water
1 teaspoon baking soda
125g butter, chopped
250g caster sugar
1 egg, beaten
1 1/2 cups plain flour
1 teaspoon vanilla essence
2 apples, peeled, cored & diced
Topping:
2/3 cup brown sugar
60g butter
1 cup shredded coconut
3 1/2 tablespoons milk
Preheat oven to 180C/350F
Combine dates with 1 cup of hot water and soda, set aside for at least 30 minutes. Beat butter and sugar until light and fluffy. Gradually beat in egg. Sift flour with pinch of salt and stir into mixture with vanilla. Mix in date mixture and apple. Spoon into a 20 cm (sometimes I make this in a 22cm - just watch the cook time) lined cake tin. Bake for 40 minutes or until top is set.
Place topping ingredients in a small saucepan and stir over medium heat until well combined. Remove cake from oven. Spoon topping over to cover and cook for 20-30 mins longer or until topping is golden and cake is cooked through. Remove from oven and cool in the tin.
I like to run a knife around the inside edge of the tin while the cake is still hot to make sure that all the little pieces of toffee coated coconut are not sticking to the side - if they stick, they take chunks of topping with them when you take the cake out of the tin.
This cake is delicious fresh the day it's made, but also good the following day if indeed there is any left.
Put on your plaid shirt - stop shaving whatever body regions you currently shave (and NO I do not want to know which) and make the cake!