At the Otago farmers market every week the Lievito Bakery sets up their stall and if I'm lucky enough, I get there before they are completely sold out.
This morning I managed to snag myself a chocolate and almond croissant. They are flaky, buttery, crisp on the outside and soft on the inside. Sweet almond paste lies in wait on the inside of the croissant. On first appearances you think. "wow those are huge! I will never be able to eat all that" Then a moment later you notice yourself licking your finger to pick up the last few crumbs on your plate, because the croissant vanished.. somehow.
I took some home to the family, and within moments of the croissants arrival, they too vanished.. quite mysterious really.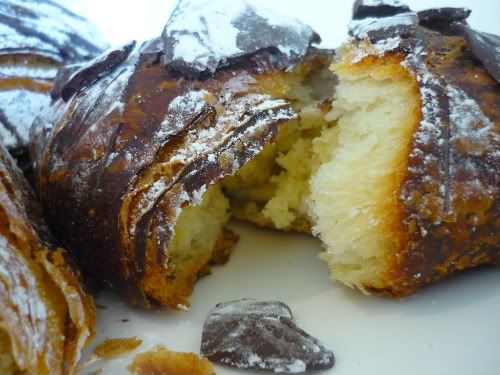 They have other tempting treats to offer of course: Ciabatta, Barvarian black rye bread, orange and almond danish, date and apricot brioche (which is perfect with a cup of coffee and someone you love). This loaf is actually big enough to share; of course, you may not want to share.
The other thing that caught my eye this morning (unfortunately my wallet was looking a little empty though), were the Eccles cakes.
These little wonders are filled with currants and spices. Here, let me read you the description from the Lievito Bakery website.
"Dating from the late 1700s this little treasure is named after the wee town in England where it started and is something to savour. Heaps of currants are bound together with Butter, brown sugar and spices then enveloped in puff pastry."
They recently gave themselves another reason to be proud, winning the gold medal in the gluten free section at the Baking Industry of NZ competition, and the bronze in the bread section.
I love this little bakery, which was started when the farmers market was born. I have to say I am really, really, really glad they are in my home town.
They have since this blog item was originally written opened a shop called Gilberts Fine Foods in Otaki St Dunedin. Pay them a visit for their Gourmet foods, wonderous bread and they have a great selection of specialist gluten free baking mixes for those of you on a gluten free diet.