There is a bread baking obsession going on in our house at the moment. I know you've only seen the bagels that Ryan made, but we have plans! Oh yes we have plans. Ryan and I made the Ciriola together, the kneading by hand was a two person job. Just occasionally I wish I had a Kitchen Aid with a dough hook, this was one of those times. Kneading bread is a surprisingly good workout!
Most bread now comes packaged in plastic and tastes like nothing - just a mouthful of air. Bread in my childhood came in half loaves, crusty and full of flavour. Wrapped in brown paper and secured with a single piece of tape or now and then tied with string - not sweating in a plastic bag. Mum would send me to the dairy to pick up a loaf of fresh bread and I'd worm my finger through the crust and pull out the warm insides. I'm pretty sure I thought mum would not notice, if I just kept the crust mostly intact… kids are not that smart sometimes.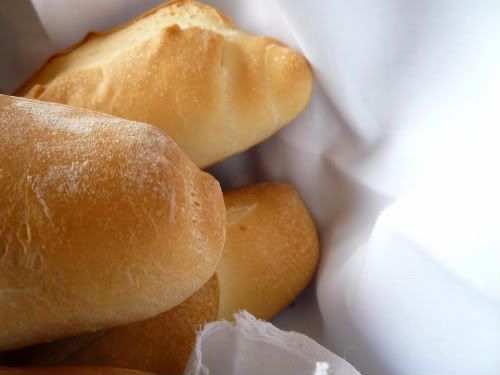 I saw these beautiful rolls and I just had to make them. Ciriola means candle in Italian. These little loaves are hard to find information on in English and the translations seemed somewhat inaccurate. One of the pages I translated told me that the loaves were "full of crumbs" I have no idea what that is supposed to mean?! So I don't have a lot to offer you in the way of information. I do know that they are used for sandwiches.
These loaves are enriched with extra virgin olive oil. If you have some time to make bread; ciriola are crusty on the outside, light on the inside and each warm mouthful makes it worth the time to make them.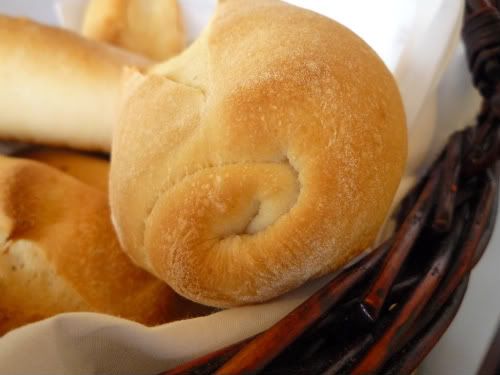 La Ciriola
Recipe from the scrumptious Broxholm Road Blog - check it out - it's wonderful!
1 kg Strong White Flour
550g water (divided use)
45g extra virgin olive oil
25g fresh yeast
20g salt
1 tspn sugar
Dissolve 1 tspn of sugar in 150g of the warm water.
Crumble in the fresh yeast and whisk to mix through. Pour the yeast mixture into a large bowl or into the bowl of your stand mixer with the hook attachment.
Add the olive oil and the flour - slowly add in the remainder of the water and sprinkle in the salt last.
Mix the dough for about 20 minutes in the stand mixer or knead the dough by hand for roughly 30 minutes. The dough should pass the windowpane test.
Place in an oiled bowl and coat the bread lightly with a slick of olive oil, cover and put in a warm place to rise for roughly 2 hours.
Turn the dough out and cut into twelve pieces weighing roughly 150 grams each.
Roll out each piece of dough to a sheet roughly 30 cm by 10 cm. You want to have it narrow at the ends and widest in the middle. Like an elongated egg shape.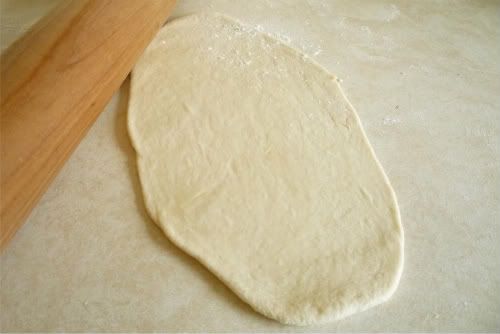 Roll up into a roll and transfer to a parchment lined baking sheet. Give the rolls room to expand. Leave to rise for another 40-45 minutes.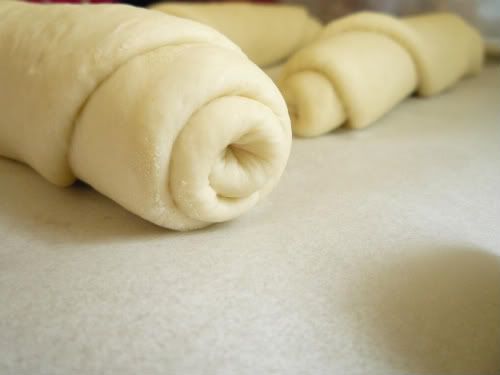 I left our rolls a little longer than this and lost some of the
definition in the lovely curly bits at the end.
Preheat the oven to 220C/428F
Just before placing your rolls in the oven slash the top long ways with a sharp knife. You can use an egg wash if you like. I put the egg wash on some and left some without.
Cook your rolls for roughly 20 minutes until golden.
Leave to cool on a rack if you wish or you can do what we did. Serve them burning hot from the oven .. burn your fingers, juggle them around a bit, spread bits of crackly crust everywhere and finally breathe in the scent that only fresh bread has.. devour with copious amounts of real butter or olive oil.
Of the twelve loaves I managed to salvage two to take to Mum and Dad, the rest were gone faster than I could blink. They were everything fresh bread should be.