Craft Update
Sounds like a good story for kids right? Oh no, no, no … this is no story for children.. it's a story of frustration and terrible curses, a story of pain and suffering and self doubt. You see, I decided to learn to spin and guess what? I have no talent whatsoever with a spinning wheel.
Spinning is supposed to be relaxing apparently - but considering every muscle in my body ached from the tension of trying to get the fibre to do what I wanted and my jaw was sore from clenching my teeth and stifling a range of curses - I'm not sure that it falls into the relaxing category for me. It's like learning to pat your head and rub your tummy for the first time.
Unlike Rumplestiltskin (seriously who would name their kid that anyway?) who could spin straw into gold, I've discovered I can spin beautiful soft Perendale and Merino into knotted, tangled lumps of ugly yarn! My yarn has the unique quality of being able to break on a single touch, even when it's thick and lumpy. Let's just say I have a whole new respect for spinners.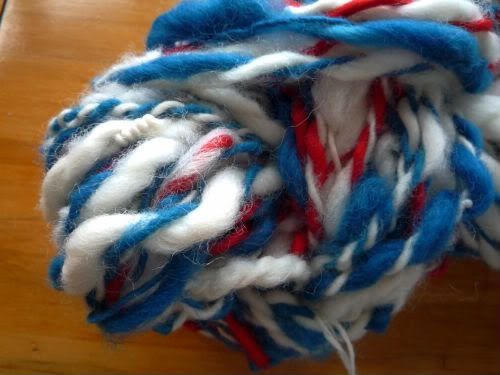 Fortunately I am pretty persistent, and with Morag's (the saint from Vintage Purls that taught me to spin) patient guidance my spinning has improved somewhat. She was even kind enough to suggest that I try selling my first attempt as "art yarn". She was also very sweet and gave me a wheel to take home so I could hone my skills. That yarn above is my first gaudy attempt at spinning.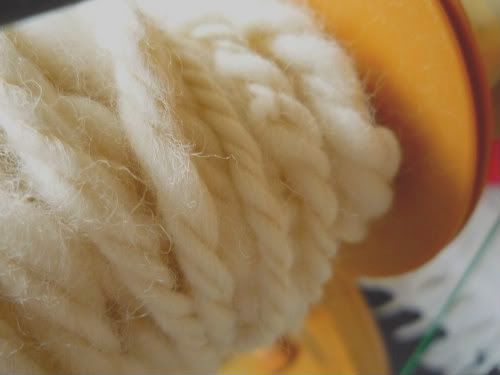 Here's my second attempt - slightly better but still not that flash and still super-duper chunky. I promise you I have improved since this point, I just don't have a photo to prove it.
Spinning for me falls into the same genre as making yoghurt, foraging wild foods to cook and digging up shellfish to eat. It's one of those lovely earthy things - that make you feel like you are keeping an old tradition and skill alive.
I think I've mentioned before that I'd love to be one of those wonderfully serene earth mother types that makes their own soap, bakes bread daily and has chickens in their back garden - but of course I fail at all of them except the bread baking and even that is intermittent. But still I persist. In my defence, I do have a vegetable garden!
My small success this week was ordering this lovely quick knit pattern, Autumn online and making this hat for Leah in an evening. My hat took a scenic skiing trip to Wanaka with Leah - it's so pretty in winter. Hi Matt! sorry for putting you on my blog! Leah told me to.
The yarn is a soft and squishy yarn that my mother in law Courtney sent me from the states. Wool-Ease - Thick & Quick, and it certainly was both thick and quick! It knitted up very quickly indeed. Leah headed off to uni today wearing the hat and came home touting it's praises for both warmth and awesomeness. So if you have to knit a hat in a hurry - this one might just be the hat you turn to if you have some super bulky yarn and fat 8mm and 9mm circ needles on hand. There is a nice little toddlers size too to deal to the yarn leftovers.
After making the hat in the super chunky yarn I could not quite face swapping down to the lace weight that I have sitting just begging to be used. Look at this gorgeous merino lace weight from Touch Yarns. I adore this yarn. It's so soft, we are lucky to have such wonderful merino literally on our doorstep. I'm still pondering what I'll do with the roughly 1000 metres that I have.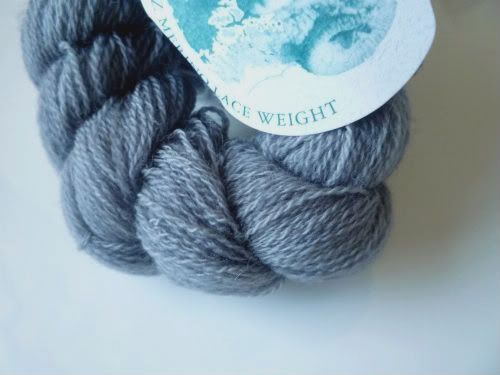 I opted for another chunky yarn for my next project in Sirdar Big Softie, a shade of pale blue (blancmange) for this blanket for a gift for a friend. Turns out that the baby was a girl, so I quickly whipped up some
little flowers on a daisy loom that my mother loaned me. The daisy's looked so sweet when they were done.
I have to say this yarn was a little difficult to work with, although as I got further through the blanket it became a little easier as I got used to the yarn.
My spinning, well lets just say I have shelved that for a little while, until I can sit and swear spin to my hearts content without so many interruptions. I bought this gorgeous bag of merino and silk fibre in a moment of enthusiasm, but I just don't have the heart to ruin it's beauty with my spinning, so I'm sending it to a friend who is a beautiful spinner and a smile in many of my days. The photo does not do it justice, it reminds me of sea foam, soft with gold, azure, eggshell blue and green.
I'll be finishing that rag rug next, showing off some of my crochet, plus I have a couple of hat orders and a pair of gloves that need to be filled before summer arrives.
Welcome to the world baby Olive, I hope that blanket keeps you cosy.