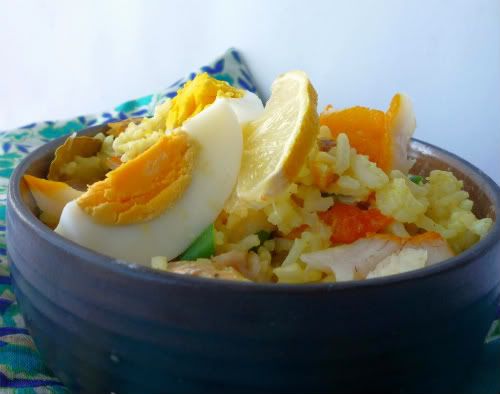 I was reading about this dish to try and find it's origins. Apparently it was introduced to India by the Scottish soldiers in 1790. I can't really see the Scots eating curry in Scotland at that point in history but perhaps that became a natural addition once they arrived in India. Of course I could be wrong, the Scots in the old days might have had curry on their porridge every morning for breakfast!?
However it came about, it's become a traditional English breakfast item. It's not that commonly eaten or even known about here in New Zealand. It seems to have some slight variations depending on which recipe you are reading. But the basic ingredients are fish, rice, boiled eggs, onion and curry. If you are reeling from the sound of it, read on and don't be scared, it's really very good. Creamy, a little spicy and very more-ish.
I could not even tell you when I first had Kedgeree; my memory is failing me with regards to that. I do know it's been a part of our menu for quite some time, although not for breakfast. I can't face fish first thing in the morning, even though I love fish. We tend to have it for lunch in the weekends or a light dinner in the evening. When we eat it, I always find myself thinking "I must make that more often".
If you're not used to eating fish and curry it does sound a little odd, but this is a very mild flavoured curry and does not overpower the fish at all. This is a great dish to use with cold smoked, flakey fish, which also has the bonus of often being a little cheaper. This recipe is adapted from Julie Le Clerc Cafe@home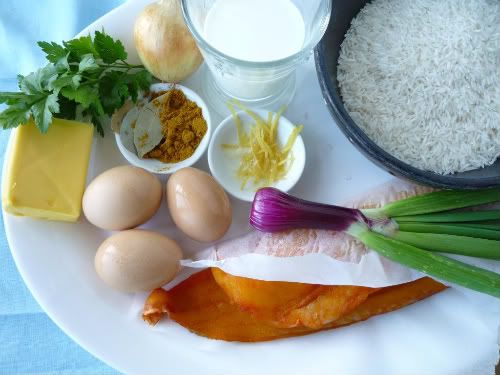 I think I should mention in passing that Kit grew that beautiful red spring onion in the photo, It was pulled out of the garden and plopped in the fragrant and golden yellow Kedgeree a few minutes later.
If you want to make this as a breakfast dish - cook your rice, fish and eggs the night before to make this fast to put together in the morning.
Kedgeree
2 cups basmati or long grain rice
50 grams of butter
1 onion finely sliced
2-4 tspns medium hot curry powder
2 bay leaves
1/2 cup of milk (or fish stock)
1/4 cup of cream (optional)
400 grams of smoked fish - cooked and flaked in big chunks
small bunch of green onions - sliced
3 Tblspns fresh parsley finely chopped
zest and juice of one lemon
3 hard boiled eggs peeled and quartered
salt and pepper to taste
Cook the rice and keep warm.
Melt butter in a large saucepan, add onion and cook for a few minutes until golden. Add the curry powder, milk, (or fish stock) cream, bay leaves and bring to the boil.
Add the remaining ingredients - except the eggs- and stir fry until hot.
Add salt and pepper to taste and garnish with the eggs on top and a slice of lemon.
Many recipes also have the addition of a tomato - which would be added in when the fish was added in.
If you are having this for lunch or dinner, some small papadums make a nice addition to
be able to scoop up blobs of wonderfully sticky Kedgeree and take mouthfuls from. They have a resounding crunch which is a nice contrast to the soft, buttery, spicy rice.
You can cook papadums in the microwave without having to use a lot of oil to fry them, which is a big plus. They are fun to watch, they puff up like a balloon inflating in just a few seconds. I did find a recipe for them online, but that will be something for another day, they are quite time consuming to make.
I found some beautiful mini papadums, which were just the perfect size for this. They were only a couple of dollars for quite a large packet, Isaac was most amused by them and ate a stack of them. I suspect that he had mostly papadums for dinner actually…