This Lamington packs a serious chocolate punch. How could I enter the Lamington contest over at Delicious Delicious Delicious and not submit the quintessential Australasian flavour combo. Jaffa. Which is Chocolate and Orange if you are not familiar with Kiwi/Aussie speak.
No frou frou and fluff on this Lamington, it's a serious cake eaters task to get through one of these. It's not a beauty contest winner - but if there was a tasty contest this would be giving those other Lamingtons a run for their money.
These are Jaffas. Little solid balls of chocolate surrounded by an intense orange candy shell.
They were the inspiration for this Lamington.
Double Chocolate Jaffa Lamingtons
The Orange Cake
I made up my favourite citrus and coconut cake, the recipe is over here on this page with some small modifications for the Lamington base.
Use two Oranges - not Tangelos
Bake in a 32cm x 21cm (13 inch X 9 inch) rectangular pan.
Omit the syrup steps entirely.
It will not take as long to cook in this pan, so keep an eye on it.
Leave to cool completely before you attempt to make Lamingtons with it.
Orange chocolate Ganache
While your cake is cooking make your chocolate ganache. This is a soft ganache, it will not set firmly.
250 grams dark chocolate broken into squares
200 mls of cream
1 Tblspn Grand Marnier (optional- if using, reduce the amount of cream slightly)
Place your cream and chocolate in a heatproof bowl over a saucepan of gently simmering water. Stir continuously.
Once your chocolate starts to melt remove from the heat, stir until all your chocolate has melted and the chocolate and cream have amalgamated.
Add in your Grand Marnier if you are using it at this point.
Set aside roughly 1/2 a cup of the ganache and place in the fridge to cool and thicken. Leave the remainder at room temperature - you may need to reheat this slightly before you use it to dip your Lamingtons.
Coating your Lamingtons
6 Cadbury Flake chocolate bars - If you cannot get these coarsely grated chocolate is a fine substitution
Cut your orange cake into squares roughly 2 inches/4 cm square. Take some of your cooled ganache from the fridge and spread on the top of one square. Sandwich another on the top.
Gently reheat the ganache that was not in the fridge till it is a runny consistency.
Using two forks dip your sandwiched cake squares into the bowl of slightly warm ganache to coat. I used a small measuring cup and poured over the top of the squares to minimise the cake crumbs in the ganache. You can place them in the fridge for a few minutes at this point to solidify the ganache a little if you wish.
Roll into the crumbled chocolate flakes and pat more on gently where there are gaps. Place carefully on a plate.
Store in the fridge in a covered container for up to 3 days.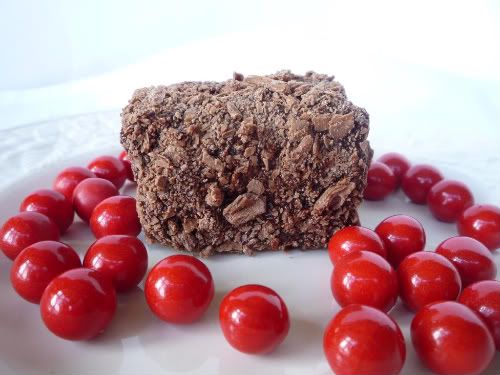 You'd like to see the inside?
I have to warn you, these are impossible to eat in a tidy manner, but then again, half the fun is licking copious amounts of chocolate off your fingers.
After roughly 10 minutes - this was all that was left of a batch of these.
It was hard to get a photo and my photography skills are pretty shaky at the best of times - seriously, they went so fast.
There was also another slight variation on the one you see above with Almond Gianduja
as a filling.
I love these home-made Lamingtons. New Zealand and Australian Bakeries - please stop selling the stale and crusty versions! To those Bakeries that sell lovely moist Lamingtons - keep up the good work!