I have an ongoing love affair with bread. It doesn't really matter what kind, sweet dark rye, fluffy white, filled with moist fruit, enriched with eggs and butter or peppered with grains and seeds.
In New Zealand we have a brand of bread called Vogels
Bread which almost falls into the category of a luxury bread. You can buy it in every supermarket but still it's one of those things that most people think of as a bit of a treat. It's dense moist and practically bursting at the seams with seeds and grains. Not only is it very good for you, but has a wonderful flavour.
This is a homemade version of this which comes pretty close to the original even if I do say so myself. If you like Vogels bread you will love this.
This recipe came from the talented Jacqueline onFoodlovers who made a modified version of
Jim Lahey's no knead bread and then adjusted it according to her needs and tastes. It's really a very flexible recipe and you can add in all kinds of grains and seeds. This one is packed with kibbled rye, kibbled wheat, sesame seeds, oats, linseed, pumpkin seeds and quinoa. There are many more possibilities - spelt, millet, sunflower seeds, chia seeds, barley and on the list goes. It's moist, dense and so flavourful. You can pick and choose the grains and seeds that you would like to include.
This wonderful bread is easily made vegan by just omitting the skim milk powder or substituting soy milk powder. I've made vegan and non vegan versions and there is really very little difference between the two that I can pick
Toast it and use it as the base for fabulous crostini or smother it in thick spreads and jams. One of my favourite ways to eat this type of bread is toasted with a slathering of marmalade. It makes a substantial sandwich too, imagine two lovely thick slices of it packed with salami's and cheese with crisp, fresh salad vegetables. It's going to cope with a mountain of fillings and make a real meal.
I am singing the praises of this bread so you'll try it. If dense, grain packed bread is your thing, you'll love it as much as I do.
Jacqueline's Slow Rise Wholegrain Bread
cup kibbled wheat
cup kibbled rye
2 Tbsp Quinoa (optional)
3 Tbsp flax seed
1 cup water
Microwave all on high for 4 minutes or heat together gently in a saucepan until almost at a simmer and leave till cool, then refrigerate until you are ready to mix up the bread dough.
Jacqueline tells me she no longer soaks the grains but I did with this loaf, so I can't really comment on any difference it may or may not make.
Place the following dry ingredients in a large bowl and mix well
4 cups high grade bread flour
1 cup whole meal flour
2 Tblspn's gluten (I made it without this, but using it will give a different texture)
cup rolled oats
cup sunflower seeds (optional)
1/4 cup pumpkin seeds (optional)
3 Tbsp sesame seeds (optional)
2 Tbsp skim milk powder (optional if you want to make it vegan)
1/3 teaspoon instant yeast
2 3/4 teaspoons salt
2 1/2 cups fridge cold water
1 tsp wine vinegar
Add the cold water and vinegar to the soaked kibbled grain mixture and then pour into the mixed dry ingredients.
Mix well until a shaggy dough forms.
Cover bowl and dough with a plastic bag and leave in fridge for 3 - 12 hours.
Remove from the fridge and leave at room temperature for 12 -18 hours. Leave for longer if cold weather, it needs to have bubbles forming on the top of the dough when ready.
When dough is bubbly on top, stir and fold dough over on itself once or twice, using a silicone spatula.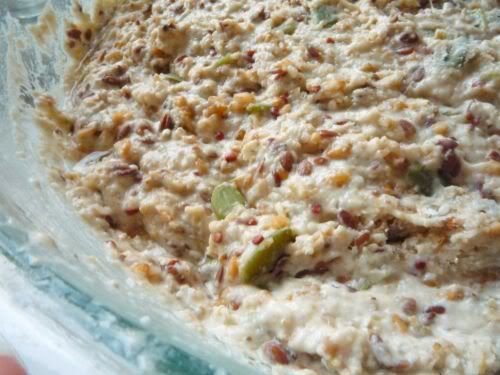 \
Your dough is going to look something like this. You can see it's a very sloppy wet dough.
Cover and let rest about 15 minutes.
Using a spatula, gently shape dough into a rough ball, folding it over itself, no kneading necessary.

Dust flour over the bottom of the bowl and place the dough seam side down back into the bowl. Cover and let rise for about 2 hours. When it is ready, dough will be more than double in size.

Half an hour before dough is ready, heat oven to 230 deg C and place the cast iron dutch oven and lid in to heat also.

Tip dough gently into hot dutch oven container, seam side up. Sprinkle quickly with water (or dust with flour) and put lid on pot and place back in oven. (I use a silicone spatula to ease the dough from the sides of the bowl cleanly as I tip it into the bowl. I try to prevent any strands of dough from breaking)

Bake 35 minutes then remove lid and bake a further 15 minutes to brown the top. Remove from oven, tip bread onto a rack and leave to cool. Cover with a cloth if you like a soft crust, if you like a firm crust leave the bread exposed to the air.
Do not slice until cool, this is quite important since it is a very dense moist bread. If you try to cut it while it's hot it will be like trying to slice oatmeal and you will ruin the structure of the bread.
Although this all sounds very involved the actual hands on time is
really minimal, it's really just a matter of mixing it all up and then leaving it to rise with a couple of stirs. My family absolutely adores this bread and the ingredients for it are now a constant in our pantry.
I am hoping to find a little time to experiment with a fruit version of this bread.
Thanks Jacqueline for the wonderful recipe! If you would like to check out the very lengthy discussion on this bread you can find it on the foodlovers forums.
Happy Breadmaking!