I know you're thinking "Everyone knows how to make hummus", but I don't think so! They still seem to be able to sell overpriced hummus at the supermarkets and it is the easiest thing in the world to make. You get more than double the amount for half the price! If you own a food processor or blender or even have a strong arm and a mortar and pestle you can make your own.
It's easy as pie to flavour with anything you like and it's the perfect addition to home made pita bread and falafel. Roasted red peppers, chilli, sweet potatoes and curry powder, roasted tomato, herbs, pumpkin: the possibilities are endless. Spread it thick on fresh bread, or dip chips into it, use in place of mayonnaise in sandwiches and serve it with boiled new potatoes or potato wedges. Or, just serve it with a huge plate of crunchy raw veges as a dip for a healthy snack.
This recipe uses canned chickpeas, but of course you can use dried chickpeas that you have soaked overnight and cooked until tender as well if you wish.
Basic Hummus
1 can of chickpeas
2 cloves of garlic roughly chopped
1-Tblspn Tahine (sesame paste)
salt
2-3 tablespoons olive oil
juice of half a small lemon
water to achieve desired thickness.
Place your chickpeas, garlic, tahine, lemon juice, a sprinkle of salt and olive oil in the food processor, pulse until your hummus looks a little coarser than you would like.
Add a little water to thin if needed, pulse a little more and taste for seasoning. I like mine quite lemony so I often add a little more lemon juice. I will often put a tablespoon of olive oil on top to serve - it looks nice and olive oil is tasty.
Sorry for the brief post today, but Leah ran off to Waikouaiti with her boyfriend and the camera! I was going to make a cherry clafoutis with the cherries I got at the farmers market this morning, but perhaps tomorrow, if there are any left. Doubtful.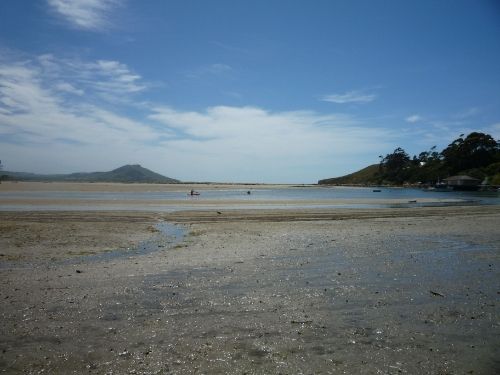 This is the beach at Waikouaiti: it's about 10 minutes walk from our family holiday house there. We kept our horses there as teenagers, and spent our holidays there growing up. I've walked along this beach so many times, followed by our black Labrador, although she would often give up half way, and just wait for us on the beach until we came back.
This beach and this little town of roughly 1500 people has been a very big part of my growing up years as well as my own children's. It's only about 30 minutes drive from our home in Dunedin, and about 5 minutes away from a fantastic artisan cheese producer, called Evansdale Cheese. Don't let that pretty blue water fool you either, it's not warm, it's very cold!