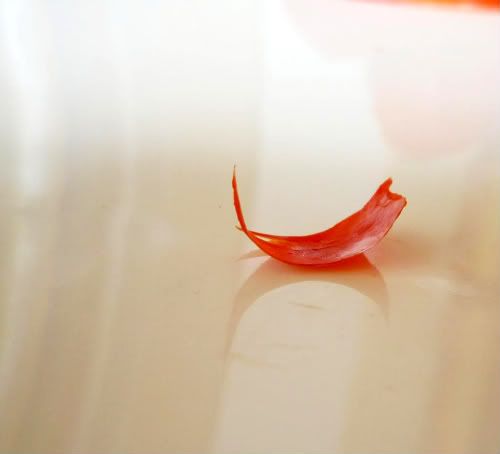 Roasted peppers, smoky, rich and vibrant, they give interest and depth to hummus, fritters, omelettes, mayonnaise, dips, soups and a myriad of other dishes. Knowing how to roast peppers rather than having to buy them is a great kitchen skill to have and they taste a million times better than the ones that you can purchase in a jar.
I made a dip for you all today that had roasted red peppers in it.
However, I was not happy with the dip, it was way too cheesy and had far too much fat in it for my liking. No dip for you! But I thought you might like to know how to roast the peppers. I'm planning on making some red pepper mayonnaise with the leftover peppers tomorrow.
Roasted Red Peppers
Preheat your oven. Turn on your grill - to it's highest setting
Chop your peppers and remove all the membranes and seeds, cut into quarters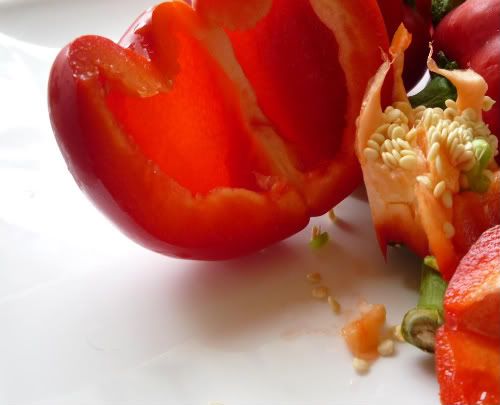 Line a tray with foil and place your peppers cut side down on the foil.
Place them under the grill until they have charred black spots on most of the skin. You will hear them pop and crackle a little bit, don't worry they are not going to explode.
Take them out when they look something like this
Pop them in a sealed plastic bag and let them sweat it out in there for a while until they are cool enough to handle.
When cool enough simply peel the skins off - they will come away easily.
Store in the fridge for a few days in a sealed container. Or make something delicious with them right away.