Yes I am indeed going to add to the wealth of hot cross bun recipes out there on the internet. Slightly late, but there's still a couple of days left to make these. I love hot cross buns and it's simply not Easter time without them. Year after year the hot cross buns available in the supermarkets are getting doughier and less fruit filled. They collapse when you eat them. Bakery hot cross buns are often very good, but a little too expensive for my liking. Two buns for $3.50? I can bake more than a dozen for that price!
I hold my purse strings tight when it comes to buying baked goods. No matter how good they look, I always think I can do it at home so much cheaper, if you ever see me buying something from a bakery, you know I must be really tired or at least 20 miles away from my kitchen.
The smell that hot cross buns fill the kitchen when they bake transports me back to my childhood. It smells just like Easter to me. Cinnamon, allspice and nutmeg - surely some of the most wonderful smelling spices on this earth.
Hot cross buns evoke memories of Middlemarch and getting my horse ready
for hunting (no bunnies were killed!). Mum would always have some ready to have with a hot drink along with the inevitable bacon and egg pie when we were done with the horseriding and ready for a break.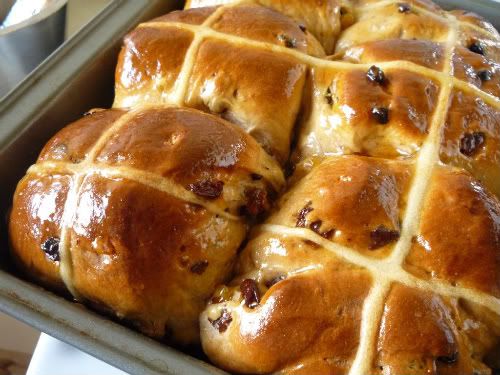 I was always envious of our neighbours who had home made buns each year, so this year I finally decided to take the plunge and make some. The result? One dozen buns consumed in roughly 20 minutes. I guess they worked out ok!
Everyone has a particular version they like, chocolate, with peel, without peel, with currants, without currants. It's impossible to keep everyone happy, but this is the version I like. It's slightly adapted from Karen's recipe on Citrus and candy. While you're there take a look around her blog, she has a beautiful selection of recipes.
Hot Cross Buns with Glace Citrus Peel
Makes 12
310ml warmed milk
60g caster sugar
8g instant dried yeast (about 4 teaspoons)
600g plain flour, sifted
1 tsp salt
1.5 tsps ground cinnamon
1 tsp allspice
1 tspn mixed spice
1/2 tsp ground nutmeg
60g butter, softened
1.5 cups of raisins or sultanas
1/2 cup of currants
1/4 of a cup of glace citrus peel
2 eggs
To finish
60g plain flour
60ml water
2 Tbl apricot jam, warmed in a pan over low heat and strained
Method
In a bowl, whisk together the sugar, milk and yeast together until sugar has dissolved. Cover and set aside for 10 minutes or until it becomes frothy.

Mix the flour, salt and ground spices in a large bowl. With your fingers, rub the butter into the flour until mixed and crumbly. Stir in the raisins/sultanas, egg and frothy yeast mixture until combined.
On a lightly floured surface, knead the bread dough for about 5 minutes until smooth and elastic. Lightly grease another large, clean bowl, place the dough in and turn to coat the surface with grease. Cover in clingwrap and leave in a warm, draught-free place for 45 minutes or until the dough has doubled in size.
​4. When ready, remove the clingwrap and use your fist to punch down the dough Give it a quick knead until smooth and divide into 12.
​5. Place the buns into a greased 20 x 30cm baking tray, cover with clingwrap and leave in warm place to rise for 15 minutes. Preheat the oven to 200C.
​6. Whisk together the plain flour and water to a smooth paste. Pipe crosses on top of the buns and bake at 200C for 10 minutes.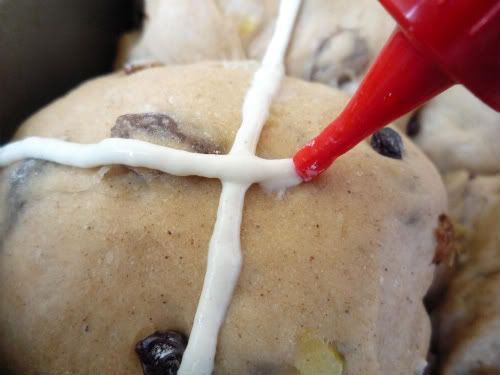 Reduce heat to 180C bake for a further 15 minutes. Buns are ready when they sound hollow when you tap the tops.
​7. Brush with warmed apricot jam while the buns are still warm.
\
It's not Easter until there are hot cross buns in the house.
PS. I took half a dozen of these to my parents today, guess where they were off to? Middlemarch - to see my niece riding her horse.. now I feel old! But hey I've got my hot cross buns, so I'm happy!