I can just see all you lovely American people sitting there thinking " what on earth is Hokey Pokey?" Hokey Pokey is also called honeycomb candy in the US. These little cookies have the same flavour. Hokey Pokey is also an icecream flavour here in NZ. One of my favourites in fact. In the UK, Crunchie Bars and Violet Crumble have the same flavour as these cookies.They are not the most fancy pants cookie out there, but there is something very more-ish about them, they are very crisp and have a warm flavour.
These were always one of my favourites as a child growing up. I could smell them cooking and I knew I would find one of them tucked into my lunch box the next day. This is the first time I've made these for a very long time. I was flicking through my trusty Edmonds Cookbook and spotted the recipe for them. The Edmonds Cookbook is almost a standard addition to the cookbook collection in every home in NZ. It was first published in 1908, so it's over 100 years old! Recipes have been updated, removed and added during that time. But the old favourites remain. This is one of them.
Hokey Pokey Cookies
125 grams of butter
1/2 cup of sugar
1 Tblspn of golden syrup
1 Tblspn of milk
1 1/2 cups of plain flour
1 tspn of baking soda
Combine the butter, golden syrup, sugar and milk in a saucepan. Melt all of them together until they are almost boiling. Stir the whole time.
Be careful here with the heat, or the mixture will stick to the pan.
Remove from the heat and let it cool a little.
Add in the sifted flour and baking soda and stir well to make the cookie dough. Roll into walnut sized balls, place on baking parchment and flatten with the bottom of a glass.
Bake at 180C/350F for roughly 15 minutes. My oven takes a little less than this. Anything with golden syrup will burn quickly, so keep a little eye on the cookies, and when they are an even golden brown in colour remove from the oven.
Cool on a rack. Makes roughly 2 dozen.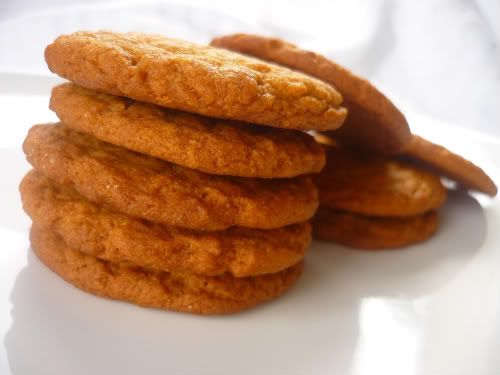 Great to pop into a lunch box or have with a hot drink.