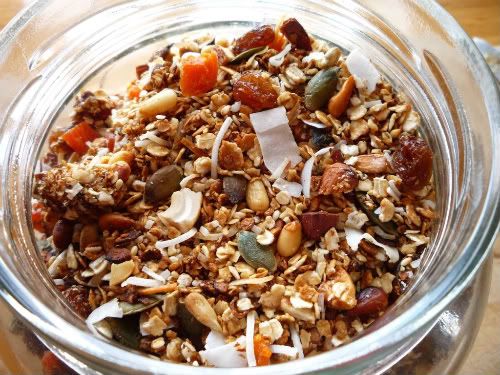 Over the weekend in New Zealand, there was a huge earthquake in the province of Canterbury. The city of Christchurch had a rather large shake up with an earthquake of magnitude 7.1. That's a big earthquake! It woke us up and we are 200 miles away.
All our cats with their keen animal senses slept right through it…. cuddly, but not very smart. I would have thought with three cats at least one of them might have opened one eye.
Christchurch is a mess, to put it lightly. Roads are
completely broken, buildings shattered and pipes burst. There are many people still without water, power, sewage and telephone services. Now people are getting sick from contaminated water.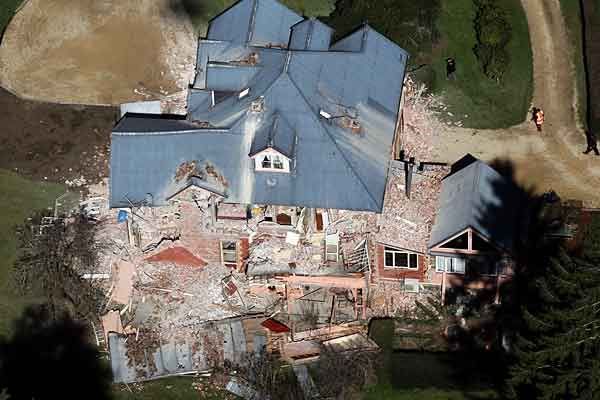 You can see this home has virtually exploded outwards.
However.. the response to this is one of the reasons I love to live here. Banks have donated money to the city to help put it back together again and suspended loan repayments and fees. Fire fighters, police, glaziers, builders and contractors of all kinds from different cities have all rushed in to help. Students have given up their week off university to help with the clean up. Over 1500 university students and more are expected to volunteer their time. Food drives and fundraisers are happening in every city in New Zealand.
There are shelters and offers of places to stay for people that have lost their homes. The mayor has set up a fund for people that have no insurance so that no one is left homeless or without the things they need. Our Govt has said - don't worry we'll sort it out. I have confidence that they will. Wow I never thought I'd find myself making that statement!
One of the older areas of town - many of the cities heritage buildings were destroyed.
There were one hundred and sixty thousand homes damaged. The earthquake commission will cover much of the damage to property, both commercial and private for those that have insurance. There are more volunteers offering to clean up and help out than you can imagine. New Zealanders
are fantastic people! Our thoughts are with all the Canterbury folk that are now sorting out the mess. If anyone reading this would like to make a donation towards helping with the clean up and help out the Cantabrians you can make a donation hereand choose from any number of organisations.
Fire breaks out in the background as the gas mains and electricity are turned on.
There are so many beautiful old buildings, particularly churches that have fallen to pieces, it's quite heartbreaking. Christchurch has some simply glorious stone buildings that are now condemned. Leah and Ryan had just returned from Christchurch the day before the quake; I was very glad to have them home.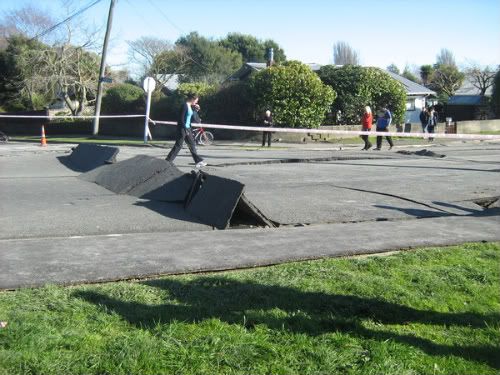 Look at the asphalt, just folded like paper.
While Christchurch was waking to the devastation around them, I was here in Dunedin thinking about all the people up there and making granola. It's one of those times when you count your blessings. I was standing in my warm kitchen while people were knee deep in mud and rubble only 4 hours drive away. Life deals us all some harsh blows at times. I've been in an earthquake of this magnitude and I know how truly frightening it is.
Christchurch folk, I'm still thinking about you and wondering what I can do to help.
For now, all I have is this granola recipe and the donation I made.
I made the granola and sat it in a big glass jar on the bench top, it was too yummy looking to put in a container I could not see through. The granola looks and tastes amazing, I don't hold out much hope for it making it through to the end of the week.
Kiwis will be asking themselves why I'm referring to this as granola rather than muesli, which is what it's commonly known as here. Strictly speaking muesli is raw and granola is toasted.
This recipe should be used as a guide only, adding ingredients that you like. The options are endless. Cranberries, blueberries, papaya, pear, dried strawberries, yoghurt covered raisins, currants, mango spears - recreate or improve on your favourite at home, and get better value for money. Christchurch people have a poke through your pantry and see if you have some oats, throw whatever you have in it and make yourself a
treat. If you have no power - make it muesli.
Earthquake Granola with Honey and Almonds
Pre-heat your oven to 150C/300F
4 cups of porridge oats (not instant)
1 cup of bran flakes
1/4 cup sesame seeds
1/4 cup pumpkin seeds
1/2 cup sunflower seeds
2 Tblspn pinenuts
1 tspn cinnamon
2 tspns vanilla extract
1/4 cup of brown sugar ( more or less according to taste)
3/4 cup of chopped raw almonds
1/2 cup of chopped unsalted cashews
1/3 of a cup of honey ( more or less according to taste)
1 cup of sultanas
1/2 cup of chopped dried apricots
1/2 cup of chopped dates
1 cup of shredded unsweetened coconut
1/2 cup of coconut flakes
Place all your ingredients in a large roasting pan except for the dried fruit and coconut.
Roast for roughly 25 minutes stirring every 5 minutes. When you stir make sure you stir around the edges, it will cook slightly faster around the edges of the pan.
Add in your coconut in the last five minutes only - keep an eye on it, the coconut will burn quite quickly.
Add in your dried fruit once you've removed your granola from the oven. Once cool store in an airtight container.
Serve with yoghurt and fruit if you so desire! It's tasty like that.
Dear Christchurch, I'm sorry you're broken. I lived there for 13 years and had two of my children there. I'm sure you will be beautiful again soon with your plumbing sorted out and everyone will be safe in their homes. People are working hard to make you as gorgeous as you always have been. We're all thinking about you.
Love, Lisa