Golden Syrup pudding holds fond childhood memories for me. Sitting in my nightgown with my sister at a little blue table watching Mad Movies with Bob Monkhouse and eating dessert. Sometimes it was Tapicoa or apple dumplings, baked apples stuffed with dates and brown sugar or Queen pudding or just maybe - my absolute favourite - which I promise to share with you another day, Banana Fritters.
Today though it was a Golden Syrup pudding kind of day, cold wind, threatening clouds and spots of rain throughout a very cold and dreary day. Just the kind of day for cold weather food.
I'd made a huge pot of thick vegetable soup and some fresh dinner rolls, but I thought that the hordes at the dinner table might still be hungry, so a dessert as a little something extra seemed right.
Golden Syrup pudding is one of those things that you can make when you really only have the basics in the house. In NZ there is almost always a tin of Golden Syrup sitting in the cupboard with a sticky lid jammed on top.
I found one of those teeny tiny bottles of whiskey sitting forlornly in the pantry from a Christmas gift and a few bits of crystallised ginger winked at me as I grabbed the whiskey, so this was what I came up with.
Golden Syrup Pudding with Whiskey & Ginger
This pudding has a soft cake like top with a smooth thick golden sauce which bubbles underneath. This pudding comes together and is ready for the oven in roughly 5 minutes.
Preheat oven to 180C/350F and have a 10 inch, deep pie dish ready for your pudding.
Base
1 1/2 cups of self raising flour
1/4 cup of soft brown sugar (first measure)
100 grams of butter - melted
1 tspn vanilla extract
1/4 cup of crystalised ginger - chopped roughly
2 Tblspns good Whiskey
1 large free range egg
1/2 cup of milk
1 Tblspn Golden syrup ( first measure)
1/2 cup brown sugar (second measure)
1 Tblspn cornflour
Sauce
2 Tblspns Golden Syrup
1 1/2 cups boiling water
30 grams of butter
1 tspn Whiskey
Combine your flour and first measure of brown sugar - mix together squashing any lumps. Add in your chopped ginger.
Add in your milk, whiskey, egg, vanilla, first measure of golden syrup, and melted butter. Mix until combined. Pour into your dish that you are going to make your pudding in.
Combine your second measure of brown sugar and cornflour in a small bowl - mix together and sprinkle over the top of your pudding.
Combine your sauce ingredients in a heat proof jug and pour over the top of your pudding.
Cook for roughly 40-45 minutes.
When you take your pudding out of the oven it should look something like this. Crackled on the top with a thick sauce bubbling underneath.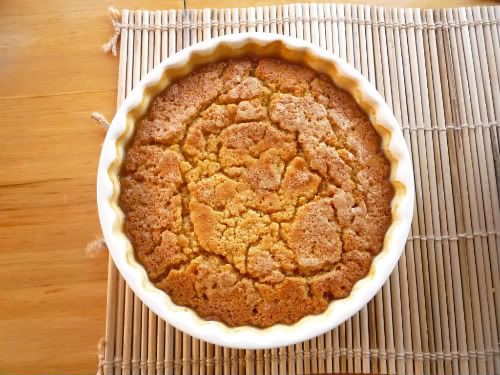 The sauce will be thick from the cornflour that you added on to the top.
If you are worried about giving this dessert to children, don't be. The alcohol is all cooked off in the oven and all you are left with is a very subtle flavour. Isaac gave this warm gooey pudding a "100% tastiness rating" .. I'm happy with that!
We had ours with a little plain yoghurt poured over the top.
It was just the perfect thing .. at the end of a grey day.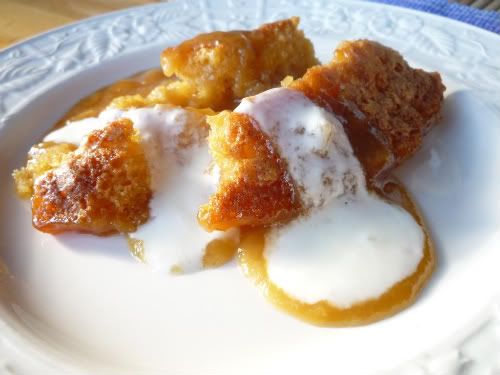 This is worth buying Golden Syrup for!
100 percent tastiness rating - guaranteed by Isaac.