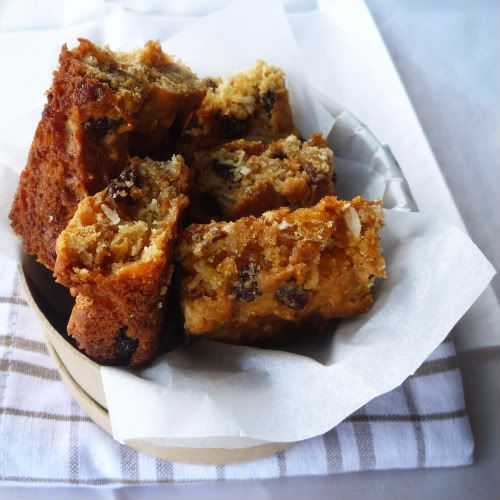 This is another one of those recipes that I've had for years, made for years and is a weekday standby. If I need to make something quickly this is one I turn to. It takes 5 minutes to put the mixture together and only 15 minutes to cook.
Today we were rushing out the door so I made this in a huge hurry just before we went to stand out in the autumn cold to watch Ryan run at an athletics meet. He was running around in shorts and T-shirt and I was snuggled up with a pair of gloves a coat and an umbrella.
It's made with pantry staples so there is no special trip to the shop involved. I noticed about half of it had mysteriously vanished about an hour after we got home.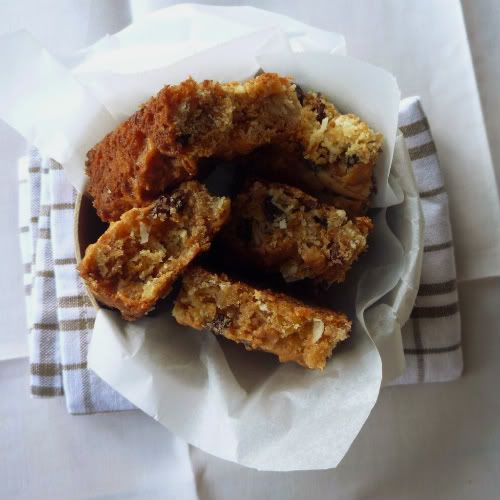 It's lovely with a cup of tea, or snuggled into a lunch box. The fruit can be as simple as a few raisins, or you can use a veritable cornucopia of fruits and nuts. The one I made today has little gems of dried pear, papaya, cashews, almonds and raisins scattered through it.
The cook time is short, but just long enough to make the fruit slightly chewy and moreish. It has cornflakes in it, which add a nice occasional crunch as you munch through it.
The other huge plus as far as I'm concerned is that it's all made in one pot, not mountains of bowls and dishes so clean up is a breeze.
It's a littlechewy and has a warm slightly syrupy taste, the recipe specifies golden syrup, but maple syrup will do just as well. This one was made with half and half.
Golden Fruit Slice
Preheat oven to 180C/350F
Melt together in a large pot:
100g/4oz butter
1/2 cup of sugar
2 Tblspns of golden or maple syrup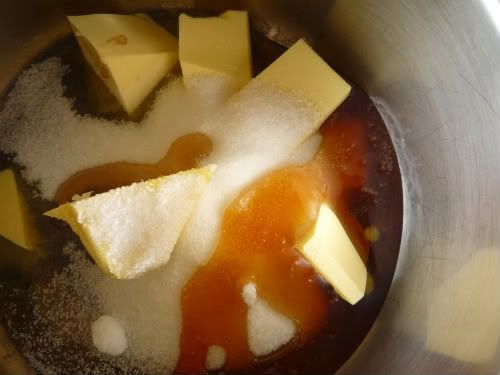 Add to it:
1 lightly beaten egg
1 tspn of vanilla
Then add:
1 cup of coconut
1 cup of sifted flour
1 tspn baking powder
1 cup of dried fruit
five handfuls of cornflakes (love this measurement!)
Mix it all well together and spread in a sponge roll pan, wet your hands and press down lightly on the mixture to make sure there are no gaps.
Bake 15 minutes or until the cake is golden all over and starts to leave the sides of the pan - watch the edges don't burn!
Do let this cool before you cut it and try to lift the pieces out, or it will be very fragile and fall to bits.
It's a great everyday type of slice, and keeps well too. I know you'll enjoy this one.
I'm going to go settle by the fire with my book and have a piece with my cup of Belgian hot chocolate! I'm wading my way through the Wheel of Time series - for those of you that have slightly geeky tendencies you'll know that it's 14 books loooooong. Plenty of opportunity to sit, relax, read and munch on delicious things.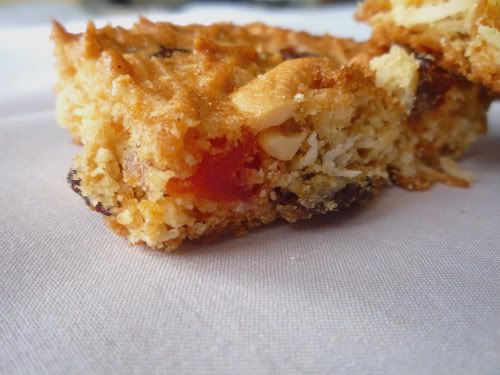 I'd really like to make some other readers favourites - if you would like to see your favourite cookie or slice on the blog, either drop me some mail or add a comment down the bottom with a link to your recipe. I'm looking forward to trying out a few favourites, so send em on in!