Tonight I picked the winners for the Giveaway at Random.org and I'm very excited to be sending the Edmonds Cook book to Nancy and the egg cups to Mrs Ergl!
Please email me (my email is on the contact page) the address that you would like these posted to and I will get them in the post to you both this week.
The recipes that they requested are Chocolate Croissant and Anzac biscuits. I'm very excited about making croissant and will make that my baking adventure for the weekend. Last time I made them I was a teenager. Ryan has already decided he would like in on the action and we thought we might make two variations. One croissant with chocolate inside and another version with a chocolate laminated dough. Wish me luck with that and watch for the post.
Although traditional Anzac biscuits are already on the blog, I'm very glad that Mrs Ergl asked for them, because that gives me a chance to present you with one of my favourite variations on Anzac biscuits - a more chunky cookie with a chocolate back and a few delicious inclusions. Keep an eye out for the posts over the next week or so.
I'm going to be trying out some of the other suggestions that were given in the comments, I really enjoyed seeing what people were interested in me making, keep an eye open, you might see your request on here.
Congratulations to both Nancy and Mrs Ergl.
I thought I would share this with you too - look what was picked out of our garden today - kit planted these as small seedlings - now they are completely smothering our bean teepee and covering it in gorgeous pinkish-purple flowers and big fat purple beans.
They are a heirloom variety of bean called "King of the Blues". Isaac has been waiting all summer for these purple beans, and making regular trips to the vegetable garden to see if there were any beans appearing.
When snapped in half - you can see they are green inside, and not purple, also when cooked they turn green. I should have tried to cook them in acidulated water to see if they would have retained their colour. I'll try next time, since there is a huge crop of beans.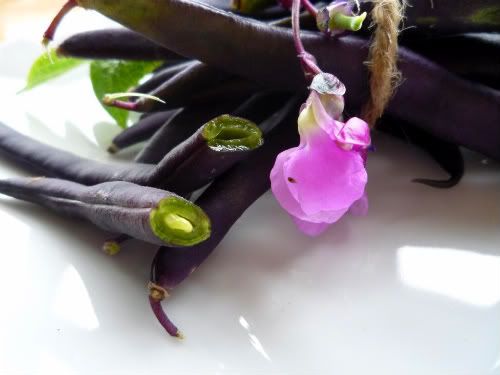 Amazing what diversity nature shows us. I love these old heirloom varieties of vegetables. It's a shame we don't see all the fantastic range of vegetables in our supermarkets. If you would like to purchase some seeds to try to grow these yourself they are available online here at Kings Seeds.
I promise you I'll have a few healthy foods on the blog this week after all that baking lately! After devouring a good portion of the Tiramisu, I feel in need of some very healthy meals.. but then again .. I have Chocolate croissant to make!