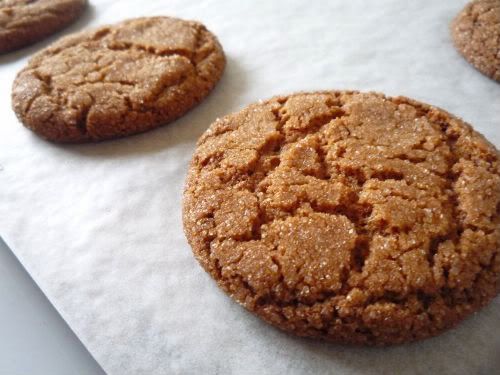 Gingernuts are a well loved biscuit in New Zealand. They are the perfect cookie to dunk in your tea or coffee; they hold together with no little crumbs lurking at the bottom of your cup after dunking. They should not be eaten by anyone with slightly dodgy teeth - not unless you actually want a tooth removed, because these little cookies will do it. They're hard…. the hardest cookie you are ever going to find; that's part of their appeal. There is nothing like a cookie that you have to steel yourself to eat and in turn you are rewarded with a spicy warm mouthful.
I was looking all around for a recipe to make these at home and I was pointed in the direction of this one from Nellie. The resulting biscuit is not quite the same as store bought; in fact I think they're much better. They're not quite as hard, but crisp and spicy.
They have the characteristic crackled top and a sprinkling of cinnamon sugar with cosy flavours of ginger and golden syrup.
We have a vegan friend staying with us for a few days. His name is Shanti and he is the proud owner of not just one, but two, iconic t-shirts - the legendary three wolf and a vegan zombie t-shirt. He's awesome. You can see him here making parathas.
I thought I would give you a vegan version a try as well as a regular one since I am experimenting a little with vegan baking.
These cookies illustrate quite nicely the kind of thing that happens when you convert regular recipes to vegan. The regular cookies are thicker and crisper, the vegan ones are thinner and harder.
This is not necessarily a bad thing, they are just different. The vegan version is closer to the store bought variety in texture. I could have made another batch with a little less vegan margarine to make them closer to the regular version, but I wanted you to see the difference. I have two variations on Gingernuts today for your viewing and eating pleasure.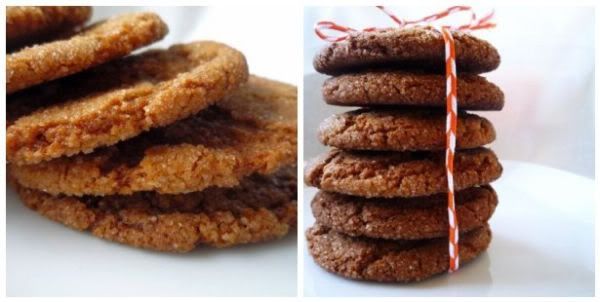 The vegan one is on the left and the traditional on the right. The colour difference is actually not that great, it was just a difference in lighting. The traditional ones are slightly darker though because they were cooked for longer. Being a tad more fragile, the vegan variety were baked for three minutes less.
Try one with your next cup of tea.
Go on, you know you want to. Just don't break your teeth!
Gingernuts
150g of butter or vegan margarine
250g sugar
1 egg (or one eggs worth of egg replacer)
1 T of golden syrup (substitute light molasses or honey if unavailable)
250g flour
1/2 tspn baking soda
1 tspn baking powder
3 heaped tspns ground ginger
1/2 tspn cinnamon
1/4 cup of sugar and 1 tspn cinnamon for rolling the cookies in.
Preheat the oven to 180C/350F
Beat the butter (or margarine) and sugar together until well mixed and light.
Add in your egg/egg replacer and beat well. Add in your golden syrup and mix
Sift together your dry ingredients and mix into the butter/sugar mixture it should make a slightly sticky cookie dough.
Roll into walnut sized balls and then roll in the sugar and cinnamon mix.
Do not flatten. Place well spread apart on a tray lined with baking parchment, they need room to spread.
Bake for 15 or so minutes for non vegan and 12 for vegan. Do keep an eye on your cookies towards the end of the cooking time, they will burn in a flash.
Enjoy with tea, coffee or milk - feel free to dunk!